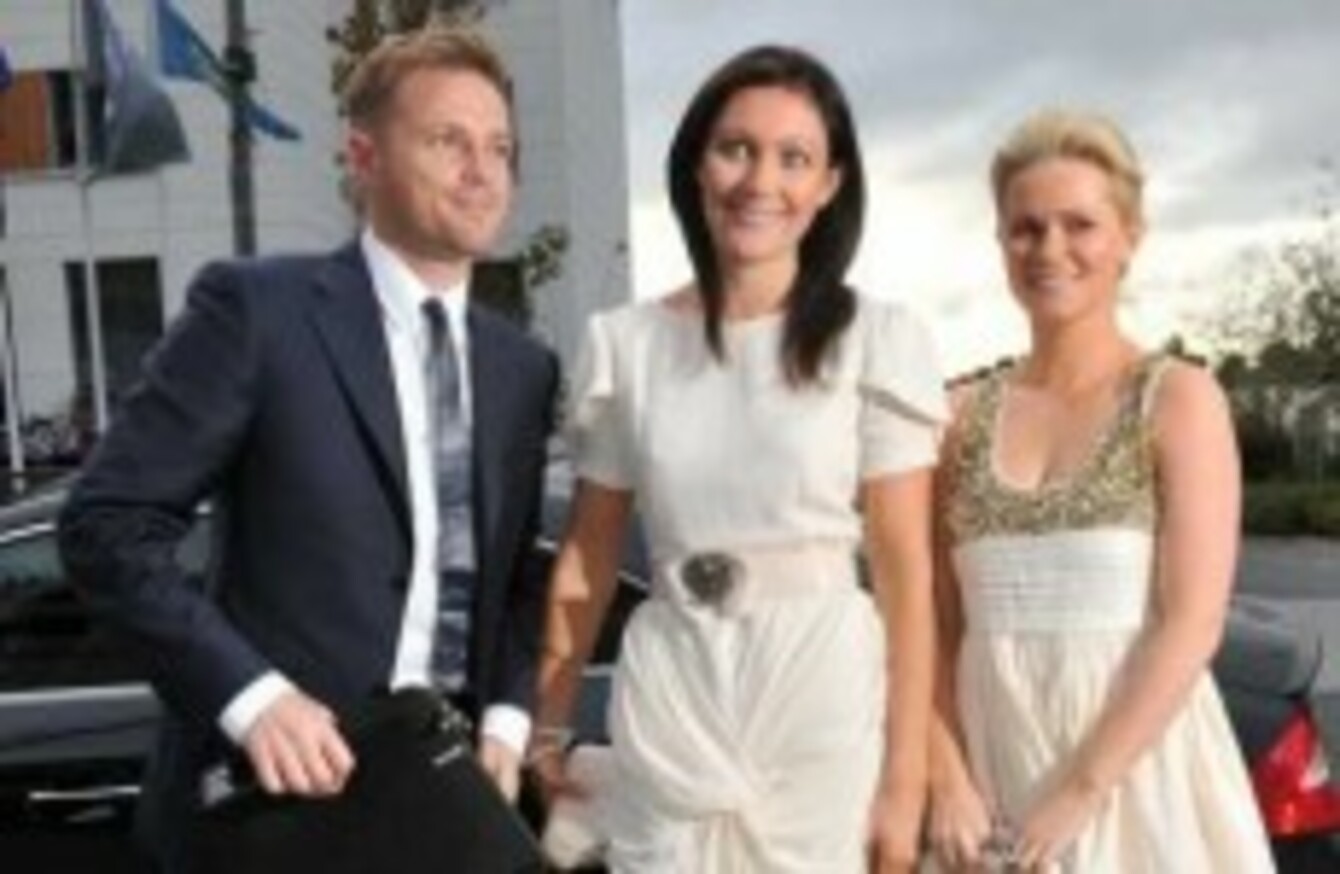 (L to R) Bertie Ahern's son-in0law Nicky Byrne and daughters Georgina and Cecilia arrive for his birthday bash at Croke Park
Image: Photocall Ireland
(L to R) Bertie Ahern's son-in0law Nicky Byrne and daughters Georgina and Cecilia arrive for his birthday bash at Croke Park
Image: Photocall Ireland
FORMER TAOISEACH BERTIE Ahern celebrated his 60th birthday in style last night, at a party in Croke Park organised by his daughters Cecilia and Georgina.
A host of well-known names arrived at Croker last night to toast Ahern, but there was no sign of the man himself, as photographers waited outside to catch a glimpse of the birthday boy.
It's speculated today that he slipped in through one of Croke Park's less public entrances, as his daughters, ex-wife Miriam, Fianna Fáil pal Charlie McCreevy, and Dublin football boss Pat Gilroy arrived for the party.
According to Mark Hillard and Lisa Hand's report in today Irish Independent, guests were served a three course meal, while the walls of the venue were adorned with pictures of Bertie through the years.
Ahern's daughter Ceclila said that her dad hates this kind of fuss and that he was just doing his 'duty' by turning up.
It's also reported that Bill Clinton, Tony Blair and Alex Ferguson all sent video messages to the birthday boy.
Happy Birthday Bertie

Sisters Georgina and Cecelia Ahern pose for photographers as they arrive for their father Bertie Ahern's 60th birthday party at Croke Park. Photo Leon Farrell/Photocall Ireland

Happy Birthday Bertie

Yvonne Keating arrives at Croke Park. Photo Leon Farrell/Photocall Ireland

Happy Birthday Bertie

Dublin football manager Pat Gilroy arrives at Bertie Ahern's 60th birthday party. Photo Leon Farrell/Photocall Ireland

Happy Birthday Bertie

Charlie Chawke with his wife Bernice. Photo Leon Farrell/Photocall Ireland

Happy Birthday Bertie

Louis Copeland arrives. Photo Leon Farrell/Photocall Ireland

Happy Birthday Bertie

Paddy The Plasterer (Paddy Reilly) arrives at Bertie Ahern's 60th birthday party at Croke Park. Photo Leon Farrell/Photocall Ireland

Happy Birthday Bertie

Charlie McCreevy with his wife Noleen arriving at Bertie Ahern's 60th birthday party at Croke Park. Photo Leon Farrell/Photocall

Happy Birthday Bertie

Noel Ahern, Bertie's brother, arrives at Croke Park. Photo Leon Farrell/Photocall Ireland

Happy Birthday Bertie

Not everybody was there to celebrate: Eamon Reid protesting at Bertie Ahern's 60th birthday party at Croke Park. Photo Leon Farrell/Photocall Ireland

Happy Birthday Bertie

Who could this mystery guest be? The unidentified man hid in the back seat of a Land Rover Jeep as he was driven through the back entrance of Croke Park. Photo /Photocall Ireland

Happy Birthday Bertie

Bertie Ahern's former wife Miriam Ahern and her partner Terry McCoy arrive. Photo Leon Farrell/Photocall Ireland