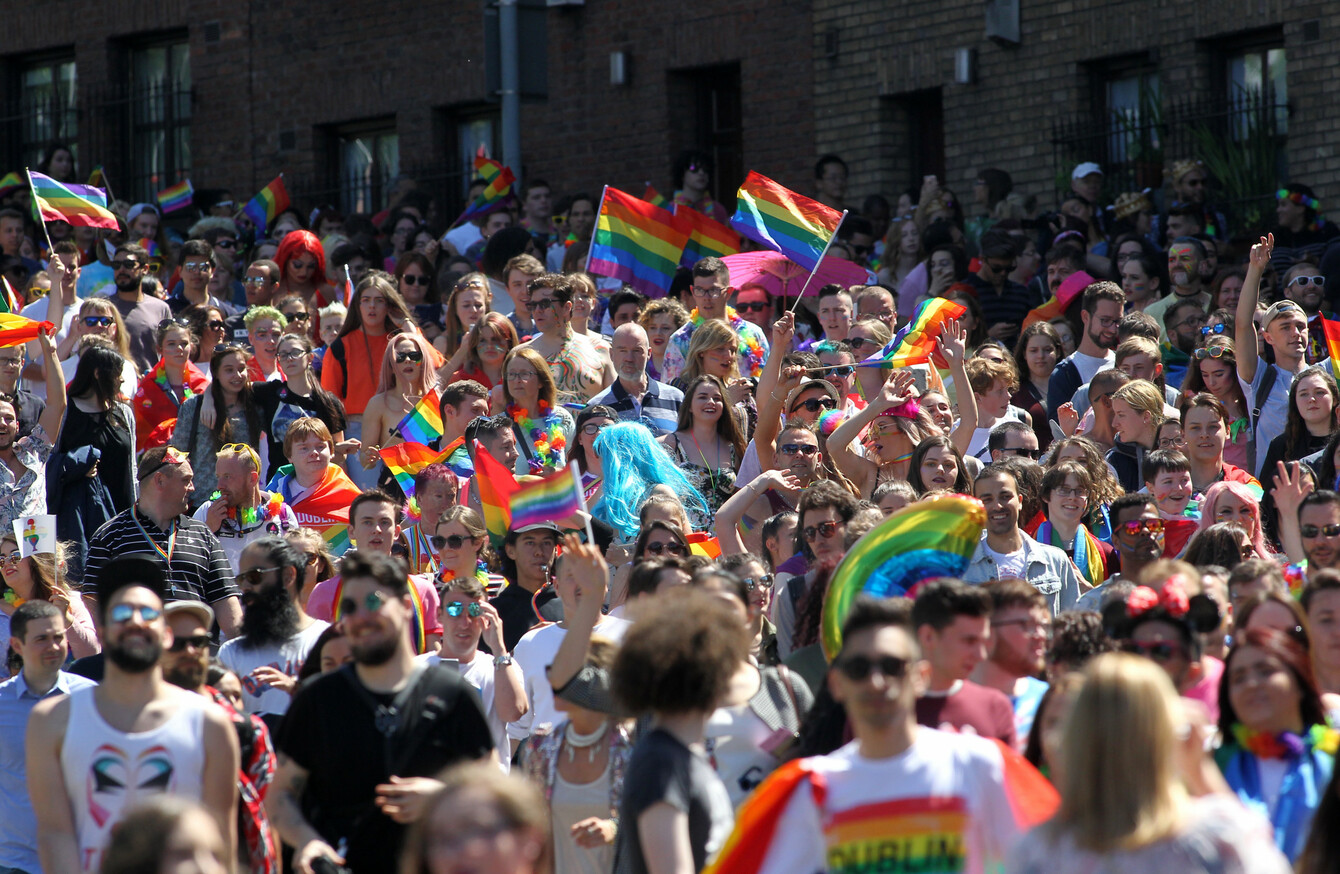 Despite a bitter among organisers Galway will have a Pride Festival this year.
Image: Sam Boal
Despite a bitter among organisers Galway will have a Pride Festival this year.
Image: Sam Boal
DESPITE A PROTRACTED saga due to fallout from last year's event, the gay community in Galway is getting ready for its Pride festival tomorrow.
"CANCELLED", screams the cover photo on the 'Galway Pride Festival' Facebook page, which has served as the official page of the festival in recent years.
Earlier this week the festival's website, GalwayPrideFestival.com, shared a statement explaining that the festival has been cancelled.
"It is with sadness that we announce the cancellation of Galway Pride Festival 2017. This decision was not taken lightly and we sincerely apologise to anyone that is inconvenienced," the statement reads.
However 'Galway Pride Festival' was just one of two competing festivals, a situation that arose following a bitter fallout in the aftermath of last year's event.
The statement was signed by Bruce Henry and Eugene Burke who served as chairperson and vice chairperson for last year's Pride. However, there was a split after other committee members became unhappy with aspects of how the event was managed.
"We had a great Pride last year. It was brilliant externally, but there were a few upsets internally," explained the current chairperson Rob Partridge.
Emergency general meeting
The committee members were not satisfied with how Henry and Burke ran the event. Among the issues that irked them from last year were the moving of the festival, from the Roisin Dubh to the Black Box and the decision to accept a €5,000 loan from a family member of the vice-chairperson.
While admitting "mistakes" were made in the organisation of last year's festival, Henry and Burke say the backlash against them was "wholly unjust".
Following the festival the committee held an emergency general meeting where Henry and Burke were voted out of their positions.
However they retained control of the festival's website, social media accounts and bank accounts.
Court
The committee was subsequently taken to court by the vice chairperson's family member and in June it was ordered to pay €5,335 to cover the repayment of the loan plus costs.
Henry and Burke attached a PDF of the court decision in their statement.
"Galway District Court granted judgement against the committee and it was only two weeks ago, 11 months after this money was lent to the festival, that it was finally repaid," they said.
Partridge explained: "The reason it took so long to pay back (the money) is because we lost control of our accounts."
Troll abuse
The statement from last year's organisers also includes references to unfounded accusations of theft in a backlash following the fallout. No such accusation was made by the committee.
"Any allegations of theft against either of us are completely unfounded," they wrote.
In actuality, we personally covered over €2,000 in operating expenses for last years festival out of our own pockets, with the agreement that those expenses would be repaid.
Partridge comprehensively agreed with that statement and insisted that no committee member ever accused Henry and Burke of theft.
"We didn't think for a moment there was any misappropriation of funds," he said. However he did acknowledge that some in the wider gay community in Galway may have levelled the accusations.
There was a lot of ill feeling following last year. But no committee member ever made allegations of theft. There was no theft.
Two festivals
The committee eventually took the step of setting up its own website and Facebook page and underwent a slight rebrand by naming itself Galway Community Pride.
As Pride came around this year, the bad blood continued and both groups set about planning separate festivals.
The rival festivals also exchanged legal letters over copyright issues surrounding logos and websites.
The logo issue became increasingly problematic in recent weeks as the same logo was appearing on promotional material for competing events.
Statement
On Thursday, Henry and Burke released their statement announcing the cancellation of their event.
"Ultimately, the community is not best served by having two competing pride celebrations," they wrote.
Additionally, going ahead with this year's festival is no longer an option while personal attacks continue to be leveled against us and our sponsors.
In response, Partridge noted that the committee has always actively sought to fight bullying and condemned the continuing backlash and personal attacks.
"Incredible support"
Galway Community Pride Festival is kicking off tomorrow and continuing until Sunday 13 August.
"We have received incredibly support from everybody around us," Partridge explained. "Everyone in the community and the support from business has been fantastic.
"There was some confusion with people travelling for the cancelled event and we apologise to them. But the support has been overwhelming."