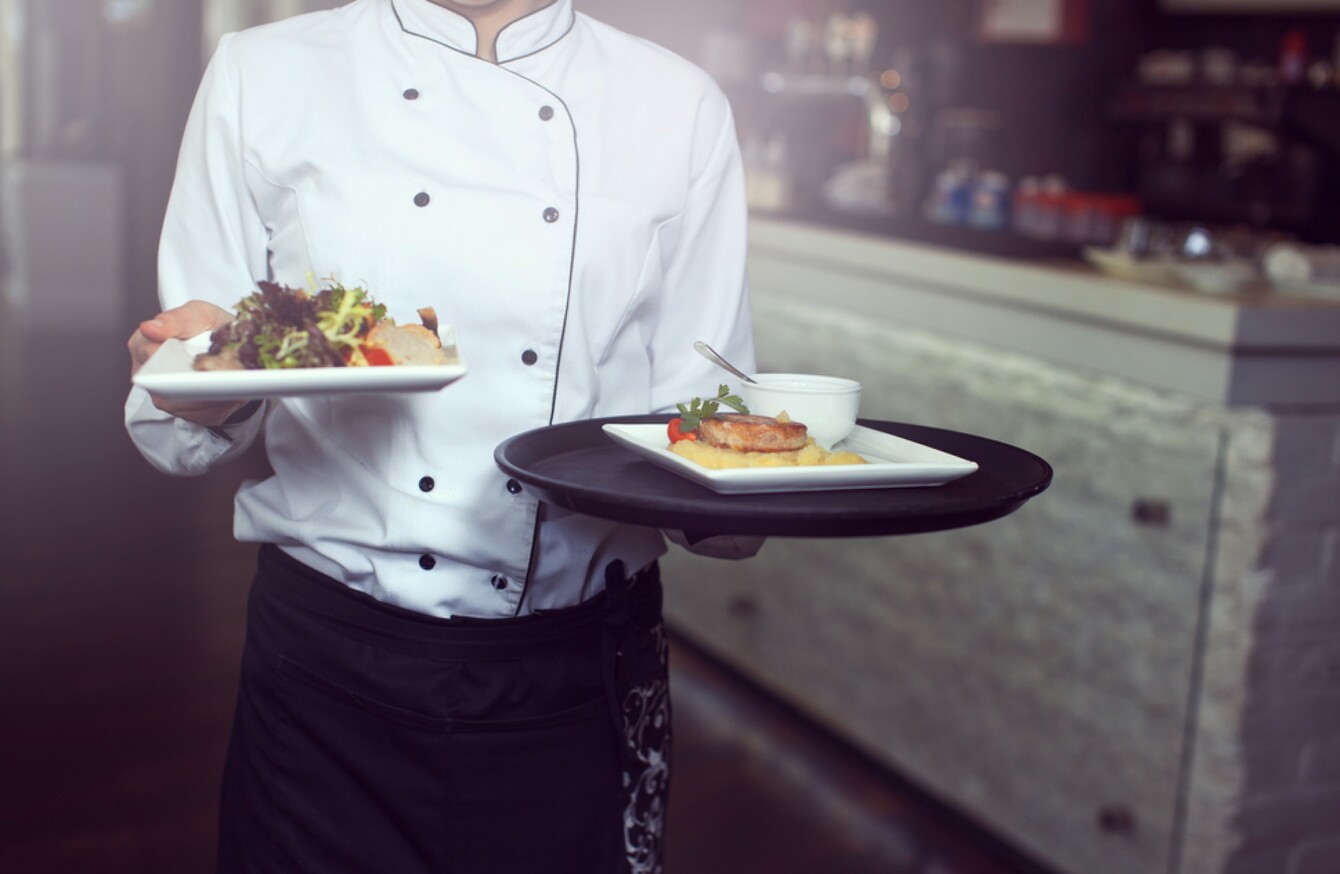 Image: Shutterstock/Sergei Domashenko
Image: Shutterstock/Sergei Domashenko
THE EXPLOITATION OF workers in the hospitality sector is spiraling out of control, according to former employees who have now launched a campaign to protect workers.
Sinn Féín, SIPTU and the Migrant Rights Centre are some of the groups attempting to raise awareness of workers' rights nationwide.
TheJournal.ie has spoken with a number of women in the Galway area who claim to have been mistreated by their employers whilst working in bars, hotels and restaurants in the west of the country.
Abuse within the sector is rife, according to Sinn Féin senator Trevor Ó Clochartaigh, who said he has received dozens of complaints from workers in Mayo and Galway.
Employee advocate Eva Mitchell has spent the past two months gathering statements from workers in the hospitality industry who feel they have been unfairly treated.
Ó Clochartaigh, with the help of Mitchell and SIPTU, has sent out a survey to workers in the region asking them to share their experiences. SIPTU is supporting the initiative and will look to reorganise workers in the sector in the coming months. Over 300 surveys have been completed so far.
It is hoped that, when the results are returned, there will be concrete data to present to those in the sector who have denied the poor treatment is happening.
"It's come to the point where enough is enough. The hours are illegal under EU law a lot of the time, payslips and tips are being retained and the casual sexual harassment is now bordering on assault for some of the women working," Mitchell told TheJournal.ie.
"I know everyone can have a bad experience with a boss or a personality clash. But it's now got to the stage where most people I have spoken to have an issue with some aspect of their employment.
"If it's not getting their tips, it's something else like not getting a payslip. Then there are people who leave and who don't get their holiday pay. There comes a point where you hear these horror stories and you just have to say no.
"I'm out of the industry now, so I won't have to deal with situations like these. But frankly, a lot of people are being forced to work for free. It's like they're treated like slaves. It's disgusting how some people are being treated."
Some women, which TheJournal.ie has spoken to, wish to remain anonymous as they are still working and do not want to risk having their hours cut.
One woman, who is from South America, was told she was to receive a 30-hour-a-week work placement at a spa in the west of the country. She needed the hours in order to be approved for a qualification. There would be no pay. However, when she arrived, she was forced to clean for 29 hours of the week and then received just one hour of training.
She said she was working for free and that the spa knew they could take advantage of her because she needed the hours for her qualification. This woman has since left the company.
In another instance, a couple from eastern Europe had signed 30-hour contracts with a restaurant and were paid a fixed salary. However, many times they worked 60-hour weeks and received no extra payment or breaks.
Another woman told TheJournal.ie that she and a friend had left a place of employment after their boss threw cutlery and crockery in their direction during a heated argument.
"These are just a couple of examples I could give you," Mitchell added. "There are so many people out there who are just fed up with how they are being treated. I don't know where to go.
So that's when I was put in touch with SIPTU and we had a meeting in Dublin about getting the word out there, about people knowing their rights. Hopefully, it'll get off the ground.
While all those who agreed to speak to TheJournal.ie are women, it is not a gender-specific problem. Mitchell believes that there is a large number of male staff members who are also being abused, albeit in different ways.
"There wouldn't be the sexual harassment element but there would be overworking people, no breaks, below minimum wage. That sort of stuff," Mitchell added.
Gráinne O'Toole, who is the Workplace Rights Coordinator for the Migrant Rights Centre of Ireland (MRCI), told how abuses are widespread but that the hospitality industry is one of the more consistent offenders.
She described how the MRCI deals with over 2,000 cases each year, many of them related to employment issues.
"A number of breaches would come from the hospitality sector. It's not the highest number we'd have but it's one of them. Domestic work care, and security are big ones. Hospitality would be one of them. Breaches are commonplace. A big problem we see is where people have a contract and they work nearly double those hours and receive the same pay. So, it works out that they are getting well below the minimum wage. This should not be allowed.
What we want to do now is make sure people know their rights and can come to us if they have any problems. It's that widespread.
Ó Clochartaigh has been liaising directly with the women involved and said there must be an investigation into what was allowed happen at the restaurants. He said the women making these allegations have his full support.
Many are not given breaks over eight-hour shifts while others are having holiday and severance pay retained, according to Ó Clochartaigh.
He said: "It is totally unacceptable that ruthless employers would flagrantly abuse employment law in the way that they are and that a culture of fear is being created to discourage employees from reporting this type of conduct to the relevant authorities, which I firmly believe is the case.
"There are reports of people not getting proper breaks, the withholding of wages, tips not being distributed properly to staff, people on fixed sums being made to work hours over and above those agreed and threats of hours being reduced, or people being sacked if a staff member complains about the conditions."
Ó Clochartaigh has urged anyone who has experienced mistreatment in the workplace to contact him. Details can be found here.
Have an experience about the hospitality sector you want to share? Get in touch by emailing garreth@thejournal.ie