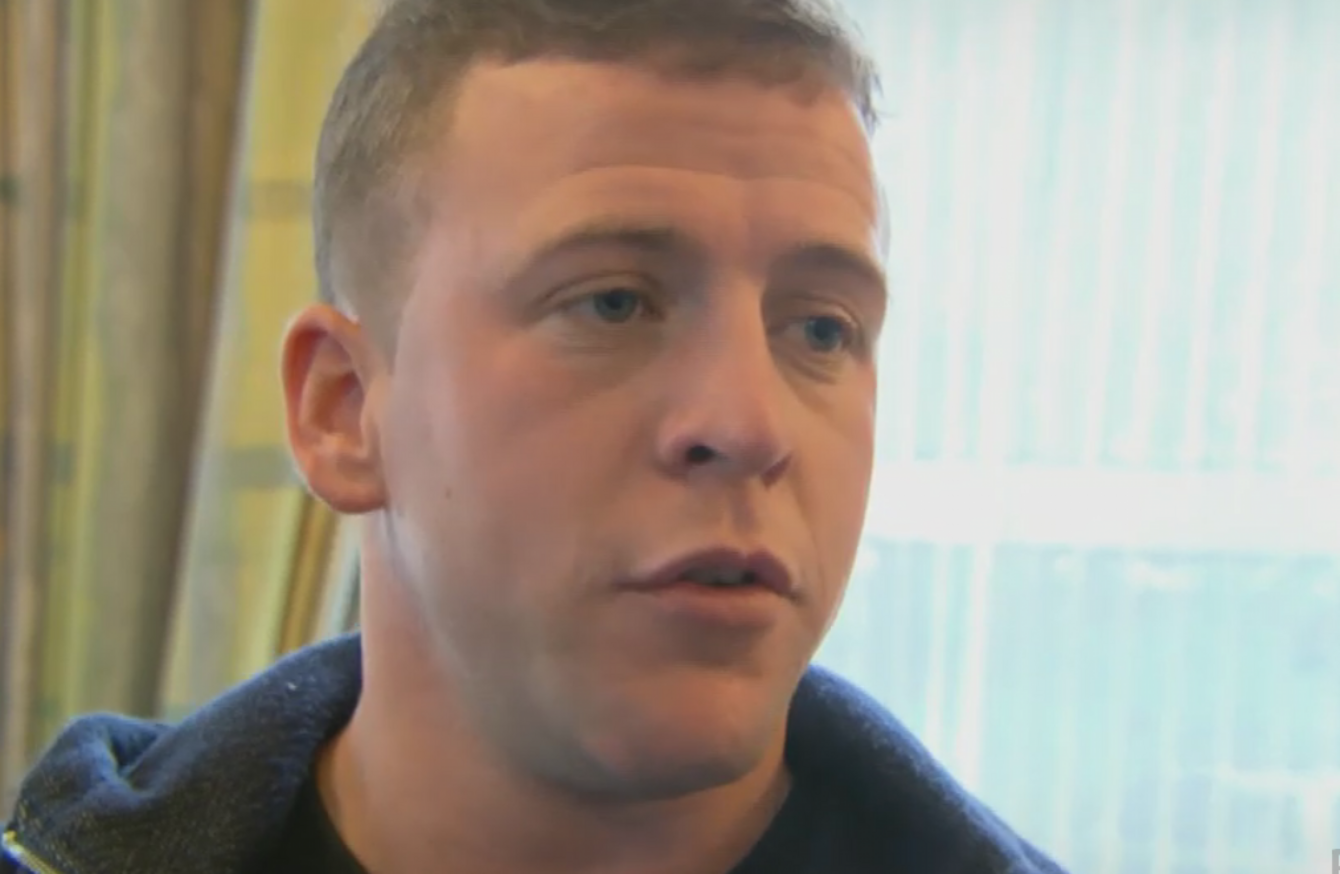 Galway hurler Davy Glennon
Image: Claire Byrne Live/RTÉ
Galway hurler Davy Glennon
Image: Claire Byrne Live/RTÉ
THE GOVERNMENT HAS been urged to move forward on long-awaited gambling legislation, after the issue was highlighted last night by Galway hurler, Davy Glennon.
Speaking on Claire Byrne Live on RTÉ, Glennon detailed his chronic addition to gambling, which started at age 16 and persisted for eight years.
From starting off betting small amounts of €2 or €3, his betting progressed to spending thousands.
The hurler explained how he got loans from the credit union and from banks to fund his addiction, even selling his car to raise cash.
He said: "My life was turned into a gambling rut, and I couldn't get out… There were so many lows. I isolated myself. I became a compulsive liar."
Glennon had reached a low point in his problems with gambling when he was selected for the Leinster Final against Kilkenny in 2015, only to be taken off after 24 mins.
"It was two to three days later I was at breaking point. I had a nervous breakdown. I needed to do something now."
Glennon checked in to Cuan Mhuire, a treatment centre for addiction, and is now faring much better. "I was as bad as any alcoholic," he said. "I had a disease that was so hidden. I hid it for eight years."
He said that he is standing up and telling his story so that others in his position may feel that they can get the help the need, too.
"The Government urgently needs to take serious action and bring in laws to regulate the gambling industry," he concluded.
Many were full of praise for Glennon for speaking out on his own difficulties.
Gambling Control Bill 2013
First introduced over three years ago, the Gambling Control Bill 2013 was a general scheme intended to ensure, among other things, "the protection of vulnerable persons, including children, from risks to their well being arising from gambling".
To date, however, its proposals have not yet been enacted.
Also speaking on Claire Byrne, Fianna Fáil TD Anne Rabbitte said that she would raise the issue in the Dáil today, and ask why the Bill has not been enacted as of yet.
She told TheJournal.ie:
It just needs to be addressed immediately. I think the conversation has moved on. The 2013 bill is too broad, but we need it to happen now.
She said that the main aspects that needed to be addressed urgently were age restrictions and advertising. Proposals such as setting up an independent watchdog would be welcome, also.
Rabbitte believes that the gambling industry itself has a "huge role" to play in this, and Government should involve them in a "positive sense".
Commenting on the issue last week, Minister of State for Justice David Stanton said that the bill is currently being "drafted by the Office of the Parliamentary Counsel".
He added: "Departmental officials are currently reviewing the draft Scheme, taking account of intervening developments and technologies in the gaming sector."