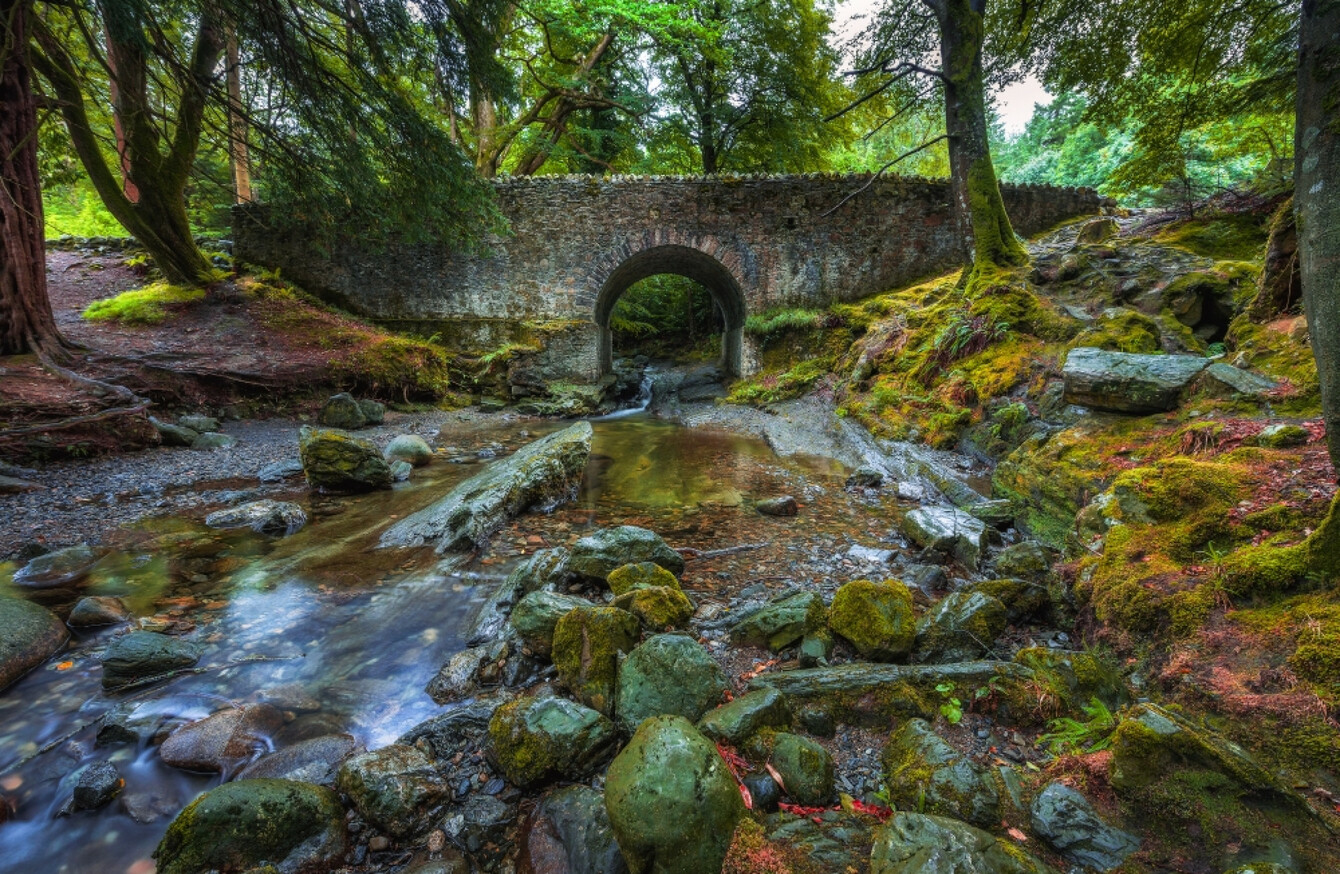 Tollymore Forest
Image: Shutterstock
Tollymore Forest
Image: Shutterstock
THE SHOW MAY have just ended, but Game of Thrones lives on in Northern Ireland, where visitors are now flocking to see the scenery and sites that were used during the making of the television epic.
But with so many filming locations dotted around the counties of the north, what's the best way to get the Game of Thrones experience in one day? We asked Flip Robinson of Giant Tours Ireland, who runs specialised private tours and even worked on the show as a stand-in for Hodor the giant.
When's the best time to go?
With plenty of outdoor locations to explore, summer has become a busy time for Game of Thrones tours, but Robinson says that it really "doesn't matter what time of year you come".
"You're visiting the real-world Westeros so the scenery is unreal and it's amazing whatever the weather – you just have to dress properly and be prepared for a downpour. Obviously it's nice to go in the summer when the weather is good, but I'd recommend 'shoulder season' – May and September are great times."
Pro tip: Whatever time of year you decide to go at, make sure to start your day nice and early as there will be large tour groups travelling around. "It can be a little chaotic in some of the locations, so leave early and try to beat the coach traffic," Robinson adds.
Where can I park the car?
Parking facilities vary from site to site, so do a little bit of research if you're planning a self-driving tour and figure out the best options along the way.
Robinson's main advice is to be mindful of the local residents and be careful navigating your way around the other visitors. Parking at popular spots like the Dark Hedges and Ballintoy harbour can be "a nightmare when it's busy", but you should be able to find space to leave your car within a short walking distance of most locations.
At some spots there will be designated car parks, such as at Fairhead. Here you can put £3 in the landowners' honesty box to leave your car while you climb the way-marked trail where Jon Snow finally met Daenerys and her dragons.
Pro tip: Park for free at the Carrick-a-Rede rope bridge while you take in a few filming locations, including the famous bridge and Larrybane quarry beside it, which served as Renly Baratheon's camp in the show. "If you have more time you can also walk along the cliffs to Ballintoy, and then you won't have to worry about parking there," Robinson adds.
What are the top sights to check off my list?
Some Game of Thrones filming locations around Northern Ireland have become major tourist attractions, such as Tollymore Forest and Castle Ward in Downpatrick, which was the home of Winterfell. But if you want to see some of the best locations in one day, Robinson suggests starting further north and driving along the Antrim coast.
On this route you'll pass Magheramorne Quarry, which was the filming location for Castle Black, before reaching Carnlough harbour, where Arya climbed out of the water after her fight with the waif at Bravos.
From there you can drive to Cushendall and Cushendun to explore the caves where Melisandre gave birth to the shadow creature, and where Jaime and Euron had their standoff in the final season.
After that, head to Murlough Bay where many coastal scenes were filmed, and then you can go for a hike at the Fairhead cliffs. Next on the route is Ballintoy harbour, which is famous as the setting for the Iron Islands, followed by the Carrick-a-Rede rope bridge and Larrybane quarry.
Finish up the day with a trip to Dunluce castle, which was Castle Greyjoy, and a walk along the tree-lined avenue of the Dark Hedges, which fans will recognise as the King's Road from season two.
Pro tip: Opt for a scenic route, especially if you're with someone who isn't a GoT superfan. "It's such a varied landscape, with beaches, bays, glens – it's world-famous in its own right. Even if only one person you're travelling with is into Game of Thrones, everyone will still enjoy the stunning scenery," Robinson says.
Where's the best place to stop for lunch along the way?
You'll pass through many towns and villages along the coast, but Robinson recommends Ballycastle as a good lunch stop, as it's a central location with lots of options for food and drink, and it doesn't get as crowded as the likes of Ballintoy and Bushmills.
"You've got plenty of places to choose from in Ballycastle – bars, cafes and restaurants. For a pub lunch there's O'Connors Bar or Central Bar, and for home cooking and baking there's Thyme and Co," he says.
Pro tip: Check out Ursa Minor in Ballycastle for an afternoon treat. "It's a sourdough bakehouse and vegetarian cafe but they make the most amazing pastries and they do really good coffee as well, so that's a good place to stop," Robinson adds.
How can I avoid the crowds?
Although there's plenty to explore in the area, some of the popular Game of Thrones locations will always be busy, especially if you arrive at the same time as a tour bus.
"The Dark Hedges is a difficult one. It only had eight seconds on screen but it's one of the most photographed locations," Robinson says.
"So go as late as possible in the day. You'll rarely be able to get a photograph without other people on the road though – you can go there at 6.30am and you'll still have a Chinese tour group in the background."
Pro tip: Visit a few locations that are a bit more off the beaten track. "There's one place that was only in the show for a split second, Glenariff Waterfall. There's a beautiful old cafe there so it's a really nice place to stop for a coffee, and the waterfalls are a hidden gem," Robinson adds.
Are there any other hidden gems I should look out for?
While you're driving around, keep an eye out for the Game of Thrones doors. In 2016, a number of trees from the Dark Hedges fell during a storm, and the wood was used to create 10 intricate doors, each representing an episode from the sixth season of the programme.
"They're now on display in pubs and restaurants. You can get a passport and get a stamp at each door you visit, and you can pick up a few in a day if you do the coast road," Robinson says.
Door locations include Mary McBride's in Cushendun, The Fullerton Arms in Ballintoy and Gracehill House in Stranocum.
Pro tip: Stop at Ballygally Castle hotel to see one of the doors, alongside some jewellery from the show, made at nearby Steensons. "Then if you go up behind the castle, there's one of the filming locations from the first episode, when Ned Stark beheaded a deserter. It's quite impressive with great views, so it's well worth driving up," Robinson adds.