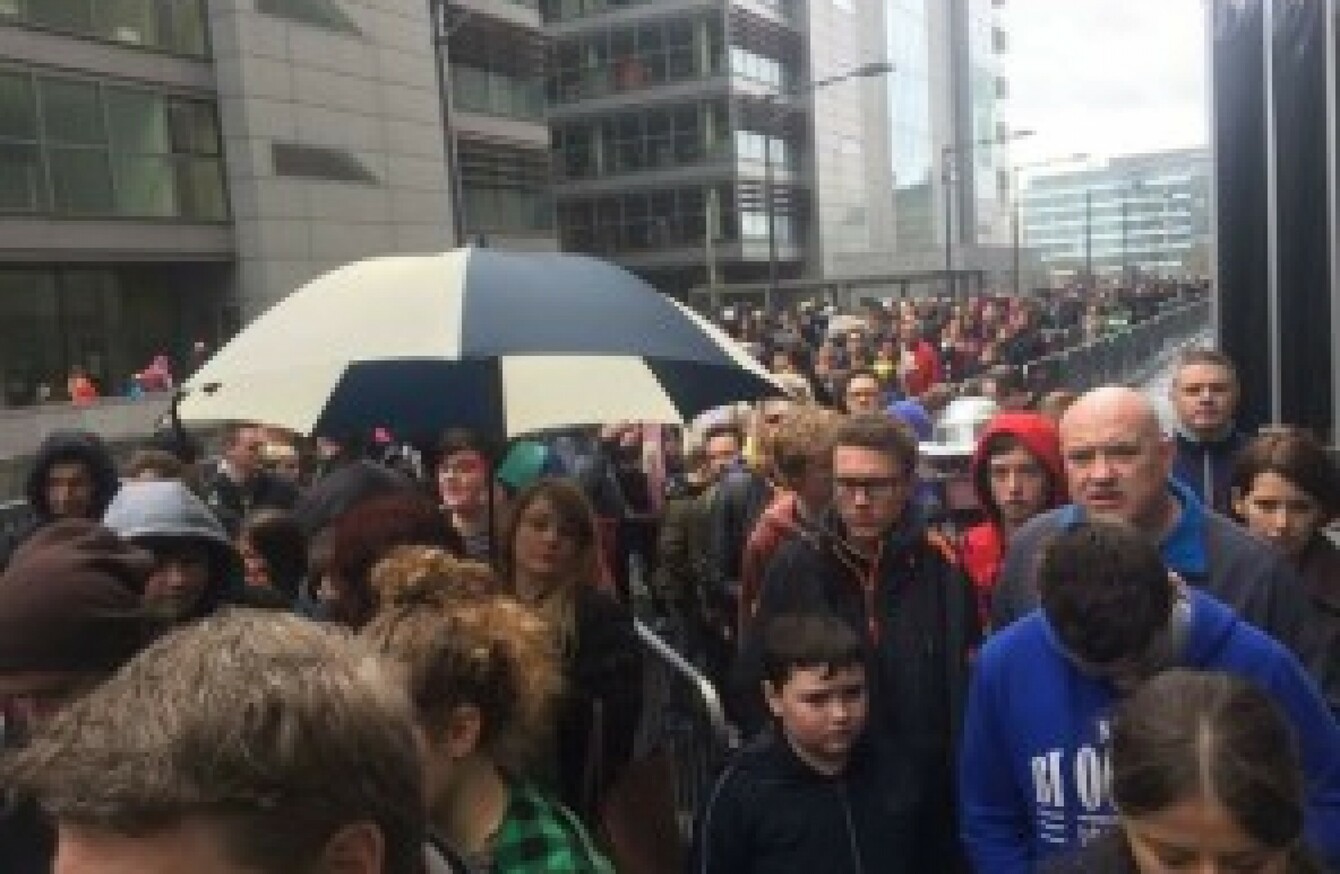 IT WAS BILLED as Ireland's very first gaming extravaganza, mixing the worlds of online celebrities and the latest video game technology into one Spring weekend in March.
What the organisers didn't anticipate was that thousands of men, women and children would be standing outside Dublin's Convention Centre in the rain waiting to enter.
Those behind the event also failed to anticipate the number of refunds they would have to give customers as those who had queued for hours were eventually turned away.
Up to 25,000 people were expected to turn up for the event. The delays led to outcries on social media, with parents venting angrily at the situation they have found themselves in with their children. A suggestion that the event was oversubscribed beyond the Convention Centre's legal capacity also gained much traction on social media.
A Facebook group was established by customers who had yet to receive their refunds. At the time of writing, there was over 750 members.
Some people have said they are still having trouble accessing refunds. General admission cost €25 and family passes were €80. However, some had paid extra for VIP passes which would have guaranteed the ticket holders a 'meet-and-greet' with some YouTube personalities.
One customer wrote: "I'm awaiting refund through paypal. I raised a claim with them online and GamerCon turned down my request even though I got an email from Eventbrite saying GamerCon have refunded me and it will take four days etc but still no money.
So I rang PayPal who were very helpful and they raised dispute as the lady said I was right. So now PayPal want a headed letter from GamerCon with their company info etc on it. I mailed GamerCon yesterday asking for info. Haven't heard back from them yet.
A statement on GamerCon's official website urged customers to be patient while the thousands of refunds are processed by PayPal.
"As part of the dispute resolution process for PayPal, when a refund request is made, the funds associated with the request are held by PayPal, but a portion of these funds appear in both the buyer and seller's PayPal account until the dispute has been resolved.
"Neither the buyer nor the seller has access to these funds until agreement has been reached by the buyer and seller (within 20 days). Beyond 20 days, an unresolved dispute moves to a 'claim' which is asking PayPal to decide the outcome of the refund claim.
"It is for this reason, you may receive an email or see funds related to the GamerCon ticket transaction being 'Partially refunded'."
Initially, GamerCon had tried to blame the Convention Centre for the access problems. A statement issued in the initial aftermath of the fiasco, founder Ferdi Roberts, said that there were issues with queues within the building and that "this was not under GamerCon's direct control – the Convention Centre Dublin are responsible for people management and public safety within their building". However, the Convention Centre released a statement soon after saying that GamerCon had seriously underestimated the amount of time the average customer would stay at the event which led to the delays.
#Open journalism No news is bad news Support The Journal

Your contributions will help us continue to deliver the stories that are important to you

Support us now
In an interview with Fora earlier this month, GamerCon's organiser Ferdi Roberts said the issue of partial refunds was only in relation to customers who had paid for tickets through PayPal, which temporarily withholds money owed to customers for a period of time, according to Roberts.
"Every one of my refunds was 100%," he said. "We had a very black-and-white communication on the event: if you didn't have access to the event and you didn't have access to the event, you would get a full refund. I have met that commitment in every single request."
'Financial difficulties'
Meanwhile, an email from Eventbrite to a customer has been circulated on Twitter.
In it, the company said it was repaying affected attendees after being "notified that the event organiser is unable to provide the refunds due to financial difficulties".
Roberts has denied that claim.
"There was a discussion about further refund requests," he said. "They mentioned a number to me and I said I needed to talk to my accountant so we could have visibility on when those funds would be available. That was the extent of it. No talk of financial difficulties."