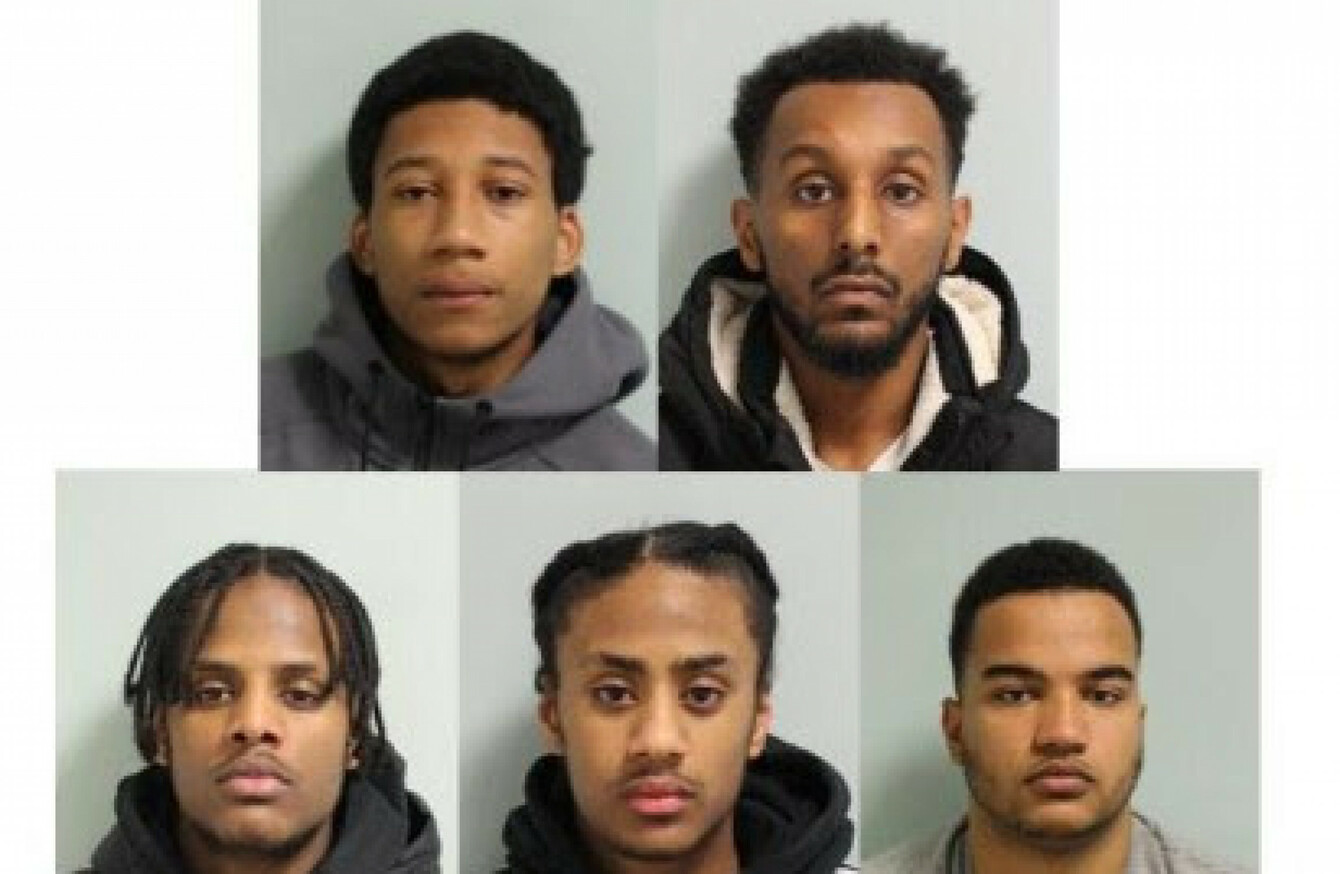 Rhys Herbert (top left); Yonas Girma (top right); Issac Marshall (bottom right); Jordan Bedeau (bottom centre); Micah Bedeau (bottom left).
Image: Metropolitan Police
Rhys Herbert (top left); Yonas Girma (top right); Issac Marshall (bottom right); Jordan Bedeau (bottom centre); Micah Bedeau (bottom left).
Image: Metropolitan Police
FIVE MEMBERS OF a London gang have been handed Criminal Behaviour Orders that prevent them from making music glorifying violence.
The gang, aged between 17 and 21, were given the three-year CBOs today having been jailed for conspiracy to commit violent disorder.
The gang pleaded guilty in May after arming themselves with machetes and baseball bats to take on a rival gang last November. The court heard the group were about to launch an attack on a rival gang from Shepherd's Bush, possibly in retaliation for an incident involving the grandmother of two of their members.
Police spent two years gathering evidence of the gang's music and social media activity for intelligence purposes and presented it to the court to demonstrate how the gang were promoting violence through their lyrics and actions and why CBOs were needed.
The CBOs have a number of conditions relating to music the gang post on social media or perform live. The five defendants must not:
Incite or encourage violence against any individual, group or gang by claiming responsibility for or threatening to commit acts of violence;
Make reference to a number of gangs or members of those gangs, either by their actual names or pseudonyms and street names;
Make reference to the death or injury of those gang members;
Reference specific post codes.
One song called 'No Hook' included sounds of gun shots and lyrics such as:
"Clock me an opp (opposing gang member), wind down the window, back (get) out the spinner (revolver firearm) and burst (shoot) him."
"I put bullets in numerous guys like how come the opps (opposing gang members) ain't learning?"
"OT trip (out of town or county line) trying to get some funds . We get bread (money) and invest in guns. Dem boy run when we tapped **** Ching (stab) Splash (stab) aim for his lungs."
"Man lurky (creeping around with intent) that's standard. That's gang that's gang. Four men on two peds (mopeds) jump off with my shank (knife) leave an opp (rival gang member) boy splattered (covered in blood)."
#Open journalism No news is bad news Support The Journal

Your contributions will help us continue to deliver the stories that are important to you

Support us now
The gang can meet in public to make music if they have authorisation from the police and they must notify police of any new official music videos they feature in within 24 hours of publication.
They must also provide police with a list of their official videos that are currently unpublished so they can be taken out of circulation if they breach the conditions of the CBOs.
The CBOs also stop the defendants meeting in a public place with other gang members aside from certain circumstances, entering particular areas, attending Notting Hill Carnival and having balaclavas or full facial masks in a public place.
"We believe this to be one of the first times, if not the first time, we have succeeded in gaining Criminal Behaviour Orders that take such detailed and firm measures to restrict the actions of a gang who blatantly glorified violence through the music they created," commented Detective Chief Superintendent Kevin Southworth today.
Their lyrics referenced real events that had happened and made threats that further violence would take place. If they break the conditions of the CBOs they will be back before the courts.
We're not in the business of killing anyone's fun, we're not in the business of killing anyone's artistic expression – we are in the business of stopping people being killed. When in this instance you see a particular genre of music being used specifically to goad, to incite, to provoke, to inflame, that can only lead to acts of very serious violence being committed, that's when it becomes a matter for the police.
"This isn't about us straying into the area of regulation or censorship – we are not trying to ban anyone from making music nor are we demonising any one type of music – but the public rightly expect us to take action in a case such as this where a line has very clearly been crossed and the safety of individuals is put at risk."