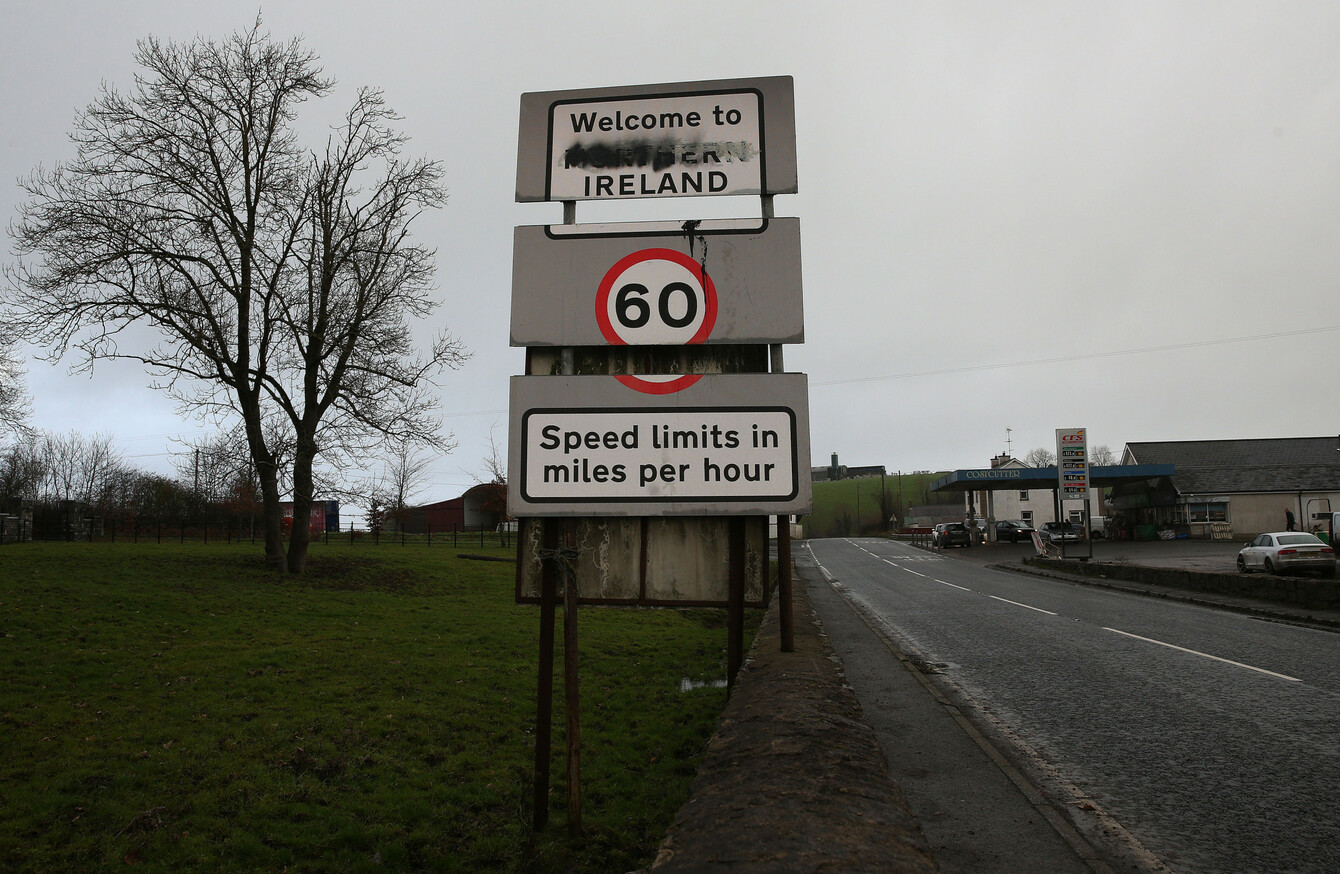 A vandalised 'Welcome to Northern Ireland' sign at the border between Northern Ireland and the Republic of Ireland in Middletown, Co. Armagh.
Image: PA Wire/PA Images
A vandalised 'Welcome to Northern Ireland' sign at the border between Northern Ireland and the Republic of Ireland in Middletown, Co. Armagh.
Image: PA Wire/PA Images
BORDER GARDAÍ ARE "completely unprepared" for Brexit and have not once been briefed on the potential policing implications that a hard or soft border would cause, a garda representative has claimed.
Rank-and-file members are more than conscious that the border issue has not been resolved and are calling on Garda HQ to start disseminating contingency plans to local stations.
The division of Cavan/Monaghan is one of the worst affected, according to Garda Representative Association (GRA) member James Morrisroe. A lack of new recruits coming through their doors means that not only do gardaí have to contend with the unknown of Brexit, they are also dealing with a general lack of resources.
Morrisroe drew attention to the need for new recruits to boost ranks in his local division.
Probationer gardaí are the new graduates out of Templemore who are sent to stations across the country to get experience. A lack of new recruits has been an ongoing issue for gardaí over the last few years. The recruitment freeze adopted during the recession is over but its impact is still being felt.
Probationer gardaí can only be assigned to stations where appropriate supervision is available leading to a catch 22 situation for Cavan/Monaghan as well as a host of other districts.
Something which was brought up at the Association of Garda Sergeants and Inspectors (AGSI) conference last week was the restrictions caused by a lack of sergeants based in stations.

There are just seven sergeants in Cavan's Bailieboro district as opposed to 12 in 2010. The deficit is seriously impacting policing, according to Morrisroe.
"What you have at the moment is a lack of new recruits coming through. We can't get the probationers coming because we don't have the sergeants to supervise them so we're stuck in limbo.
"Because you've no new members coming in -  morale is suffering. You look at Bailieboro especially. The morale there is very low in relation to previous inquiries.
"Local management is doing its best. But how can senior management in Garda Headquarters in Dublin not be conducting any succession planning (to maintain garda numbers)? They know we'll need a certain amount of sergeants and gardaí in the near future yet nothing is happening. This also affects the allocation to specialists units which were decimated during the moratorium on recruitment.
But Morrisroe is not holding out too much hope. It is his opinion that the border region is somewhat neglected in relation to the allocation of resources.
"One only has to look at recent tensions north of the border to realise the importance of properly resourcing gardai in the border divisions and this is even without the added complicated issue of Brexit."
#Open journalism No news is bad news Support The Journal

Your contributions will help us continue to deliver the stories that are important to you

Support us now
Brexit pressure
It is his fear and the fear of his colleagues that when Brexit finally arrives, An Garda Síochána will be in no way prepared to deal with it. This is not the only major issue for gardaí.
Morrisroe said: "Brexit is a big example – in a year it's here whether we like it or not. Even without Brexit we need more garda graduates. I know it's said all the time but we're at crisis point. What would it be like for argument's sake if it's a soft border with periodic checks? It's not like they don't know this was coming. Action is needed and quick. The bottom line is we are completely unprepared.
"I recall the foot and mouth and BSE crises of 1996 and 2001 where the border was sealed overnight. Hundreds of gardai were temporarily transferred from as far away as Cork for the duration of the operation. Is this the potential scenario that will unfold? One wonders if contingency plans are being drawn up at all.
Responding to the claims, a Garda spokesman said: "Local garda management closely monitors the allocation of all resources in the context of crime trends, policing needs and other operational strategies in place on a district, divisional and regional level, to ensure optimum use is made of garda resources, and the best possible farda service is provided to the public.
"Senior garda management is satisfied that an adequate policing service continues to be delivered and that current structures in place meet the requirement to deliver an effective and efficient policing service to the community. This situation is continually reviewed."