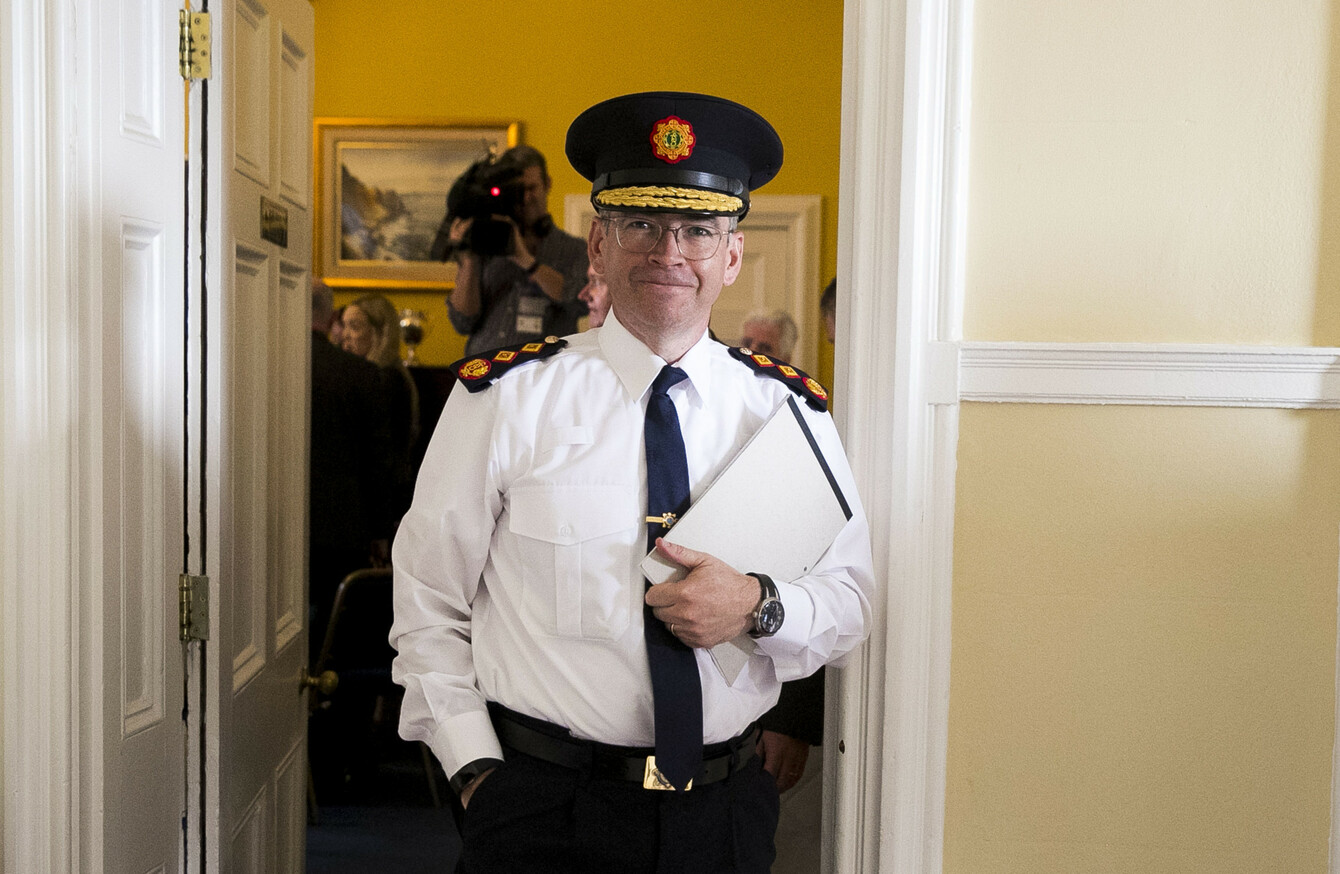 The new Garda Commissioner Drew Harris
Image: PA Wire/PA Images
The new Garda Commissioner Drew Harris
Image: PA Wire/PA Images
DREW HARRIS INSISTS he has no questions to answer about his previous roles with the Police Service of Northern Ireland and its predecessor the Royal Ulster Constabulary.
The new Commissioner, who was officially sworn in at a ceremony on Monday, addressed a number of issues surrounding his appointment at his first press conference this afternoon.
Some have expressed concerns that Harris' appointment creates a conflict of interest because of an obligation to keep certain intelligence from his previous role secret.
Others have taken issue with his evidence at the Smithwick Tribunal, which found collusion between gardaí and IRA members in the killings of two RUC officers.
However, at this afternoon's press conference, Harris firmly pledged his allegiance to his new employer and the Irish public.
"I am here to protect the people of Ireland," he said. "I am here to lead An Garda Síochána in that mission. I've said that very unequivocally.
"I am here in good faith, and I am here as an individual to serve. I'm a public servant, and my public service has always been police work, and that's what I'm here to do."
Weighed evidence
Harris played down suggestions that his previous role with the PSNI created a conflict of interest, denying he held any evidence which could be useful to gardaí for historic investigations.
He pointed to his history working on cross-border operations in which gardaí and members of the PSNI exchanged sensitive intelligence to prevent terrorism.
"I would say that the matters that I was aware of as a member of the PSNI were always dealt with properly in terms of sharing intelligence," he said.
However, the Commissioner also said that while he acknowledged the "hurt" caused to members of Dundalk Garda Station as a result of the Smithwick Inquiry, he accepted its findings.
"My evidence was weighed in the balance by Judge Smithwick, and I've no other comment to make than that," he said.
"If individuals are hurt by that, I recognise that the vast majority of officers worked with bravery and integrity in the border area."
Understanding
Harris added that policing the border area after Brexit would be one of the biggest challenges presented to him, particularly as criminal justice treaties would elapse when Britain leaves the EU.
However, he revealed that his immediate priorities as Commissioner would be an understanding of how resources were being used and what was required of gardaí.
He admitted that he had come into the position at a time when the policing landscape was evolving, he said resources would have to be used properly with an ethos of "openness and accountability".
He said: "We need to have a full understanding of the demand that's made of [us], both in reactive demand in responding, but also, our active demand in terms of operations that we would take on to counter criminal threats."
The Commissioner rejected the findings of a cultural audit of gardaí released earlier this year, which suggested that morale within An Garda Síochána is at an all-time low.
He admitted that while the organisation faced "issues", he said that areas of discontent were being addressed, adding that poor morale was not something he had experienced when he had met with individual officers.
He also expressed hope that the number of officers in the force will be maximised, particularly through the use of civilian members, during his tenure.