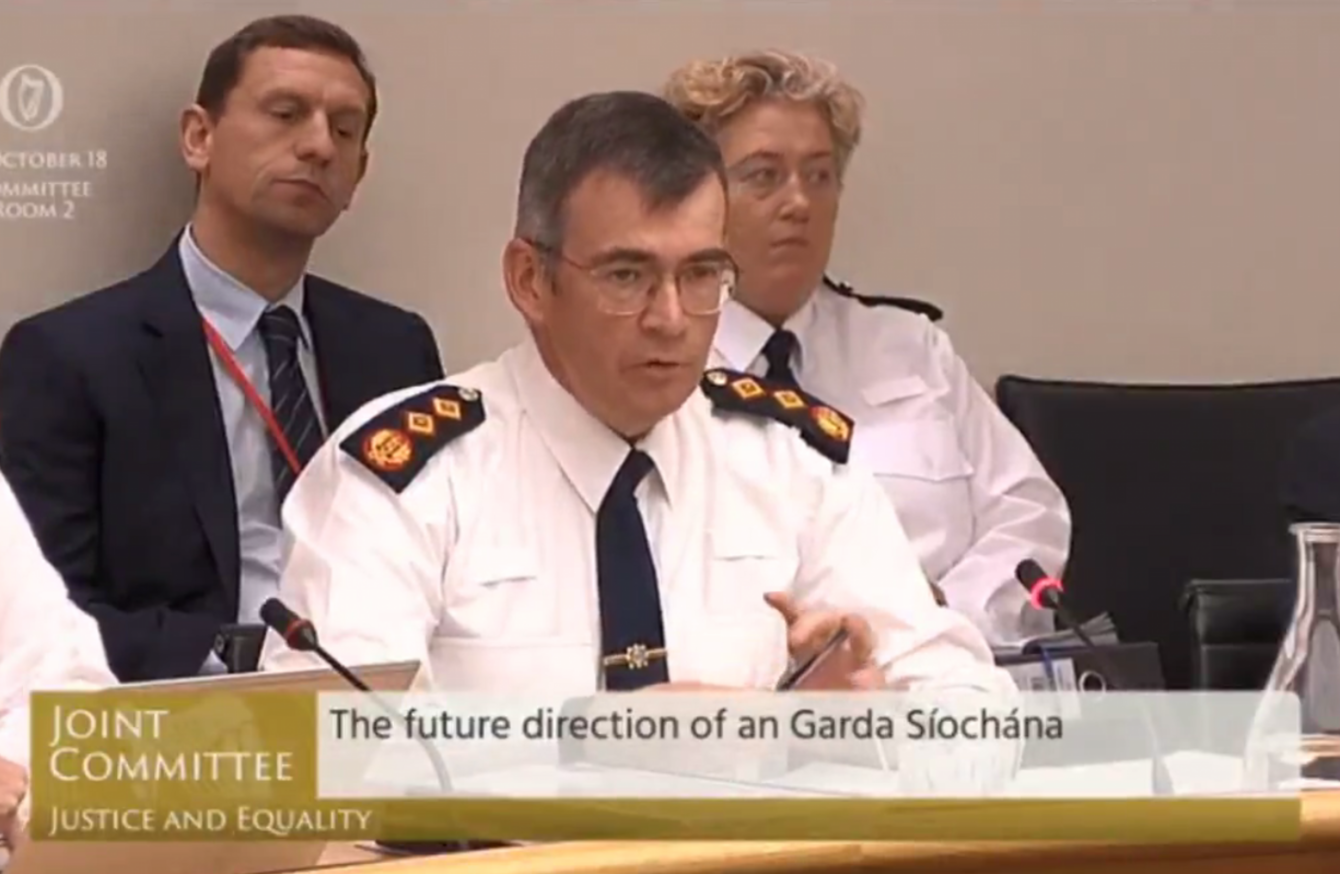 Image: Oireachtas
Image: Oireachtas
GARDA COMMISSIONER DREW Harris has defended his decision to restrict overtime in the organisation. 
Last month the commissioner issued a directive to senior officers stating that he was suspending all discretionary spending on overtime in a bid to correct the garda budget by 30% before the end of the year. 
The move has been criticised by rank-and-file gardaí, with the Garda Representative Association describing it as a "slash and burn" approach. 
Appearing for the first time before the Oireachtas Justice Committee, Drew Harris was questioned by Sinn Féin Donnchadh Ó Laoghaire who said he had heard recent examples of resourcing issues.
One example was "serious anti-social behaviour" in Drimnagh, which he said was not responded to because the area did not have "an adequate number of gardaí".
"Are you absolutely confident that this won't have a significant impact on the quality of policing and the ability and gardaí to respond to crime between now and the end of the year?" he asked the commissioner.
"We received a budget at start of year we and overspent the budget – corrective action had to be taken," Harris responded. He said he has to show good management of public money.
He also explained that this is not "an absolute moratorium" as there is still up to €7.3 million per four week roster that can be used for necessary overtime. 
"Overtime has grown quite considerably over the last number years and I have to get rope around it and understand what it's being spent on and what I'm getting for that overtime."
I'm not apologising for cutting overtime. I regret if it's having an impact on operations but at the same time that hasn't been conveyed to me. Managers are living within the overtime that's been provided to them.
Harris said that an overspend in overtime can cut into other areas and take away his ability to do "other things that are very important as well." He said he expects that there will be similar restrictions on overtime moving into next year.