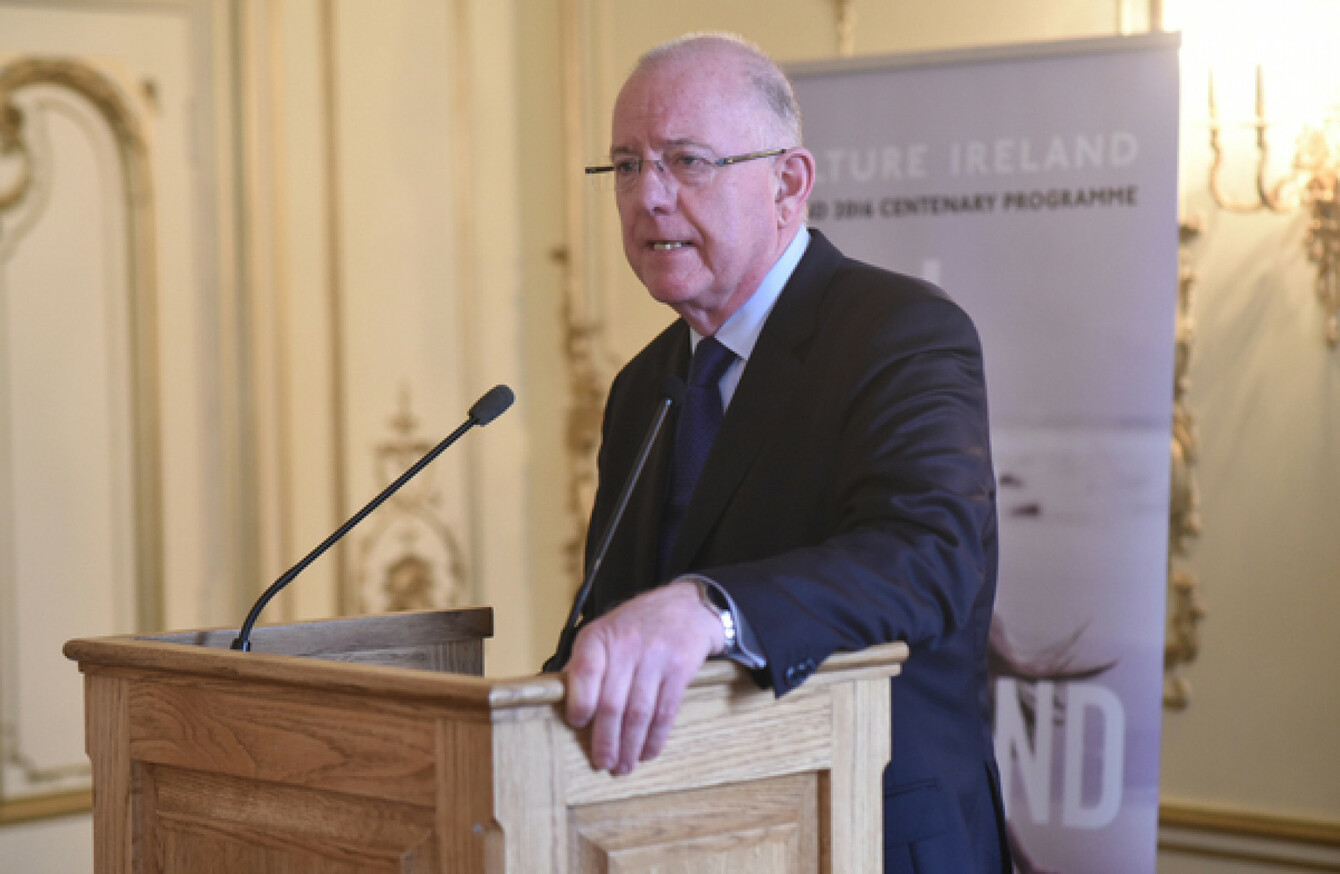 Image: Department of Foreign Affairs
Image: Department of Foreign Affairs
Updated 6.29pm
MINISTER FOR JUSTICE Charlie Flanagan has said he is "extremely concerned" about reports that homicides weren't properly investigated by An Garda Síochána.
The Irish Times reported this morning that two garda whistleblowers have come forward to allege that a number of murders and unlawful killings were not properly investigated as such in the past.
The gardaí said that they have evidence to back up their claims.
In April last year, An Garda Síochána said it had completed a review of 41 deaths and identified "minor" classification issues, but stressed that each one had been properly investigated as a homicide.
In a statement this evening, Minister Flanagan said "any substantiated allegations of this kind would be very serious and a cause of grave public concern".
I have not received any protected disclosures or allegations that unlawful killings have not been investigated, and Garda management are adamant that all unlawful killings are investigated.  I have seen no evidence to the contrary but I have today asked An Garda Síochána for further formal assurances in this regard.
He said that he was confident the Policing Authority would deal with the issue comprehensively. Flanagan also said that the shortcomings in homicide figures had emerged some time ago, and that efforts were being made to work on this.
Later on this month, the Policing Authority will meet with the acting garda commissioner Dónall Ó Cualáin.
Flanagan understands that the acting commissioner will be expected to provide an explanation as to why there are some discrepancies.
Ó Cualáin will also be expected to outline the process and timeframe for the review of all homicides cases from 2003-2017.
"Profound and serious issue"
Earlier, Labour TD Alan Kelly has said that protected disclosures made by two garda whistleblowers that allege that unlawful deaths were not investigated properly as homicides represent a "profound and serious issue".
Speaking on RTÉ's Today With Sean O'Rourke Labour TD Alan Kelly confirmed that the disclosures have been made and that he had been in contact with the gardaí in question.
He said he had been aware of the issue for some time and that the gardaí were "very brave people who have come forward and put this information out there".
"Unfortunately there have been deaths in this country which have not been classified correctly," Kelly said.
Where people have died of something akin to homicide and it has been classified as a road traffic death, misadventure, assault or a number of other things and it is quite astonishing, it is absolutely astonishing and incredible that this has happened.
He said the whistleblowers had made attempts over 15 months to get the information dealt with but had been "stopped and blocked".
Kelly said that it was not a victimless issue and called on Justice Minister Charlie Flanagan to make a public statement on the matter.
"This is not going to go away. This issue has been around for some time. We need to know what the Department of Justice was aware of and we need to know how they have been managing this," Kelly said.
Policing Authority
Yesterday, the Policing Authority released a detailed statement in relation to the failure by gardaí to properly record homicides as such.
#Open journalism No news is bad news Support The Journal

Your contributions will help us continue to deliver the stories that are important to you

Support us now
This follows the gardaí telling the Policing Authority that a total of 89 homicides over a 14-year period were not counted due to an issue with the way they were recorded on the Pulse database.
In the majority of cases, if the death had been caused by another incident – a road collision, for example – it was classified under that heading, rather than as a homicide. In others where there were multiple victims, only one was counted.
As a result of this, in September the Central Statistics Office postponed the publication of crime statistics while the gardaí carried out an extended review of homicide data.
In its statement yesterday, the Policing Authority expressed its frustration over the length of time it has taken An Garda Síochána to deal with the situation.
It said that it would ask senior garda management in a meeting on 22 February about the matters relating to the homicide figures.
The authority made no further comment when contacted by TheJournal.ie today.
A Garda spokesperson said that it was "prohibited from commenting on any individual protected disclosures that may or may not have been made in relation to individuals in An Garda Siochana or the organisation as a whole".
"There is an ongoing quality review into the classification of homicides going back to 2003 being conducted by experienced professionals within An Garda Síochána," the spokesperson said.
"This review was initiated by An Garda Síochána. An Garda Síochána has kept the Policing Authority informed of the progress of this review.
When complete we will inform all the relevant parties of the findings including the Policing Authority. We will also be dealing with this issue at the public meeting with the Policing Authority later this month.
With reporting from Sean Murray