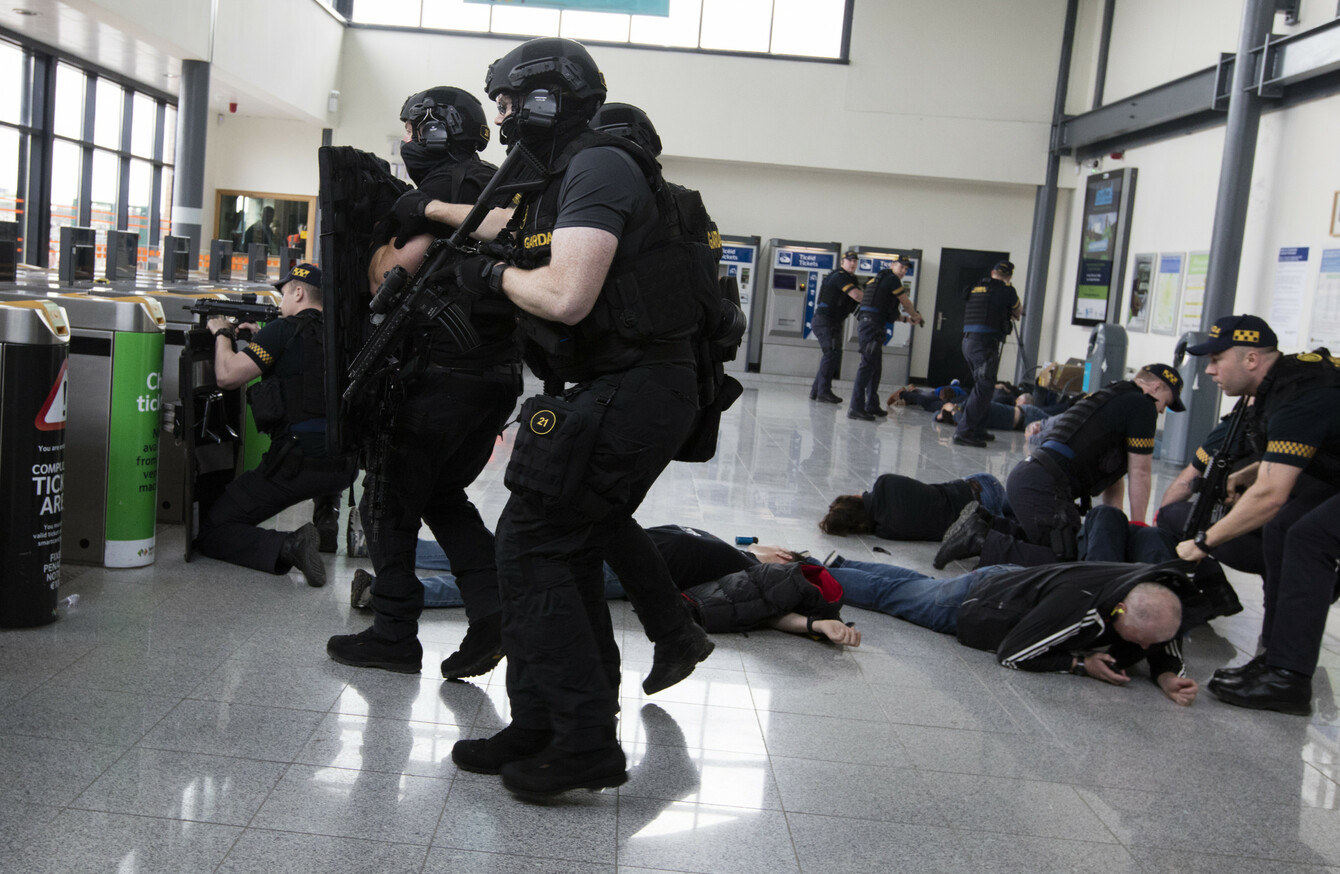 Gardaí in Dublin simulated a terror attack last month. Rural officers say there are no resources to protect them.
Image: Eamonn Farrell/RollingNews.ie
Gardaí in Dublin simulated a terror attack last month. Rural officers say there are no resources to protect them.
Image: Eamonn Farrell/RollingNews.ie
RURAL IRELAND HAS been "decimated" by cuts to policing and infrastructure since the crash almost a decade ago – and the lasting devastation caused by the economic crisis has left Ireland's rural gardaí at significant risk, according to members on the frontline.
Brendan O'Connor, who represents Donegal in the Garda Representative Association (GRA) and James Morrisroe, who represents the Cavan/Monaghan division told TheJournal.ie how the dramatic differences between An Garda Síochána and the PSNI at a time of "critical importance" are causing members to fear for their safety at a time of greater instability across Europe.
Said O'Connor:
"Ten years ago when we were only facing domestic terrorism, we had the ability to scramble with automatic weapons in any district. Now, we face heightened threats from the IRA and now the threat of Islamic terrorism, however unlikely it is, we're not as prepared. We feel our armed capabilities have been centralised.
"We obviously hope that a time like that never comes but we have to be realistic and have the best force we can possibly have at any time. But right now, it's just non-existent in places.
If you look at the difference between Lifford and Strabane. We have rural Killinaskully-type policing if something happened. We have the PSNI on one side of the road with armoured Land Rovers and then we have two mules [garda vernacular for 'hardworking frontline members'] in a Fiesta over here. I don't like saying it but most frontline members are sitting ducks at times.
As things stand, certain gardaí are allowed carry sidearms in every district around the country.
However, it is the assertion of a number of GRA members that the removal of long-barrel weapons such as rifles to district headquarters means that gardaí will be unprepared in the event of an attack.
This theory was backed up by James Morrisroe. The Cavan/Monaghan representative for the GRA said the removal of the Uzi submachine happened in 2012. It was withdrawn from general detectives as management said it was no longer effective enough.
Instead, there is now a small number of the automatic firearms at divisional headquarters around the country.
Morrisroe added:
The Uzi was there. It was the finger in the dam I suppose and then that was taken away. Since then there have been terror attacks on civilians. To sit back and think we are immune is foolish.
The lack of new recruits is also a big issue for rural policing, according to both representatives. In Morrisroe's district, since recruitment restarted in September 2014, they have received 20 probationers. However, there have been 29 retirements from the force. This means that, despite finally getting new members, the station is still down nine officers in total since the recruitment freeze.
"What we want for the border region especially is 24-hour patrols. That is something which is going to come down the line with Brexit as well. The cross-border criminals haven't stopped but we have less to go on.
"If things go wrong with Brexit, you're going to have to seal the border with temporary guards. It is something I don't think is going to happen but it is something we have to be aware of," Morrisroe added.
'Talking to the wall'
Safety issues also arise for members when there is a lack of resources for adequate policing. Citing an example, O'Connor described how transporting those in custody to other garda stations is becoming problematic.
Where previously, his region would have had public order vans which had dividers between those in custody and officers, cutbacks have meant that occasionally, gardaí must sit beside alleged offenders.
#Open journalism No news is bad news Support The Journal

Your contributions will help us continue to deliver the stories that are important to you

Support us now
"There have been at least four vans that haven't been replaced. Members are now being spat at. There was one occasion that a man believed to have an infectious disease was being transported. He had an open wound and could have infected guards there. I have applied for additional vans, citing these reasons but you may as well be talking to the wall," O'Connor added.
For O'Connor and Morrisroe, there is a disconnect between Garda management in Dublin and what the reality of police work is like for those working in under-resourced areas.
Rural Ireland has always been under-resourced, according to the two representatives. But they say there is a culture within the force to massage the stats so it would appear that we have a fully functioning force.
For example, O'Connor described how management can say that there is always an armoured patrol on the border region. However, the units, based in both Ballyshannon in Donegal and Dundalk in Louth, can be anywhere along the border when the call comes in, meaning that response time is impossible to predict.
And it is at this time, where the UK terror status stands at a "severe level", officers in the Republic feel that the disparity between the two forces would be laughable if it weren't so severe.
According to the GRA representatives who spoke to TheJournal.ie, an obsession with statistics is getting in the way of real policing. According to O'Connor, this is one of the biggest problems with the force:
I think the ethos and the cultural problem with the force is the massive disconnect with frontline police and management. A lot of people with autonomy are insulated and disconnected with the frontline. There's no way of communicating. The way to get on and get promoted is to get into an office and be a bean counter.
The person who starves people of resources [is] promoted ahead of the guy who goes out and spends a few quid on the division. We've become obsessed with [Garda computer system] Pulse – ticking the boxes in Pulse.
We're complete slaves to that machine and we're in paralysis.
A statement from the Garda Press Office said that local Garda management closely monitor "the allocation of all resources, in the context of crime trends, policing needs and other operational strategies in place on a district, divisional and regional level".
It added:
The recommencement of garda recruitment has also facilitated the allocation of additional resources to all garda divisions. An Garda Síochána will ensure that additional resources are allocated in accordance with An Garda Síochána's policing plan for 2017.