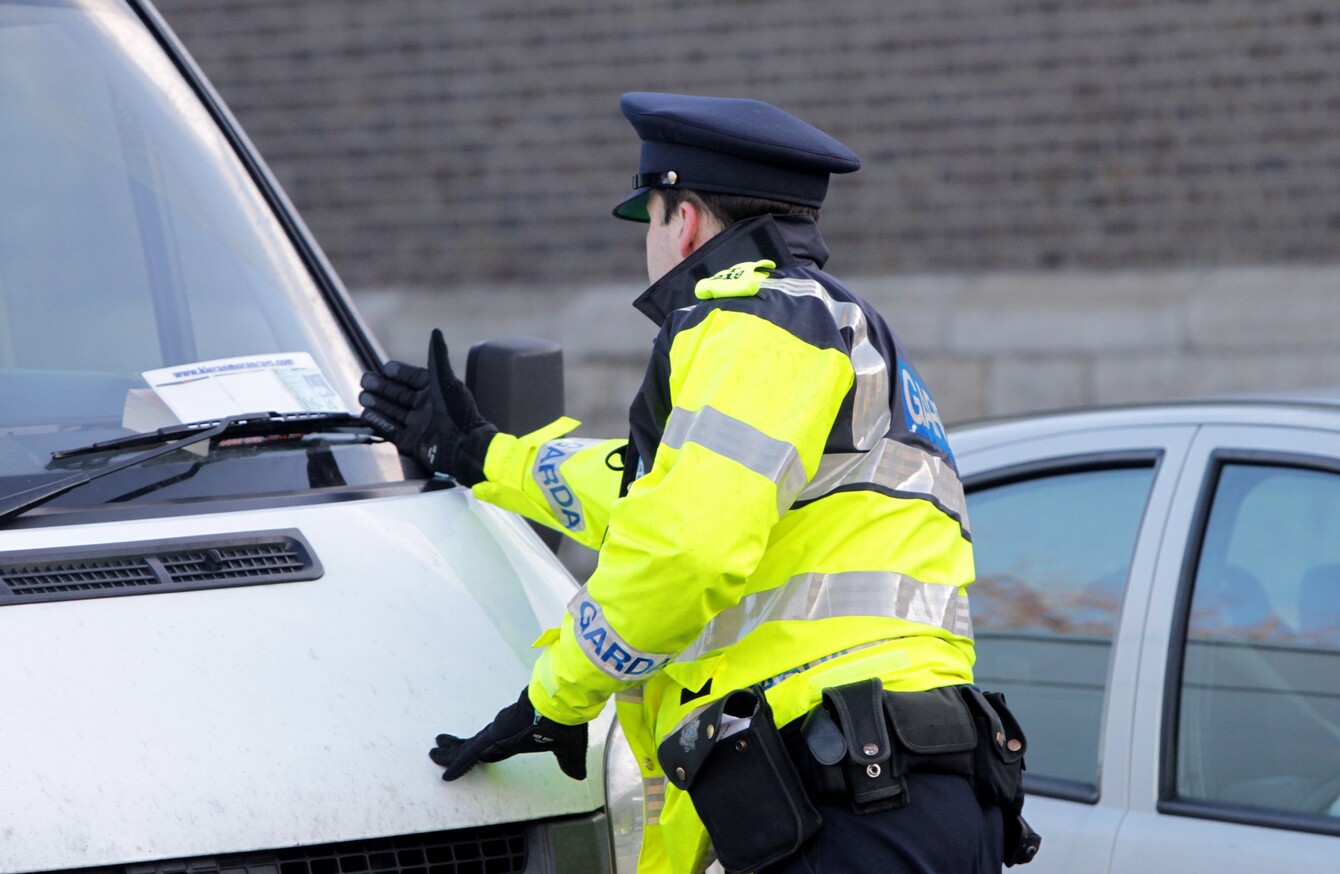 Image: Mark Stedman/Photocall Ireland
Image: Mark Stedman/Photocall Ireland
NOT ONE BUT two separate garda scandals emerged last week as it transpired that nearly one million breath tests recorded by the internal garda Pulse system, in fact, never occurred and 14,700 motorists were wrongly convicted in the courts.
Two scandals, both involving motoring offences but with two very different beginnings.
Last Wednesday, senior members of An Garda Síochána called a press conference to discuss what they described as "issues identified in May 2016 in relation to the operation of the fixed charge processing system as well as issues around breath testing statistics". 
Although this might sound like one issue, they are, in fact, two separate, completely unrelated scandals.
In the course of the press conference, gardaí admitted that there had been 14,700 convictions wrongly imposed on drivers. In these cases, the motorists concerned were never afforded the opportunity to pay a fine. Instead, they were convicted of the offence. The offences ranged from not having a valid NCT cert, to no tax, or unaccompanied learner drivers, or not displaying L plates. 
It also emerged that officers had recorded nearly one million breath tests which never happened, in an apparent attempt to massage productivity statistics.
The latest scandal has left Garda Commissioner Nóirín O'Sullivan once again clinging to her position. Justice Minister Frances Fitzgerald found herself defending the State's top cop, while questions were raised over her own position.
But how did we get here? How did this systemic fraudulent behaviour creep into An Garda Síochána, on what now looks like a nationwide scale?
The Breath Test Problems
In 2014, the then-head of the Road Safety Authority (RSA), Gay Byrne, was approached by a Garda reservist who told the former Late Late Show presenter that he had serious concerns about how mandatory alcohol testing checkpoints (MATs) were being conducted.
The reservist, who went on to become a fully-fledged member of the force, said his attempts to tell senior staff about the issues fell on deaf ears, forcing him to go to the RSA.
After hearing of the alleged litany of failures within garda management over the MATs, Byrne wrote a letter to then-Transport Minister Leo Varadkar, who passed on details of the alleged complaints to former Garda Commissioner Martin Callinan by letter.
It has been claimed by Frances Fitzgerald that the allegations were thoroughly investigated and all the correct procedures were found to be in place.
In her statement to the Dáil last night, she said: "An anonymous complaint was made to the Road Safety Authority in April 2014, outlining a number of issues which included the operation of MAT checkpoints. This complaint was referred to An Garda Siochána by the then Minister for Transport, Tourism and Sport.
An Garda Siochána indicated in a detailed letter to my Department in May 2014 that they had looked into the claims regarding MAT checkpoints and they were satisfied that correct procedures were in place to account for MAT checkpoints that ultimately did go ahead.
In June of last year, Fitzgerald was made aware that there were discrepancies in the MAT statistics and was told that an internal garda audit was underway to determine how the figures had been massaged.
How was this happening?
Back in 2009, gardaí began logging all MAT checkpoints on the garda Pulse system.
At the time, there were over 1,200 breathalyser devices, known as Dragers, which were in use across 108 garda districts with no central recording process.
In November last year, as the internal garda audit was ongoing, a new paper-based recording and verification process began as the software on the Pulse system was updated.
The effect of the IT upgrade was that officers would now have to record the serial number of the device used for each breath test plus the meter reading before and after the checkpoint was concluded. Data from the device is now used to verify the total number of breath tests conducted at each checkpoint.
Before then, it was possible to record more breath tests on the Pulse system than were actually carried out by the Drager devices.  This, according to Fitzgerald, was just one of the suspected ways officers were able to fabricate the number of MAT checkpoints conducted, something which sources have told TheJournal.ie was done so statistics would look more favourable to garda management.
Exactly who was told and when
11 April 2014 - Leo Varadkar, then the Minister for Transport, wrote to the Commissioner advising of (anonymous) correspondence received from Gay Byrne, containing allegations in relation to the manner in which MAT checkpoints were being performed.
24 April 2014 – A report was submitted by the Assistant Commissioner for the Western Region where the issues raised would be put on the agenda for the next accountability meeting.
12 May 2014 –  Report submitted to Department of Justice.
22 August 2014 - Garda National Traffic Bureau (GNTB) is contacted by the Medical Bureau of Road Safety over the purchasing of disposbale mouthpieces for the Drager (breath-testing) devices.
8 January 2015 – All garda reserves spoken to about anonymous tip-off. Gardaí said it was not possible to identify the author of correspondence. Therefore, it was not possible to progress the matter.
7 March 2015 – Assistant Commissioner for Traffic instructs district officers to ensure protocols at MATs are followed.
20 July 2015 – Working group tasked to examine the recording of equipment and data on Pulse.
11 November 2015 – An audit of breath tests in the Southern Region finds a discrepancy of 17% between the number of breath-tests recorded on Pulse as having been conducted by gardaí and the number of breath-tests recorded on the breath-testing devices.
10 March 2017 – Medical Bureau of Road Safety provided data to gardaí regarding the recorded use of breath-testing devices for the same period (1 November 2011 to 31 October 2016) on the basis of the information recorded from the devices issued. An analysis of that data indicates that 1,058,157 tests were recorded for the period under review. 1,995,369 were recorded on the Pulse system.
The Fixed-Charge Notice Problem
Like the MAT figures, Fitzgerald was told in June of last year that there had been an error in relation to summons having been incorrectly issued to people who should have received a fine for the offence of not having a valid NCT certificate. This had become a fixed charge offence in December 2014.
It was only when someone appeared before a court in Carrick-On-Shannon in early 2016, having been summoned for failure to pay a fine which they already had paid, did gardaí know something was wrong.
A thorough review of the fixed charge penalty notices was carried out. Between 1 January 2006 and 27 May 2016, a total of 146,865 summonses for people who had committed offences were brought before the courts incorrectly. This means the person was issued with the summons without being given an opportunity to pay a fine.
In relation to 146,865 summonses, 14,700 cases resulted in a penalty being imposed by the courts. Gardaí have started to appeal those outcomes to the Circuit Court.
Exactly who was told and when
6 February 2016 - Garda Information Services Centre (GISC) become aware of an issue regarding court summons for NCT. Internal review begins at GISC.
9 February – GISC stopped creating summonses in respect of the offence of not having a valid NCT certificate.
26 April – Member of public appears in court in Carrick on Shannon. Had already paid the fine yet was still told to appear in court. GISC informed. So too is Garda IT.
16 May – A meeting is held at the Garda National Traffic Bureau (GNTB). Internal review ordered.
10 June -  Secretary General, Department of Justice and Equality notified.
30 June - Press release is issued regarding the issue of NCT fines.
4 July – The issue is discussed with the Policing Authority.
4 July – Gardaí seek advice from the DPP
12 July – DPP advises that the matters outlined must be rectified and acknowledges that work on pre-2104 incidents was ongoing.
7 November - DPP formally advised in relation to the identified convictions and also suggested that a review of data 2006 – 2013 be conducted.
9 March 17 – Updated report is provided to the Department of Justice and Equality. On the same date, a report on the issue was provided to the Policing Authority.
21 March – The matter of fixed charge notices is raised with the Policing Authority and gardaí advise that a total of 146,865 summonses have been identified as having been issued incorrectly and that 14,700 court outcomes have to be addressed, by way of an appeals process to the Circuit Court.
23 March – Press conference called and full scale of the scandal is revealed.
Where do we go from here?
There are now two investigations ongoing. One is an internal audit by An Garda Síochána into their own actions. The other is an independent review which was ordered by the Government yesterday.
Those who were wrongly convicted of a motoring offence are to be sent a letter next week outlining what will happen next.
The Garda Commissioner is to appear before the Oireachtas tomorrow and it is understood that she will tell TDs that she has a great fear that the massaging of statistics has happened in other departments, and not just in traffic.