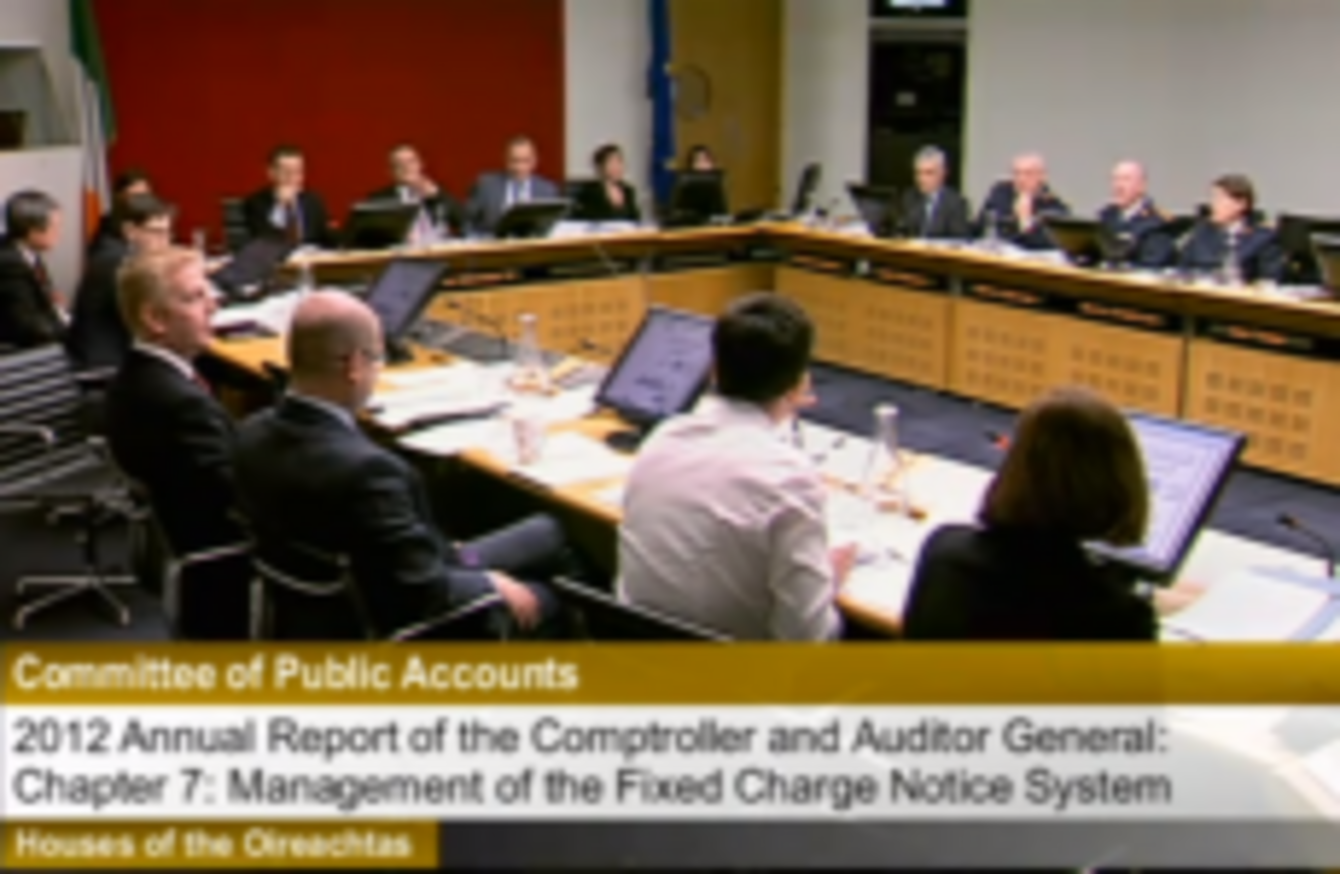 The Public Accounts Committee spent five hours questioning Garda Commissioner Martin Callinan last week
Image: Screengrab via Oireachtas TV
The Public Accounts Committee spent five hours questioning Garda Commissioner Martin Callinan last week
Image: Screengrab via Oireachtas TV
THE PUBLIC ACCOUNTS Committee will meet later today to decide whether or not to hear evidence from a serving garda sergeant who has raised concerns about the administration of the penalty points system.
Maurice McCabe is one of two whistleblowers who have alleged widespread malpractice in the administration of the fixed charge notices system. The claims have been robustly dismissed by Garda Commisioner Martin Callinan.
Last night, the Justice Minister Alan Shatter referred the controversy to the Garda Ombudsman and criticised a "minority" of PAC members whose comments, he said, were "particularly disturbing". This intervention is likely to be discussed at today's meeting.
The PAC will decide later today whether or not McCabe will come before it and whether this will happen in public or private session, but his potential appearance could yet be the subject of a High Court challenge from An Garda Siochana.
The other whistleblower, ex-garda John Wilson, has also indicated a willingness to come before the committee which is scrutinising the penalty points issue on foot of a report by the Comptroller & Auditor General.
Members of the committee are split on whether McCabe's evidence should be heard in public or private session.
PAC chairman John McGuinness said last week that the committee wrote to McCabe to inform him of the rules of engagement with it – i.e. not naming names – if he does come before it and said members are awaiting the whistleblower's response.
It's believed McCabe is taking his own legal advice on whether or not appear. Garda Commissioner Martin Callinan said last week that he would seek legal advice if the garda was to appear before TDs.
Last week Callinan said it was "grossly unfair this situation has involved" where the whistleblowers would appear before the committee and said he "clearly will have to take legal advice" on the matter.
He also described the allegations and the way in which they've been made as "quite disgusting".