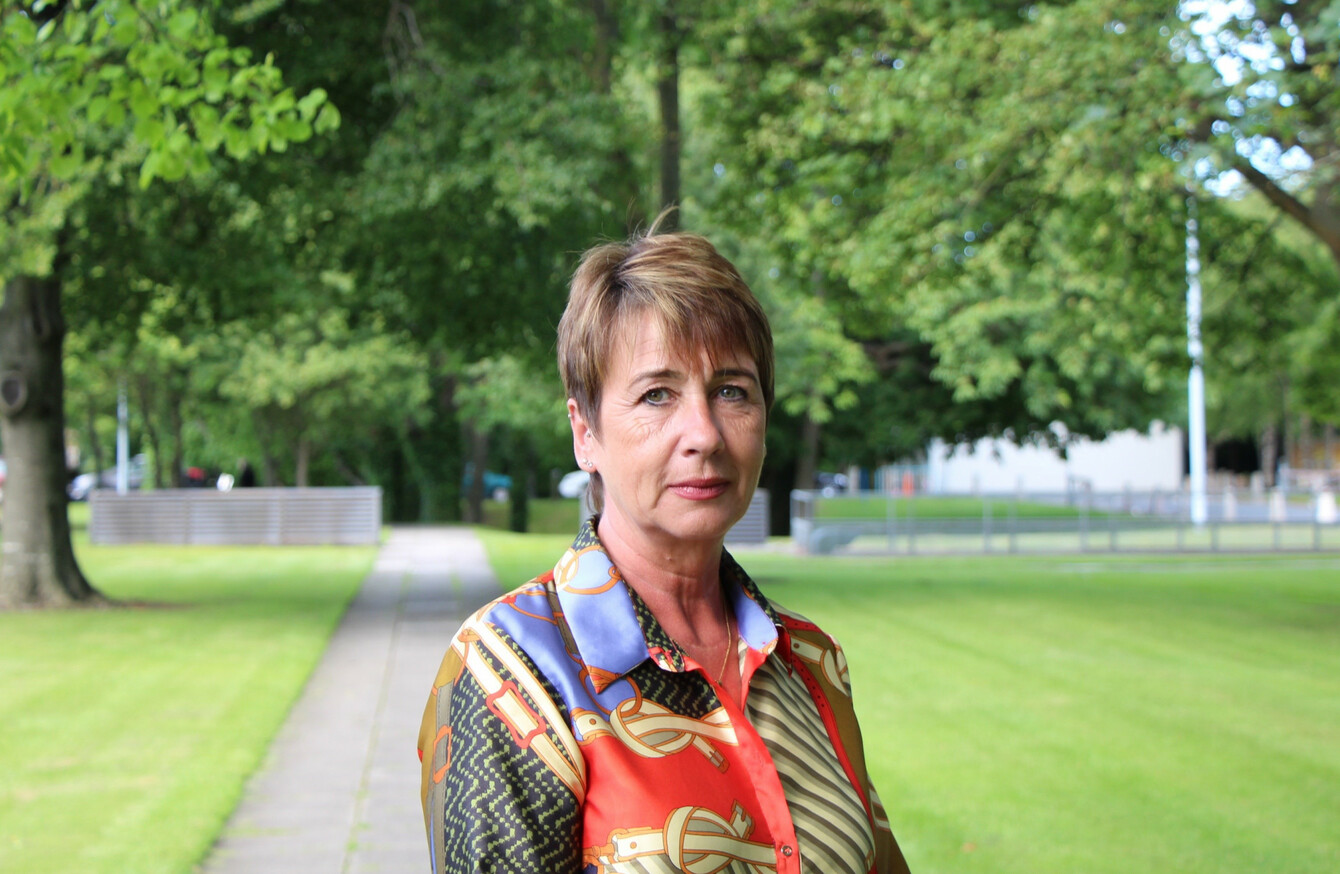 Majella Moynihan
Image: RTÉ Radio 1
Majella Moynihan
Image: RTÉ Radio 1
Updated Jun 15th 2019, 9:17 PM
GARDA COMMISSIONER DREW Harris has issued an apology to a female garda who was threatened with disciplinary action from An Garda Síochána for having premarital sex with another recruit garda, and for giving birth to a baby outside wedlock.
Majella Moynihan shared her story publicly for the first time today on RTÉ Radio 1′s Documentary on One today, about the effect the "vicious" investigation had on her, and about how she still feels to this day that she was pressured into giving her son up for adoption.
In February 1985, the story of a female garda who had sex with another garda and became pregnant made headlines after the force decided she wouldn't be disciplined.
Majella Moynihan, who was 22-years-old at the time, was the garda at the centre of the case. 
Drew Harris issued an apology this evening on behalf of An Garda Síochána.
I fully apologise to former Garda Majella Moynihan for the manner in which she was treated and the subsequent lifelong impact this had on her.
'Tremendous fear'
In 1983, before Majella went to the Garda Training College in Templemore, Co Tipperary, she met a fellow garda recruit at the Garda Club. 
"He went down to Templemore in 1982, and then I ended up down in Templemore myself in April of '83 and we started up the relationship again. At weekends, I'd come to Dublin and he'd go to his home.
While Majella suspected her pregnancy would create difficulties for her, she was at that point unaware that news of her pregnancy had spread through Garda ranks and had gone as far as the Garda Commissioner's Office.
As the result of an internal Garda investigation for breach of discipline, Majella was asked to provide a full statement regarding her relationship with the recruit garda, the times she had sexual intercourse with him, her pregnancy, the birth of their baby and her intention to have the baby adopted.
Majella was charged with two counts under the 1971 Garda Síochána Regulations: 'Conduct prejudicial to discipline or likely to bring discredit on the Force', which were described in her charge sheet as:
1. "… you, being an unmarried female member of An Garda Síochána, did associate on terms of intimacy and undue familiarity with one, Recruit Garda [name redacted], an unmarried male member of An Garda Síochána […] and during such period of association you had sexual intercourse with said Recruit Garda […] as a result of which you became pregnant and gave birth to a male child at Galway Regional Hospital, Galway, County Galway on or about 31 May 1984."
2. "… that you being a female member of An Garda Síochána stationed at Store Street Garda Station, Dublin, did on or about the 31st of May, 1984, give birth to a child outside wedlock at Galway Regional Hospital, Galway, Co Galway.
She said that when she was called into the room to be told a notice of breach of discipline was taken against her, she "had tremendous fear".
I was living outside of my body at that stage because I just, I was destroyed within, I was absolutely the most vulnerable state I was ever in in my whole life.
I remember thinking 'What are they doing?', 'Why am I being charged like a criminal?' I did nothing wrong.
"And the questions that I were asked, no person should ever be asked those questions. All about my past history, my sexual past. All about my life, it had nothing to do with the fact that I was pregnant, that I had given birth. At that stage I just felt that I wanted to die. I didn't want to live anymore."
#Open journalism No news is bad news Support The Journal

Your contributions will help us continue to deliver the stories that are important to you

Support us now
Directly after his birth, Majella's son David was initially placed in foster care before being legally adopted in December 1984. Majella says she felt then and still feels to this day that she was coerced into signing the adoption papers.
"Looking back at me now as that 21 year old, 22 year old, I was a lost soul," Majella said. "I was portraying to the civilian out on the streets that I was a wonderful, carefree person and inside I was dying. When I'd see little babies in buggies, I'd automatically think of David. Every day, I thought of him." 
The Gardaí eventually decided not to take disciplinary action against Majella. The Archbishop of Dublin advised the Garda Commissioner at the time that if Majella was convicted, it would encourage other female gardaí to go to the UK for abortions; Majella said this contributed significantly to the decision not to sack her.
Shortly after the charges were dropped, the story appeared in the papers. Majella recalls being summoned to a room by a Garda inspector at Store Street Garda Station, shown the papers and told: "You've made the headlines".
And I remember just falling to the ground and just saying 'What else are ye going to do to me?' I felt totally betrayed at that stage again, that some member of the Gardaí had given it to the papers. And the charge sheets and everything. The only thing that wasn't was my name wasn't mentioned.
I just felt totally violated again and that my whole life was out there in the media and that everybody was reading it and it was on the Six O'Clock News as well and I was sitting in the sitting-room and my father was watching the news and he said to me "Do you know that girl?" and I said 'No' and little did he know, it was me.
In April 1985, Majella was then summoned to a sworn hearing on the conduct of the recruit garda, who was the father of her child. Here, she had to testify about her sexual relationship with him, and her sexual history. The father of her child was fined £90 for his conduct.
Traumatised by the loss of her child and by the treatment she had received within the force, Majella remained a member of An Garda Síochána for a total of fifteen years but, in 1998, sought early retirement.
She has met her son David as an adult after he requested through authorities to meet her. Majella is still receiving counselling in relation to the Garda investigation and has said she wants an apology from An Garda Síochána.