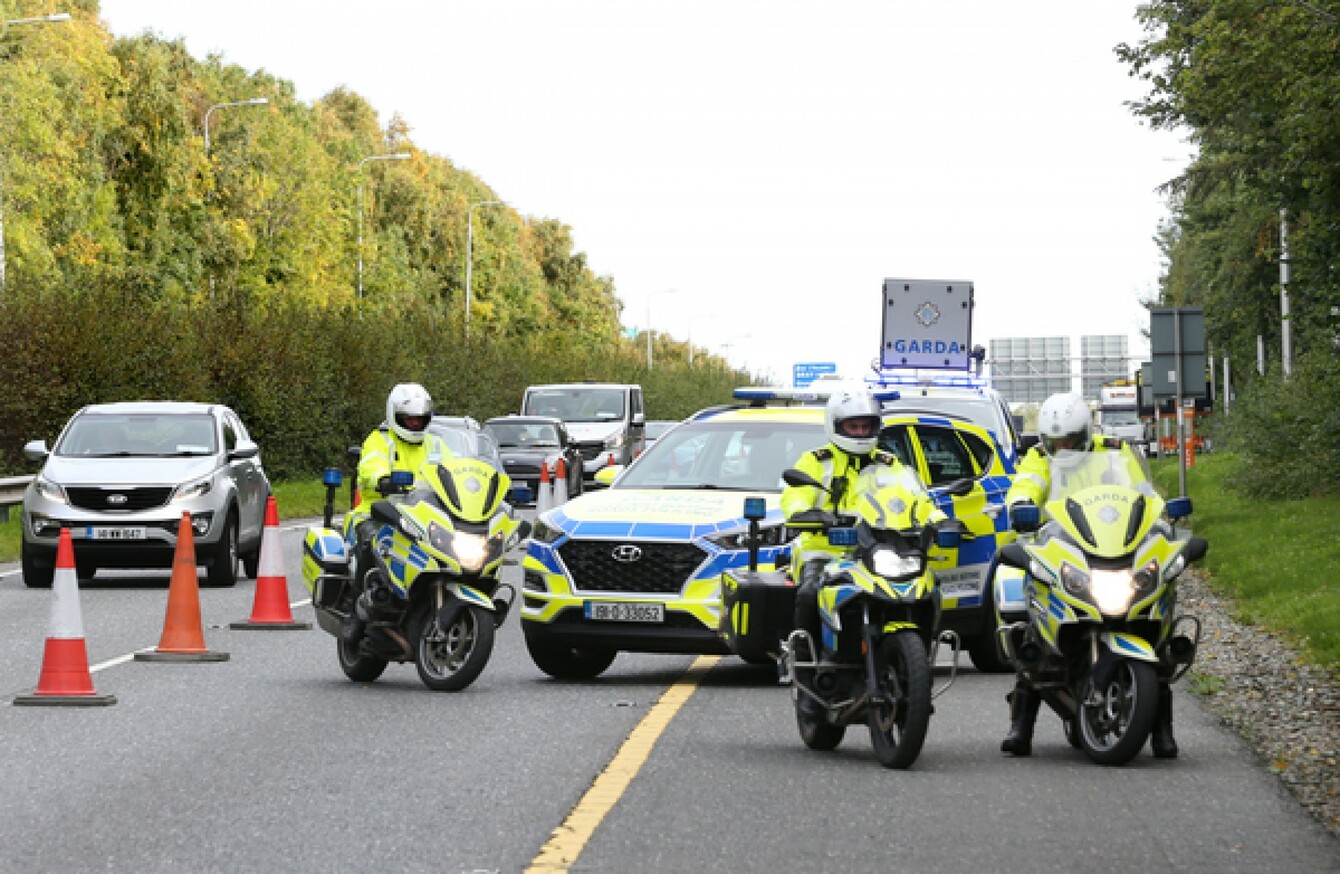 Gardaí at a Covid-19 checkpoint (file photo)
Image: Sasko Lazarov/RollingNews.ie
Gardaí at a Covid-19 checkpoint (file photo)
Image: Sasko Lazarov/RollingNews.ie
Updated Oct 20th 2020, 9:30 PM
FINES OF €1,000 will be issued to those who organise house parties during the Level 5 restrictions, it is understood. 
The government is tonight drafting new legislative amendments that will introduce a graduated scale fines for those who breach the restrictions, as part of an attempt to curb the spread of Covid-19. 
It is understood that fines of €1,000 will be given for the owners of houses, or tenants living in houses where house parties are held. 
There will be fines of up to €500 for other breaches of the Covid-19 restrictions which will come into force on Thursday.
Earlier, Cabinet agreed to give Gardaí new powers that will allow them to issue fines to the occupier of a house where a house party or gathering is taking place.
Gardaí will be allowed to call to homes or other indoor venue and ask those present to disperse. If people refuse to comply with a garda request to leave the party, those living in the house could be given a fine.
Under the new law, it will be presumed the occupier is the organiser, unless proved otherwise, and they will be issued with a fixed charge notice.
The Association of Garda Sergeants and Inspectors has tonight raised its concerns with the practical application of these new powers, saying that they are "concerning" and unclear". 
As a 'last resort'
Speaking on RTÉ's Six One News, Justice Minister Helen McEntee said if gardaí knock on the door on a house where a party is taking place, they will ask who owns the property, and can ask everyone to leave. 
She said there will always be "engagement first" before any fines are issued.
Under the current law, gardaí are not legally permitted to enter a home without a warrant.
Under the new legislation, gardaí will still not be permitted to enter the home of someone without a warrant.
However, they will be given the power to prevent people from entering house parties or indoor gatherings which are in breach of the government's Covid-19 restrictions.
If gardaí suspect someone is on their way to a house party or are in the vicinity of a house party which is about to begin they can direct them to leave the area in a peaceful manner.
The amount of the fines is yet to be determined by Cabinet members.
McEntee said people will always be engaged with and will be asked to comply. Only as a "last resort" will the fines be issued.
When asked about giving gardaí powers to enter into someone's home, she said "that is not somewhere we want to go".
Anti-mask protests
In terms of protests, she said under the law there is a right for peaceful protests to be held. 
However, the new legislation will stipulate that any large gatherings such as protests, people will be asked to wear face coverings, and if they refuse, they can be issued with a fixed penalty fine.
Finance Minister Paschal Donohoe said the nature of the fines legislation "is all about the kind of house party behaviour that has been taking place among a very small number of people that has contributed to the difficulty that we are in".
"And that is the only role of the sanction that will be brought in," he said.
"All of us would believe that the main way in which we're going to reduce the spread of this disease is by asking everybody to play their part. And that's what many are doing for most are doing, but we need to do even better in the period that's coming up," he said.
It is understood the fines will not be used in a "heavy-handed" way on people, but is seen as a "extra incentive to encourage people to comply". 
The fines will be another "tool in the box" for the gardaí who will continue with the policing attitude of "encouragement" rather than heavy enforcement.
Government sources state that gardaí will not be stopping people on the street and fining those they suspect of going to a house party. 
Cabinet is also understood to have approved the introduction of fines for those who break the travel limit set out in Level 5 restrictions set to come into effect tomorrow night.
The Government announced last night that a 5km limit for exercise will be in place for the six-week duration of the restrictions, with a small number of exceptions allowing people to travel further in certain circumstances.
Foreign Affairs Minister Simon Coveney told reporters outside Government Buildings this morning that it was important that gardaí have powers to intervene when individuals refuse to comply with the 5km limit.
"We need to ensure that people abide by the new rules and regulations so that we don't have two tiers here: one which is the vast majority of people abiding by the new rules and regulations for the greater good; and a small number of people not doing that," he said.
ICCL opposition
The Irish Council for Civil Liberties (ICCL) has written to all TDs to urge them to oppose the extension of the Emergency Health Legislation without substantial review and debate on Thursday of this week.
The legislation, fast tracked in March to urgently respond to the spread of Covid-19, is due to expire on 9 November.
ICCL's Executive Director Liam Herrick said the legislation needs to be improved from a human rights perspective.
In the Dail today, a number of TDs criticised the government for trying to rush an extension of the legislation through on Thursday evening.
"This flies in the face of the 'sunset clause' protections and a commitment to reviewing the legislation before renewing it — which ICCL and opposition TDs secured back in March. It makes a mockery of our democracy," said Herrick.
#Open journalism No news is bad news Support The Journal

Your contributions will help us continue to deliver the stories that are important to you

Support us now
He said the ICCL supports the public health effort and accepts that some restrictions on our rights are necessary in order to protect health and save lives, however, he added that all decisions made to restrict our rights must be clearly necessary, and as minimal as possible.
Herrick added:
"Steamrolling an extension through the Oireachtas without reflection, scrutiny or debate is an affront to our basic democratic procedures and to the duty of our elected representatives to debate our laws. With legislation that creates such extraordinary powers for Ministers with such significant impact on our rights, these democratic processes take on an even greater importance."
"The legislation gives wide ranging powers to the Minister for Health to make regulations restricting our rights. That includes our rights to move freely, our rights to meet with others, and to enjoy a private and family life, to organise events, and to earn a livelihood."
He said the Minister for Health has used these extraordinary powers to restrict citizens' rights on numerous occasions since March, and on each occasion,the ICCL has called for greater transparency in decision making, more consultation and prior approval from the Oireachtas. 
Garda powers to enforce Covid-19 regulations were initially introduced during the first national shutdown in the spring, but gardaí have largely sought to police by consent since many of those powers lapsed in the summer.
Last week, Policing Authority Chairman Bob Collins sought to temper calls to re-introduce powers that would allow gardaí to enforce Covid-19 restrictions.
Collins claimed there was "little evidence" that additional powers given to police to enforce regulations in neighbouring jurisdictions eradicated undesirable behaviours.
"The authority recognises the need for individual members of society to take personal responsibility for their actions particularly in light of the potential implications for public health," he said.
With reporting by Christina Finn and Gráinne Ní Aodha.