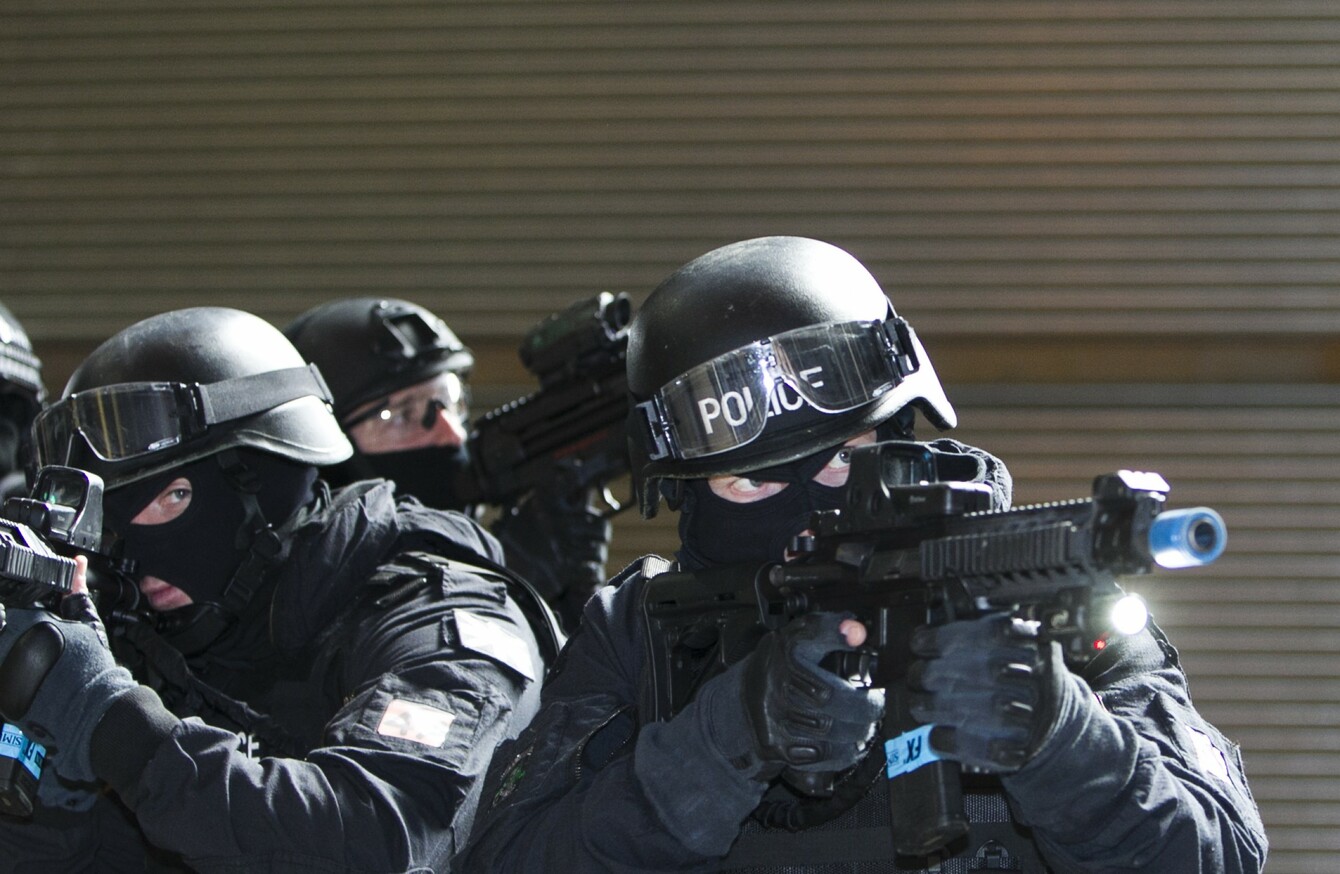 AROUND A DOZEN or so gardaí have joined the Special Detective Unit (SDU), which has responsibility for counter-terrorism in Ireland, since the start of the year, despite assurances that a large number of detectives would be appointed to it.
The gardaí had said that up to 190 detectives were to be appointed to national units.
At the beginning of 2017, it was announced that 160 new detectives were being assigned to Special Crimes Operations (SCO). Many of these members would have responsibility for monitoring who is entering the country. They would also give support to other garda units across the country.
There was also supposed to be at least 30 new detectives appointed to the Special Detective Unit (SDU) which is responsible for the investigation of threats to state security and the monitoring of people who could pose a threat.
However, TheJournal.ie has learned that just a fraction of these positions have been filled since the start of 2017.
Just 12 or so officers have been moved to the SDU in this time and not all of them have been placed in counter-terrorism.
Around 40 detective sergeants have been appointed to positions in either unit.
Well-placed sources have confirmed to TheJournal.ie that there has been no increase in the number of detective gardaí based in immigration. Also, the competitions for these detective jobs were advertised two years ago. Fears have also been expressed that the need for detective gardaí has increased in those two years as retirements and transfers have depleted the numbers.
Since the terror attacks in London and the emergence that one of the attackers lived in Dublin, questions have been raised about force's ability to respond.
Attack response
Commissioner Noirín O'Sullivan moved to reassure the public, saying that officers would be on the scene of any potential attack in Dublin city within eight minutes – the same time it took the Met police in London to arrive on scene.
Earlier this month, Commissioner O'Sullivan said that the Armed Support Unit (ASU) will increase by 20 officers to 75 in total by 22 June.
#Open journalism No news is bad news Support The Journal

Your contributions will help us continue to deliver the stories that are important to you

Support us now
She added that there is currently "a competition underway to increase the ASU right around the country to make sure there is a 24/7 response around the country".
TheJournal.ie revealed how specialist armed Garda units were directed to beef up security in several Irish cities in the wake of the attacks.
The Commissioner said that the force has focussed "very strongly" on making sure they engage with minority communities since the Bataclan attack in Paris three years ago. She added that terrorism "is not about religion" and that "we should not link terrorism to any specific religion".
She also took the opportunity to ask anyone who has any specific concerns about neighbours, family members or associates who could have been radicalised to contact gardaí confidentially.
She added: "We take our national security very seriously. We continuously review threat assessment and our response capabilities. Within an hour of the incident (London) happening, we were in touch with our intelligence and law enforcement counterparts to assess if there is any Irish link."
Responding to queries from TheJournal.ie, the Garda Press Office sent the following response, which said that the processes were ongoing. Further transfers of personnel are expected within the next few weeks.
A competition for appointment of Detective Gardaí and Sergeants to Special Crime Operations, including at the Garda National Bureau of Criminal Investigation, the Garda National Protective Services Bureau, the Garda National Economic Crime Bureau, including the Garda Cyber Crime Bureau, the Garda Drugs & Organised Crime Bureau and the Garda National Immigration Bureau, has now been completed and a panel of Candidates selected for appointment to these Bureaux has been established.
Sergeants were allocated to the Bureaux in March, 2017 and Gardaí have also been allocated to these Bureaux in recent days with the transfers to take place in early July.
Similarly competitions for appointment of Detective Gardaí and Sergeants to the Special Detective Unit has been completed and a panel of Candidates selected for appointment has been established. Sergeants were allocated to the Unit during 2016, with the first tranche of Gardaí allocated in March, 2017, with a further cohort of Gardaí have been allocated in recent days [sic] with the transfers to take place before the end of June, 2017.