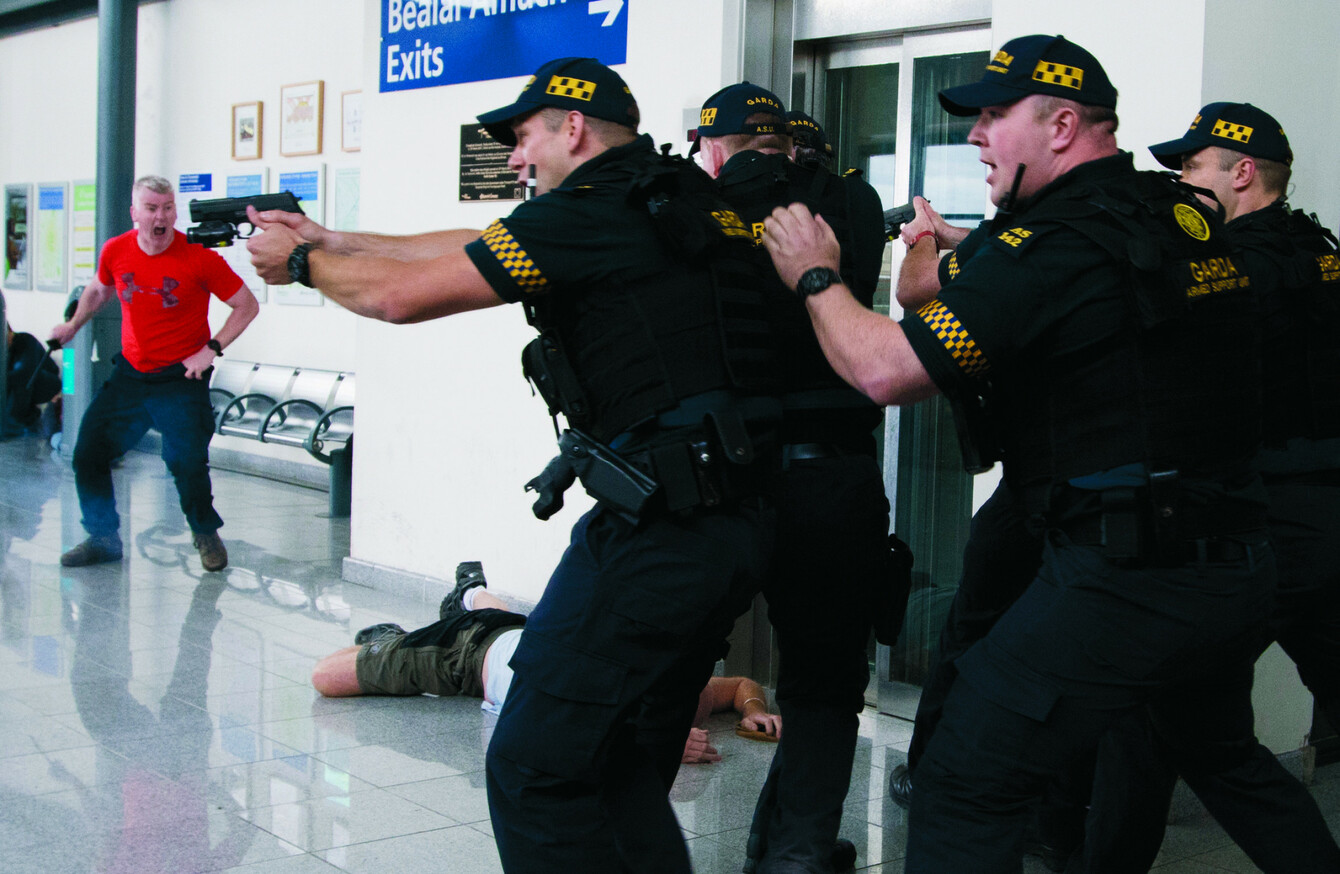 Gardaí take part in staged terrorism attack.
Gardaí take part in staged terrorism attack.
THE HEAD OF the commission tasked with reviewing the future of policing in Ireland has said splitting security and policing systems of the gardaí might not be the answer to tackling threats of terrorism.
Speaking to reporters ahead of her address at the MacGill Summer School in Glenties, Donegal, Kathleen O'Toole, Chair of the Commission on the Future of Policing denied that it was inevitable that the root-and-branch review of the gardaí will recommend that Ireland's security and policing systems should be separated.
Ireland is one of the only countries in Western Europe with one agency responsible for both security and policing.
O'Toole, who is also a former head of the Garda Inspectorate, said it is one of the issues the review will look at.
"Just because something works somewhere else in the world doesn't necessarily mean it works in the Irish context. We have to respect the culture here, the history here, but we have 12 people, including myself, on this commission who are determined to look at this objectively," she said.
The pitfalls 
O'Toole said she had seen the"pitfalls" of such a system in the United States, where the two systems have been separated for many years.
"We have separated it for many years and we have had some real breakdowns in communications in the policing services and the civil policing. I know from practical experience, there is no bright line between terrorism and ordinary crime. They often intersect," said O'Toole.
Using the example of the establishment of the Department of Homeland Security in the US after 9/11, she said multiple agencies had their own databases of intelligence, and no one shared information.
"They had their own database, the FBI had their own database, other intelligence agencies had their own database… they weren't talking to each other. I can remember saying to the intelligence tsar in Washington DC, very respectfully, 'look it is not going to be you that sees the next threat on the horizon'. If we're lucky it is going to be a local cop, but most likely it is going to be someone living in the community," she explained.
It is easy to suggest quick fix solutions, but we have to be really careful that whatever new system arises it is the best fit for this island.
In the end, you need a really collaborative approach to all this, that at the end of the day ensures that nothing slips through the cracks.
Templemore finances
Yesterday, the Public Accounts Committee released its damning report on financial irregularities at the garda college in Templemore.
Asked about the PAC report Kathleen O'Toole said:
I think it's very important that we follow investigations and tribunals of the past and the present but we are really focusing on the future.
I have read the headlines and of course I am concerned like everyone else.
Following yesterday's report publication, the Garda Commissioner Noírín O'Sullivan faced some criticism for being on holidays for five weeks.
O'Toole said she wouldn't be drawn on matter, but said:
"I would defer to garda management and the Garda Commissioner to answer that question.
"Everyone wants to draw me into the discussion about the Commissioner, but it's clear that our work is not to conduct a performance evaluation."
I am focusing on what the next Garda leadership team and management team needs to look like and what qualifications do they need to have, what training and professional development do they need to have, how do you organise a team and prepare a team to assume positions of that significance so that things like that don't happen again.
While she said she was not speaking about O'Sullivan, O'Toole said issues with management teams in police forces "is not unique to Ireland".
"Many people come up through the ranks, they are great cops, they are great detectives, but there is nothing that ever prepares them to assume a management role with responsibilities, well in this case, 16,000 personnel and an operating budget of well over €1 billion."
She added that anyone that assumes the role in the future will have to be prepared to assume that enormous responsibility. O'Toole said no one person can do the job, but added that a management team will be required that has the "combined skills and experience to pull it off".
Run police force like a business 
"At one side you have to run a police operation, on the other you have to run a business," she said.
If or when a vacancy for the Garda Commissioner job does arise, O'Toole said she expects the calibre of applicants to increase.
#Open journalism No news is bad news Support The Journal

Your contributions will help us continue to deliver the stories that are important to you

Support us now
She sat on the body that appointed O'Sullivan to her position, and said she was somewhat taken aback at the lack of international applicants.
However, she now believes it is a "great opportunity" and "a very desirable position" for outsiders.
O'Toole said she didn't believe the pay packet was an issue.
"I have taken pay cuts on a number of occasions myself because I thought the work was so fascinating and the I wanted to make a difference… certainly I have heard some say that it [Garda Commissioner's salary] doesn't compare to other places, but the people who do this job, that is not usually what motivates them."
O'Toole said she plans to visit all Garda districts around the country to talk to members of the gardaí on the ground about the changes they want to see.
The commission is due to deliver its report in September 2018, however, O'Toole did not rule out publishing interim recommendations.
'Sense of urgency'
There is a sense of urgency in the gardaí, said O'Toole, adding that change in culture can happen quickly in organisations that are in crisis.
The first meeting with between the new commission members and the Garda Commissioner took place last Friday.
O'Toole said Friday's meeting was the first of many meetings the commission will have with garda management. She said "very strong lines of communication" will be maintained with the gardaí, the Justice Department and members of government.
Reforms within the Garda Síochana should take place in parallel to the root and branch review taking place, she explained.
"We don't want to hold anything up in the process. There are hundreds of recommendations that are outstanding, that could be implemented in the coming weeks and months, that have been identified in these ongoing inquiries and we will work on a parallel track."