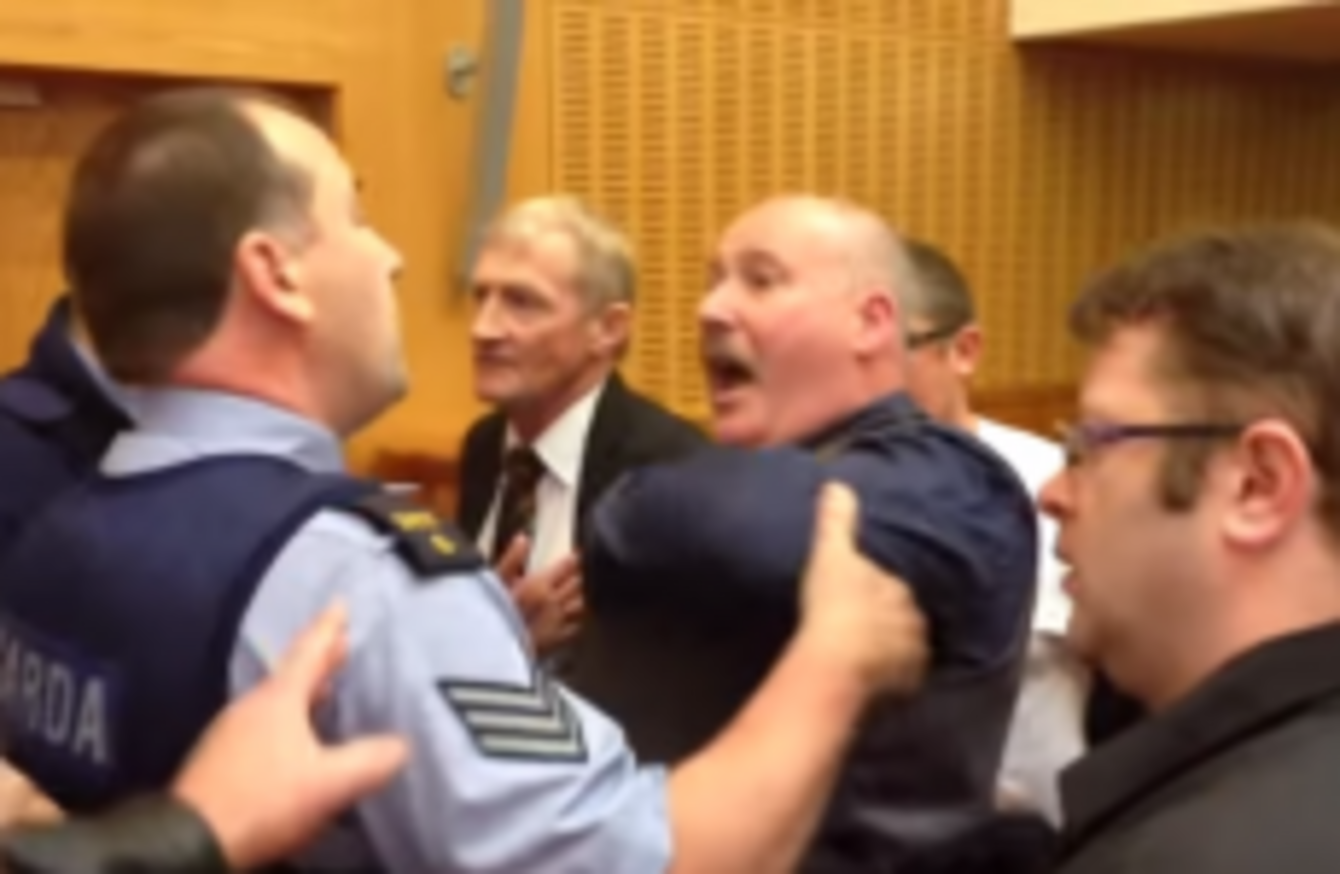 Image: Irish Media Alliance
Image: Irish Media Alliance
SEVERAL PEOPLE WERE ejected from the County Registrar's Court in Castlebar, Mayo, yesterday after they tried to raise objections about the hearing of repossession cases.
Protesters say they were forcibly led out of the building by gardaí after expressing concerns about the manner in which banks were applying to circuit courts for possession orders on family houses.
A video uploaded to YouTube shows gardaí attempting to remove anti-repossession activists after they refused to leave the courtroom.
The footage shows John Barrett, a member of the Mayo branch of the National Land League, requesting an adjournment of the sitting, in light of a High Court ruling by Justice Murphy last week that a family home should not have a rateable value.
Banks, he claimed, are circumventing rules forbidding circuit courts to hear bank possession orders in relation to properties with a value of over €75,000.
Source: Irish Media Alliance/YouTube
Source: Irish Media Alliance/YouTube
Barrett was supported in the courtroom by other members of the Mayo Land League and Integrity Ireland, an anti-corruption group based in Mayo.
Mayo Land League member Garie Beattie, who was outside the court yesterday, told TheJournal.ie that several individuals were "manhandled" as they were removed from the building.
He claimed that one man with heart issues and a broken hip had to be hospitalised after he was knocked to the ground during the incident.
The Garda Press Office had not responded to a request for comment at the time of writing.
The National Land League has disrupted several Mayo court sittings in recent months.
Fine Gael TD Ray Butler condemned the group after it held an anti-repossession demonstration outside his house in February.