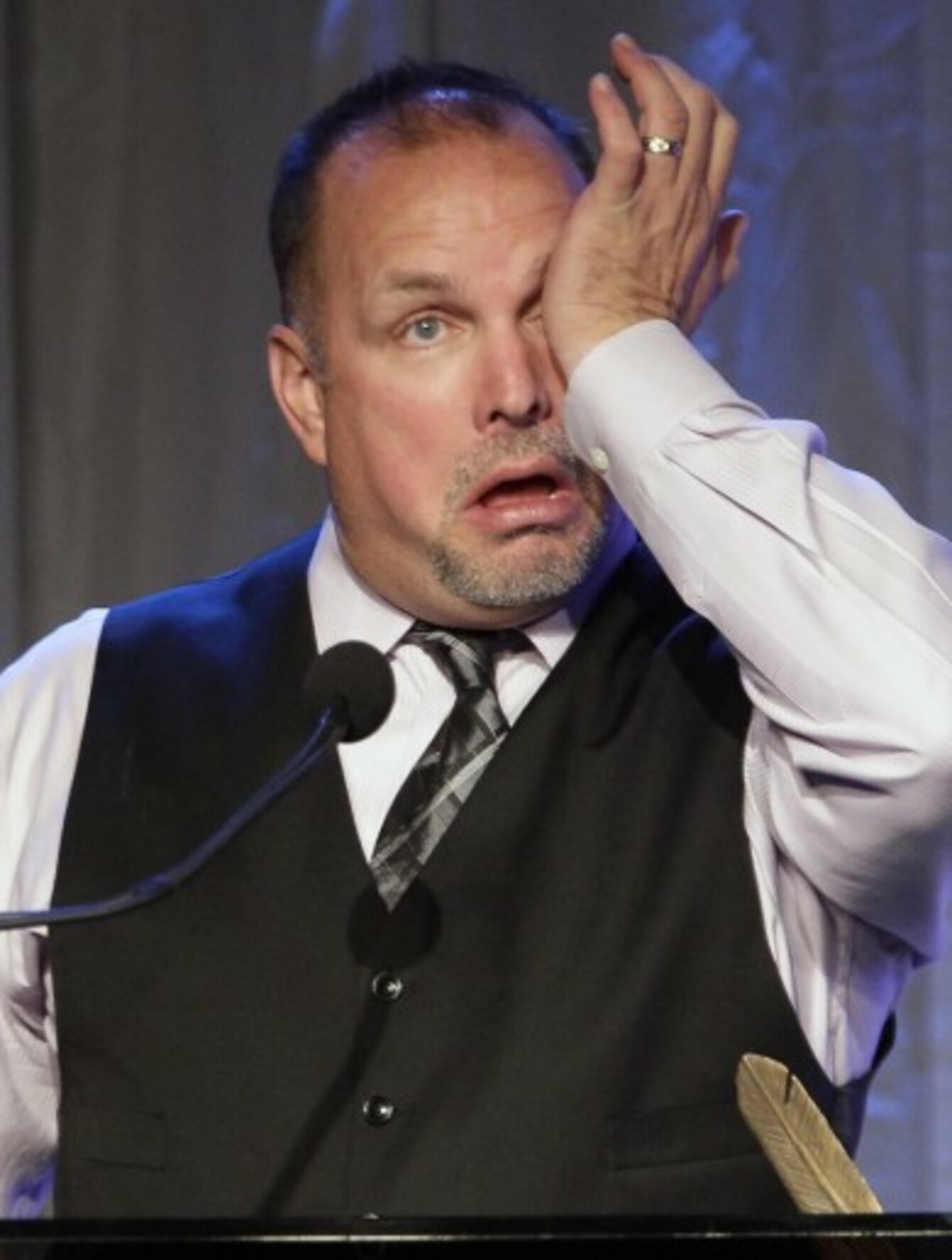 Image: Mark Humphrey
Image: Mark Humphrey
Updated 6.42pm
GARTH BROOKS HAS pulled out of all five concerts at Croke Park, a statement from Aiken Promotions confirmed this afternoon.
The cancellation affects over 400,000 ticket holders.
It follows Dublin City Council's refusal to grant a licence for two of the five concerts — on the grounds that three concerts have already been held at Croke Park this year.
Local residents were divided on the issue, with some taking legal action while others petitioned the council to renege on their decision.
Brooks himself released a statement in the wake of the announcement, saying that for him it was "five shows or none at all".
Speaking to RTÉ's Six One News this evening, Peter Aiken said that Brooks was "devastated".
'"He's down for millions in this deal [but] he's sticking to his principles," Aiken said.
He noted that Brooks had been coming up with his own alternatives, such as changing what nights were played and considering matinée shows.
Contacted by TheJournal.ie, a spokesperson for Brooks said the singer would engage with the issue in a press conference planned for this Thursday, which will be streamed on his website. No statements or comments are expected from the Brooks camp before then.
Reaction
Reacting to the news, Taoiseach Enda Kenny told the Dáil it was "a great disappointment" to the hundreds of thousands of fans who had bought tickets.
Kenny described it as "a shock to the system… and the reputation of the country".
He added:
I do hope these kind of issues can be more efficiently handled on the next occasion they arise.
Arts Minister Jimmy Deenihan has said that the saga is "certainly" an embarassment for the country.
"It is a huge disappointment and when you consider that 400,000 people were going to come to Dublin for these concerts, it's a huge loss as well to the city," the Minister said, "but it will result in reputational damage too for the country as well. "
What I've said from the beginning actually is that a whole new process has to be put in place so there will never be a repetition of what has happened again. So we have to learn lessons from this whole debacle.
This afternoon's announcement comes after Peter Aiken flew out to the United States for crisis talks with the singer.
The 'four night' option
Meanwhile, it's emerged that the prospect of the country star playing four of the five nights originally booked was discussed earlier in the negotiation process.
According to a brief statement from the Council press office this evening, "prior to a decision being made on the Garth Brooks concert event licence application a conversation took place between the Chief Executive of Dublin City Council and a senior representative from Aiken Promotions".
In the course of that conversation the Chief Executive advised the representative of Aikens (sic) that the likelihood was that only three concerts would be permitted.
However, on being advised that Brooks would not perform just three concerts, the Chief Executive, Owen Keegan, "offered to discuss with the decision maker in the Planning Department the possibility of permitting a fourth concert if a guarantee was given by the promoter that Garth Brooks would fulfil the four events".
However:
Before any conversation took place between the Chief Executive and the decision maker a response was received from Aiken Promotions that unless all five concerts were permitted Garth Brooks would not appear. The offer to approach the decision maker was then withdrawn by the Chief Executive.
#Open journalism No news is bad news Support The Journal

Your contributions will help us continue to deliver the stories that are important to you

Support us now
Dublin councillors voted last night in favour of reviewing license conditions for all five concerts to go ahead. However, Keegan reiterated that a decision had been made not to a grant a licence for two of the five nights.
Dublin Lord Mayor Christy Burke said he "tried everything" to try to find a solution.
In an interview with TV3′s 5.30 News at 5.30, he called on Garth Brooks to "please, please, please" reconsider the cancellation of the gigs.
"I feel so sadden for the fans, the businesses, the community, and everyone in this nation and further afield".
"Maybe if all heads together… maybe we'll get a solution".
Speaking later to RTÉ, Burke described the cancellation as:
A funeral with out a corpse, there is a sadness throughout the nation.
'Five or nothing'
The singer said in his statement last week that choosing which shows to do and which not "would be like asking to choose one child over another."
However this plays out, Ireland has my heart and always will.
Here is Aiken Promotions' statement in full:
It is with great regret that Aiken Promotions today announce that the 5 concert Garth Brooks Comeback Special Event at Croke Park has been cancelled.

No concerts will take place.

The ticket return process will be outlined tomorrow.

Aiken Promotions have exhausted all avenues regarding the staging of this event.

We are very disappointed for the 400,000 fans who purchased tickets for The Garth Brooks Comeback Special Event.
Additional reporting by Hugh O'Connell and Daragh Brophy.