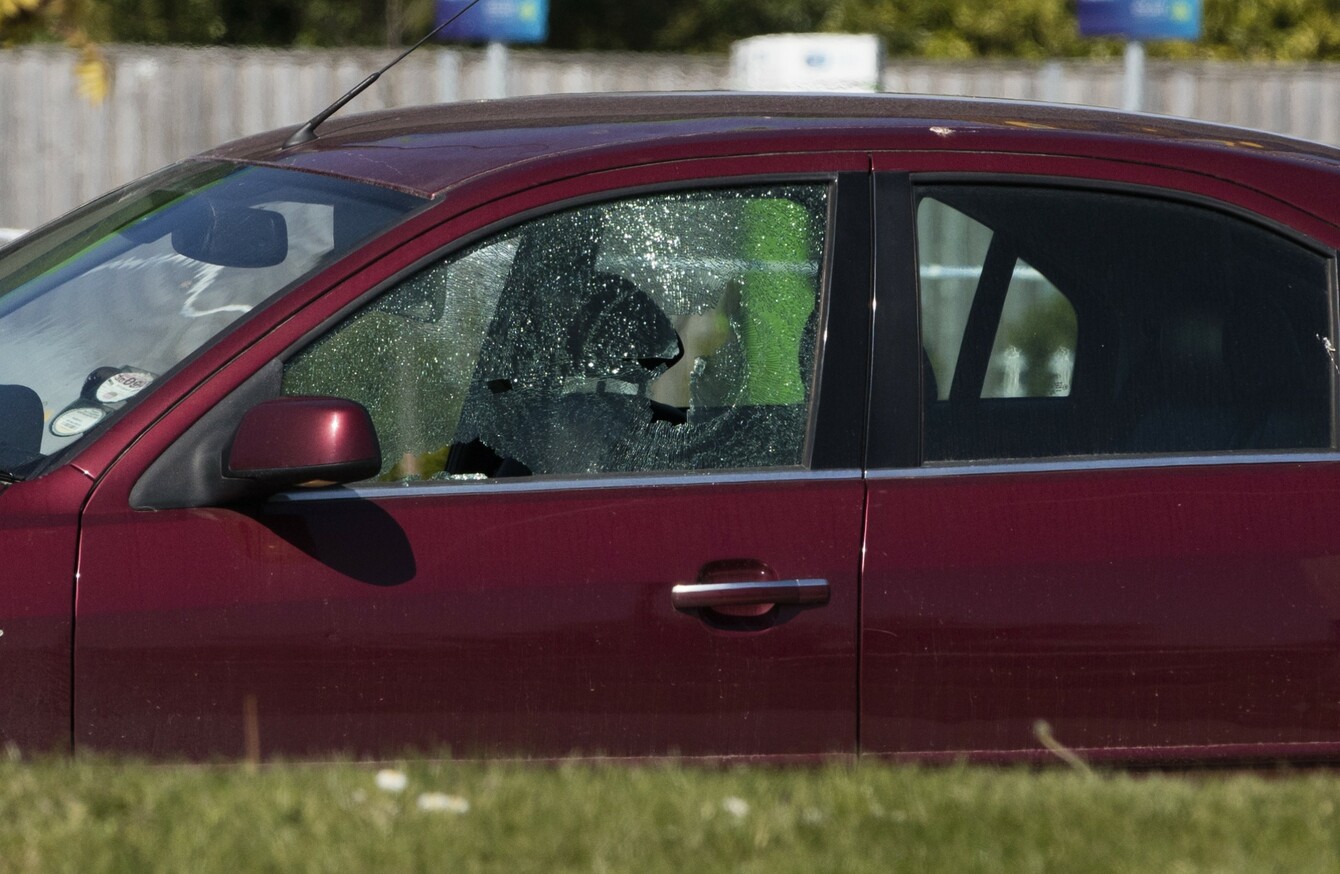 Image: RollingNews.ie
Image: RollingNews.ie
JAMES GATELY PULLED into a service station in the Clonshaugh area of north Dublin yesterday afternoon. As per usual, he was wearing a bulletproof vest and was driving an unremarkable Ford Mondeo with Northern Irish number plates.
This had become regular practice for Gately, a long-time friend of Gary Hutch who was murdered in Spain in September 2015. Since his friend's death at the hands of the Kinahan cartel, Gately has been attempting to avoid the spotlight. He fled Dublin and moved to a safehouse in Belfast.
In the past year, gardaí had told him on numerous occasions that his life was in danger. It is also understood that he has survived a number of plots to assassinate him. Each time he was informed of a new threat, he would leave the country.
Gardaí had offered to provide Gately with protection – a service he rejected a number of times. They regularly carried out patrols near his Coolock home before he fled to Belfast. Gardaí and the PSNI have been working together in relation to feud matters.
Yesterday, Gately arrived at the Topaz station on the N32 shortly after 1.30pm, not knowing he was being followed by a black Lexus. Gardaí believe he made the stop to have a look for anything he might deem suspicious in the area around a hotel where he had planned to meet somebody for lunch.
A lone gunman ran towards him, brandishing what gardaí believe was a handgun. Gately attempted to flee but didn't have enough time to exit his vehicle. As he turned his face and back to the attacker, trying to protect himself, at least five shots were fired at him. Paramedics arrived at the scene where they found Gately alert and talking. He told them where on his body he had been shot.
The gunman managed to hit him a number of times; once to the shoulder, once to the neck and twice to the body. Gately was wearing a bulletproof vest, something which gardaí believe saved his life. The gunman returned to his car which was later found burnt out in the Ardee area of Louth.
During a briefing yesterday afternoon, Superintendent Finbarr Murphy from Ballymun garda station confirmed Gately was wearing a bulletproof vest as he sat alone in his car at the time of the shooting.
The 29-year-old has been on the Kinahan cartel's radar since the Regency Hotel shooting last year, in which senior gang leader David Byrne was killed. Gardaí questioned him in relation to the hotel attack but no charges were brought.
Gately has a number of convictions but only for minor crimes.
As part of their probe into yesterday's shooting, officers are examining how information on Gately's whereabouts was obtained by the gunman. One line of investigation is to determine if there was a person tracking his movements.
Gately, who is known for his taste in expensive cars and motorbikes, was travelling in a wine-coloured, old-model Ford Mondeo – which were previously used for unmarked garda cars before the introduction of the newer Hyundai i40s.
The shooting ends what was an undeclared break in the violence which has seen 11 people killed in less than two years. This peace was not entirely the decision of the gangs but due to elite gardaí apprehending killers and seizing caches of guns and ammunition.
History of the feud
Gary Hutch's murder in Spain in late 2015 is seen as the start of the Kinahan-Hutch feud. The Regency Hotel attack occurred four months later after peace talks between the two gangs failed.
The resumption of the violence yesterday was somewhat expected. Tensions are rising in underworld circles, not least within the upper echelons of the Kinahan cartel, where Daniel Kinahan, the de facto leader of the gang, has been named by an informer as part of a gangland murder plot.
The thinking amongst security sources at this time is that more attempted murders are on the way. All those who could potentially testify against Daniel Kinahan are now not just a target but a priority for an attack – be they in prison or outside.
Personal gripes
The last victim of a feud-related attack was Eddie Staunton, who was shot a number of times at the end of March. Gardaí considered that killing a sideshow as the motive was more of a personal nature rather than being ordered by the higher-ups of the cartel.
Gately is expected to survive yesterday's attack and is being treated at Beaumont Hospital in Dublin. Armed gardaí are keeping watch at the hospital.
Anyone with information on the latest shooting is being urged to contact their local garda station or the confidential line on 1800 666 111.