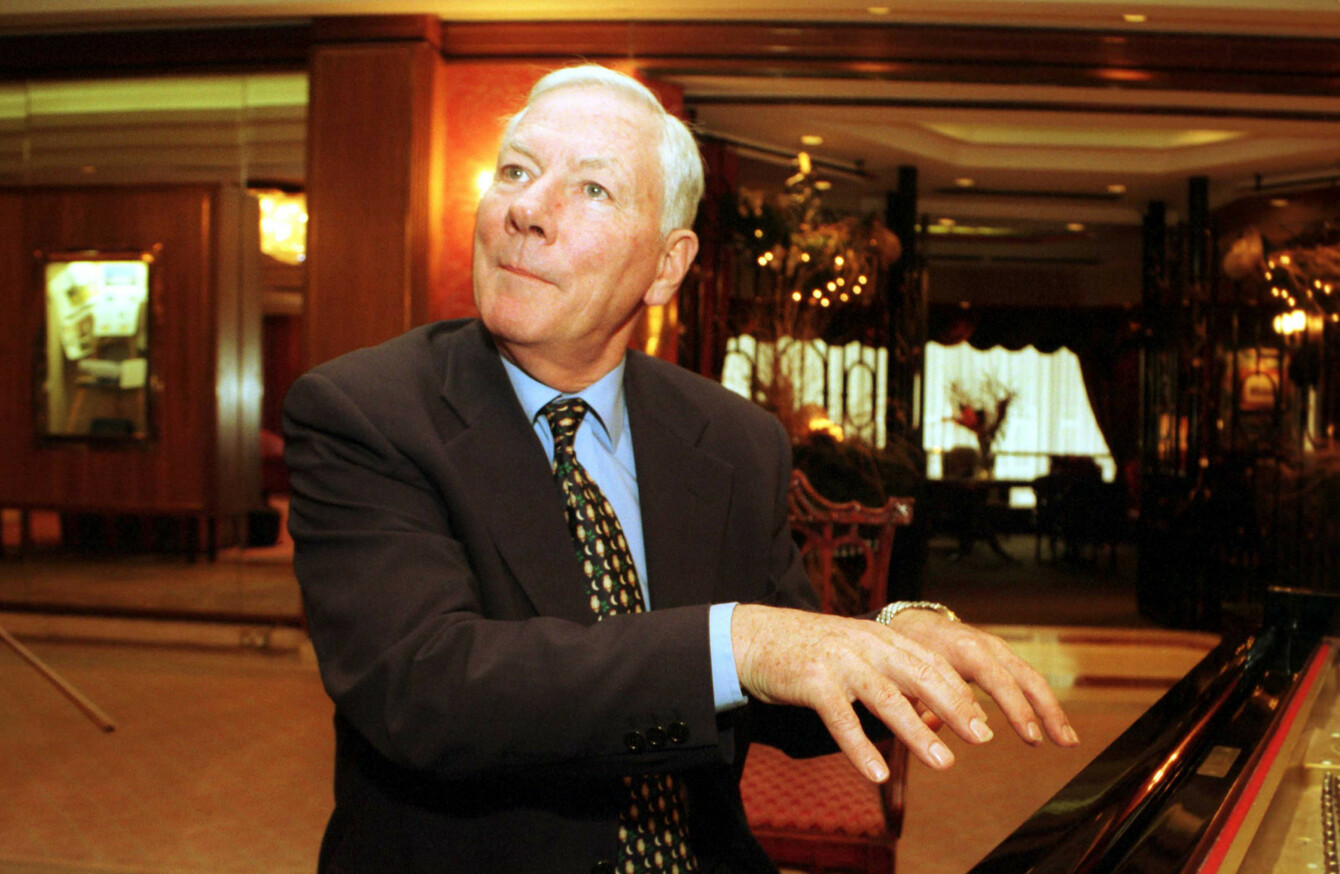 Image: RollingNews.ie
Image: RollingNews.ie
BROADCASTER GAY BYRNE has said that he is "certainly not strong" after his "gruelling" chemotherapy treatment, after being diagnosed with prostate cancer in 2016.
Speaking to RTÉ Radio One's Ray D'Arcy Show today, Byrne spoke at length about his health and broadcasting career.
Outlining that he will meet with his lead doctor tomorrow for an update on his health status, Byrne said that he is "ok".
"I'm ok, I get around very well indeed, I do as much as I can and I'm certainly not strong. I'm on a crutch and that is a great help," he said.
Byrne credited his wife Kathleen and his daughters and sons in law for caring for him during his illness.
"Kathleen is neverendingly good and kind to me and I shouldn't be such a burden to her. I hate to think of me being a burden on her and slowing down her life, she's in remarkably good health and she's amazingly active," he told D'Arcy.
While Byrne has ended his chemotherapy treatment, for the time being, he still takes a number of medications daily, which he said can leave him feeling agitated.
"I'm on something like 18 tablets a day. Some of them make me agitated and you get very, very worked up and you're trembling a bit as if something awful is happening and you don't know what you're agitated about," Byrne said.
Anybody who is on chemo and anybody who is on treatment for cancer around the country, of whom there are thousands, will know that you get worked up about something and it's like you are going to have a semi-heart attack, and you don't know what it's all about.
"You have to try and control yourself as hard as you can to get yourself down off this awful precipice of worry."
Citing Christy Dignam of Aslan who called chemotherapy "gruelling", Byrne agreed and said that if ever there was a word to be used properly, gruelling is it.
#Open journalism No news is bad news Support The Journal

Your contributions will help us continue to deliver the stories that are important to you

Support us now
Speaking of his chemotherapy treatment, Byrne said that he is "terrified" that his doctor will tell him tomorrow that he will have to undergo more sessions.
"I am scared witless that tomorrow he is going to say sorry, you gotta go back. I hope that he doesn't, I pray that he doesn't, I see no reason why he should, but it is a horror of horror."
Byrne also spoke of his time in RTÉ, in radio and television. He told D'Arcy that he had regrets that he didn't allow himself to take more time off, to be around his family.
"I have deep regrets… I regret now the amount of time I gave to this place… I should have taken time to do other things… I was dedicated to the place."