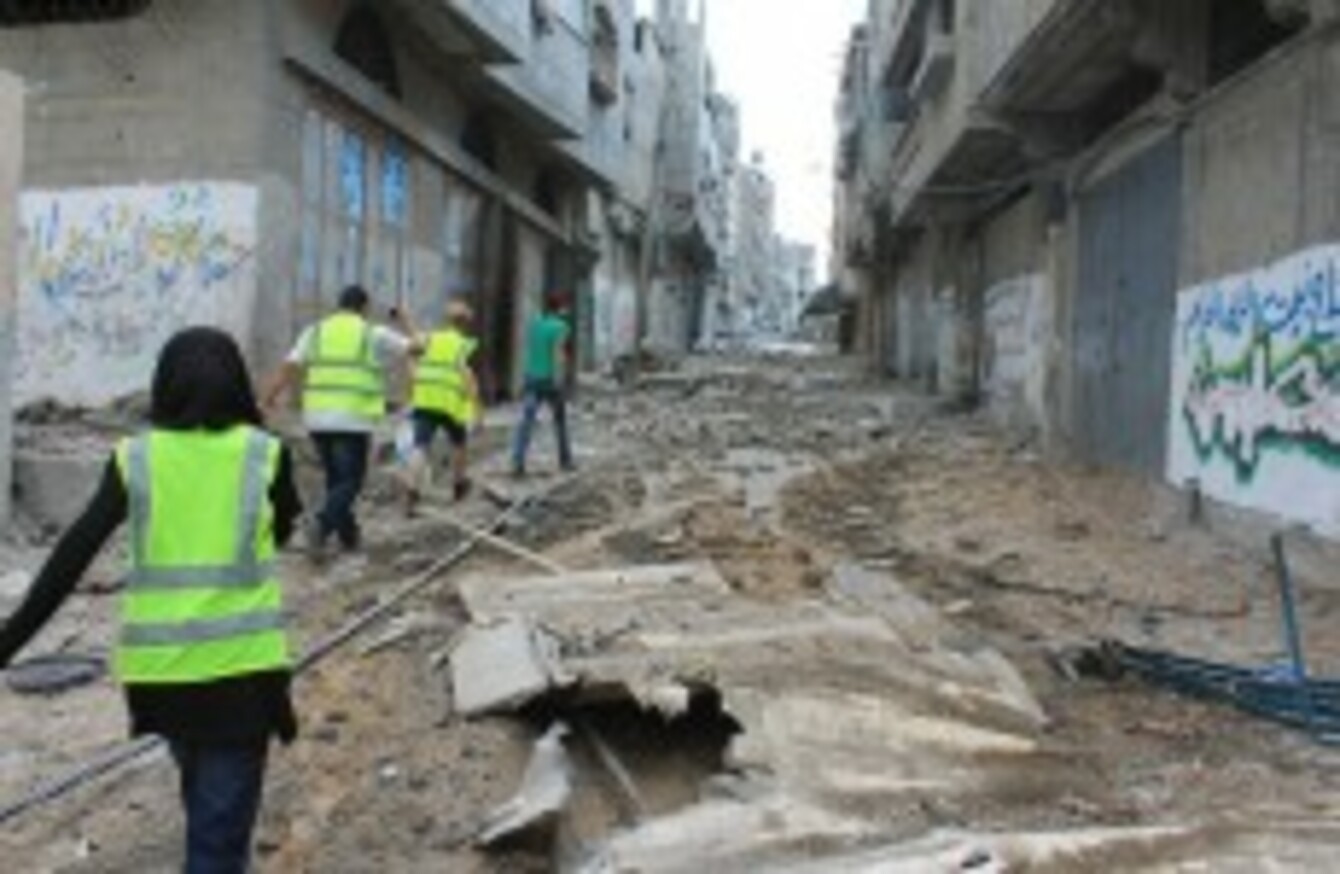 Moments before he is shot dead, Salem Khaleel Shamaly (in green t-shirt) leads a group to find his family in Gaza city.
Moments before he is shot dead, Salem Khaleel Shamaly (in green t-shirt) leads a group to find his family in Gaza city.
THE FAMILY OF Salem Khaleel Shamaly made the horrific discovery that he had been shot dead, via a "chance" viewing of an online video earlier this week.
In a further, cruel irony, the 23-year-old had himself been searching for his relatives when he was killed, apparently by a sniper's bullet.
Shamaly became separated from his family when they fled Gaza City over the weekend, setting off a desperate search on all sides.
On Sunday, he took advantage of a two-hour ceasefire brokered by the Red Cross, to return to the Shejaiya neighbourhood of Gaza City, and attempted to locate his family.
[image alt="14699836172_6dbfd82180_z" src="http://cdn.thejournal.ie/media/2014/07/14699836172_6dbfd82180_z-145x145.jpg" width="145" height="145" wp-size="size-thumbnail" credit-url="www.flickr.com" credit-source="Joe%20Catron" credit-via="Flickr" credit-via-url="" caption="Moments%20before%20he%20is%20shot%20dead%2C%20Salem%20Khaleel%20Shamaly%20(in%20green%20t-shirt)%20leads%20a%20group%20to%20find%20his%20family%20in%20Gaza%20city." title="" wp-id="wp-image-1585396" class="alignnone" /end]
However, a video recorded by activist Mohammed Abedullah and posted to YouTube by the International Solidarity Movement, shows Shamaly's horrific last moments.
Stepping carefully through rubble – the area had been heavily shelled by Israel on Sunday – he can be heard calling out for loved ones, before a sudden crack of sniper fire.
Shamaly – who was accompanied by a number of aid workers and human rights activists – attempts to get back up from the ground, but appears to be shot twice more.
Here is that video, which contains images that some readers may find upsetting.
Source: ISM Palestine/YouTube
The tragic ironies surrounding his death have become clear in recent days.
His cousin, Mohammed Alqattawi, on Monday described the desperation of his extended family in the search for their son.
By that night, however, his relatives appear to have, "by chance", stumbled across not only news of his death, but a video showing it.
#Open journalism No news is bad news Support The Journal

Your contributions will help us continue to deliver the stories that are important to you

Support us now
As of yesterday evening, Shamaly's body appears not to have been recovered.
American human rights activist Joe Catron, who witnessed Shamaly's death, told the New York Times that Israeli shelling meant there was no possible way for him or others present to try to save the young Palestinian, or to retrieve his body.
On Tuesday evening, Alqattawi tweeted that "his body is still here and no one can help to bring it back to us".
In a statement on Sunday, the Israeli Defence Forces described the Shejaiya neighbourhood as a "Hamas terror fortress," and addressed Sunday's two-hour ceasefire.
Hamas broke the humanitarian window when firing at Israel during the two-hour period.Still, the IDF agreed to the Red Cross appeal to extend the humanitarian window by another hour.
A spokesperson for the Israeli government did not immediately respond to TheJournal.ie's request for comment.