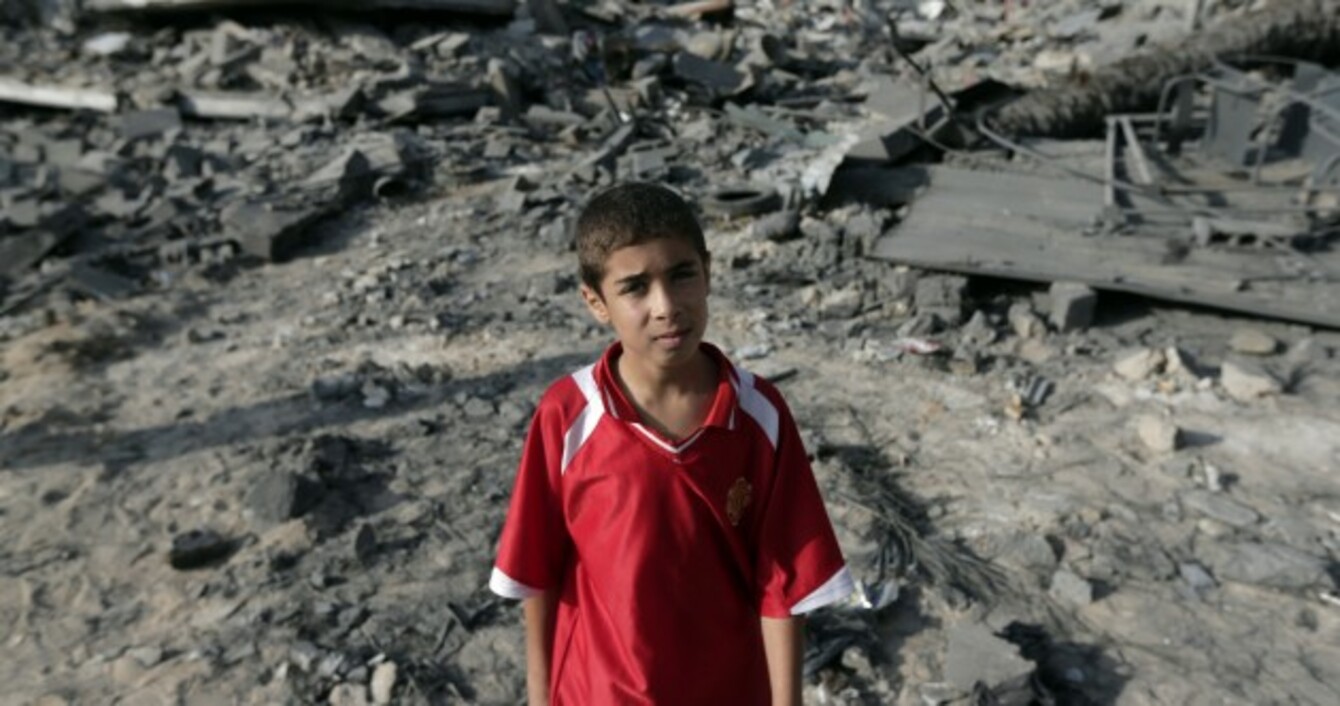 A Palestinian boy stands on debris from destroyed houses hit by an overnight Israeli strike.
Image: AP/Press Association Images
A Palestinian boy stands on debris from destroyed houses hit by an overnight Israeli strike.
Image: AP/Press Association Images
Warning: Graphic image of a dead Palestinian man below
A FRESH WAVE of violence killed dozens in Gaza after the collapse of a UN and US backed ceasefire as Hamas denied it kidnapped an Israeli soldier.
A Palestinian delegation was due to arrive in Cairo for talks on the terms of a durable truce, however, even after the 72-hour humanitarian ceasefire fell apart within hours starting on Friday.
But the chances of a new truce seemed remote after Israel said it believed militants captured Second Lieutenant Hadar Goldin, 23, in an attack near the southern Gaza city of Rafah that killed two other soldiers.
In the violence that ensued, at least 107 Palestinians were killed in Israel air strikes on the Gaza Strip, including 35 since midnight, officials said.
Justice Minister Tzipi Livni, a member of Israel's security cabinet which met till the early hours of Saturday, accused Hamas of being behind the soldier's disappearance and said the group would pay a high price.
US President Barack Obama called for the soldier to be "unconditionally" released, but also said more must be done to protect Gaza civilians.
But Hamas' armed wing denied any knowledge about the fate of the missing soldier.
"The Ezzedine al-Qassam Brigades has no information on this soldier. We have lost contact with one of our combatant groups, which was fighting in the sector where the soldier went missing and it is possible that our fighters and this soldier were killed," it said.
Israelis are highly sensitive about the abduction of their soldiers.
In 2006, Hamas militants from Gaza captured Israeli conscript Gilad Shalit and held him for five years before freeing him in exchange for more than 1,000 Palestinian prisoners.
This morning, Israeli aerial strikes targeted a mosque at Jebaliya, in northern Gaza, and flattened houses in a beachside neighbourhood.
In Israel, the Iron Dome air defence system intercepted two rockets fired from Gaza over the Tel Aviv area and another over the southern city of Beersheba, the army said.
The Qassam Brigades said they had fired three rockets at Tel Aviv.
Congress approves Israel funds 
The US Congress had meanwhile on Friday approved an emergency $225 million to restock the Iron Dome systems with interceptor missiles, in a measure that awaits Obama's signature.
House of Representatives approved the funding by 395-8 in a late Friday vote. The Senate earlier approved the measure unanimously before the start of its five week summer recess.
The measure now awaits President Barack Obama's signature.
The emergency spending funds, which adds to the US deficit, will restock Israel's Iron Dome system with interceptor missiles.
The funding is part of the administration's request of $3.1 billion for military assistance to Israel, the world's largest beneficiary of US foreign aid.
Palestinian emergency services spokesman Ashraf al-Qudra said at least 107 Palestinians had been killed in Gaza since the planned three-day ceasefire collapsed soon after it started at 0500 GMT on Friday.
Obama said the United States "unequivocally condemned Hamas and the Palestinian factions that were responsible for killing two Israeli soldiers, and abducting a third almost minutes after a ceasefire had been announced".
"If they are serious about trying to trying to resolve this situation, that soldier needs to be unconditionally released, as soon as possible.
"We have also been clear that innocent civilians in Gaza caught in the crossfire have to weigh on our conscience and we have to do more to protect them," the US president added.