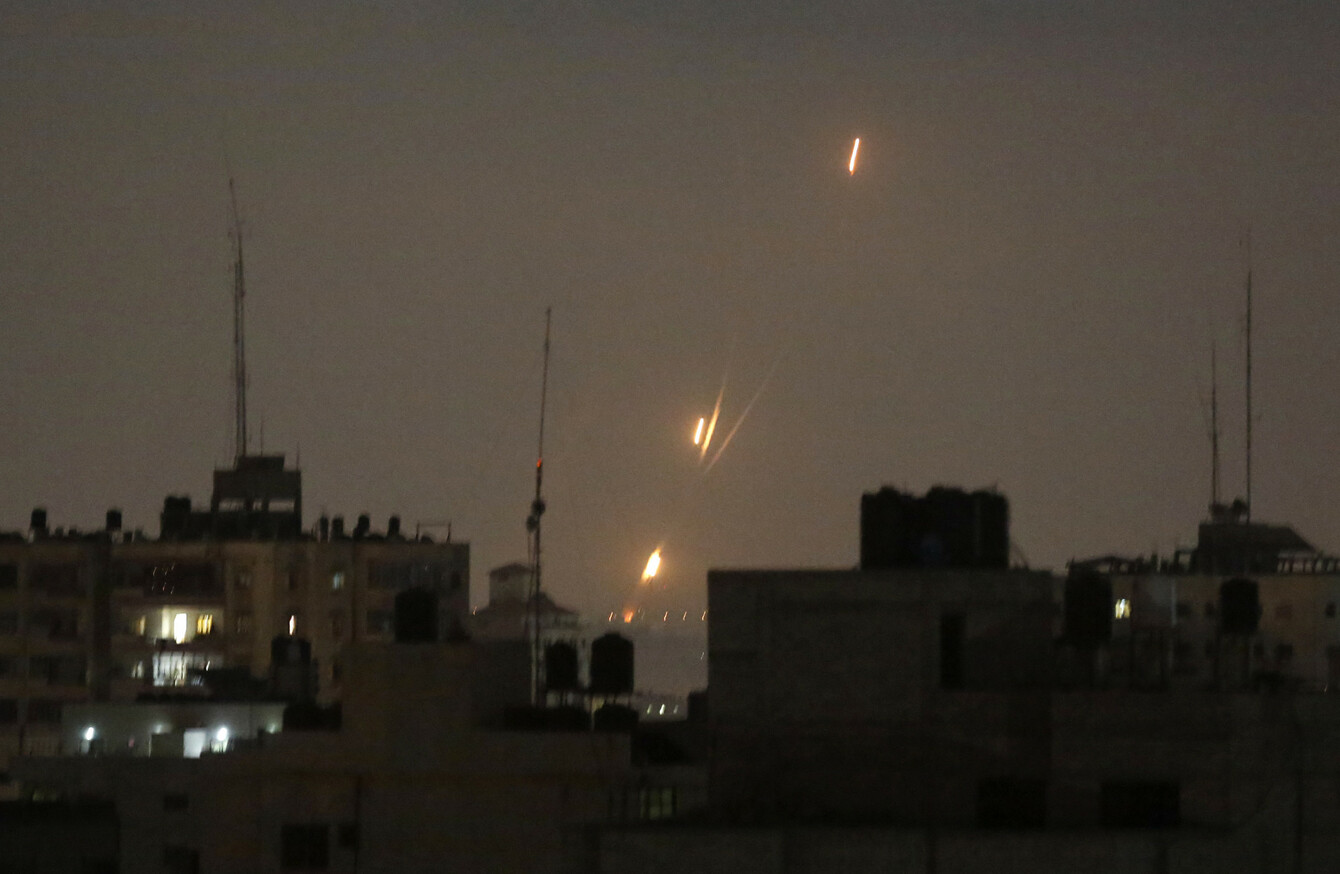 File photo of rockets fired by Palestinian militants are seen over Gaza Strip.
Image: Hatem Moussa/PA
File photo of rockets fired by Palestinian militants are seen over Gaza Strip.
Image: Hatem Moussa/PA
A MILITARY COURT in the Hamas-run Gaza Strip has sentenced six people, including a woman, to death for "collaborating" with Israel, authorities said.
In total 14 people were sentenced for "collaborating with the occupation," with five sentenced to be hanged and one shot, the interior ministry in Gaza said.
Eight others were sentenced to hard labour ranging from six to 15 years.
The rulings came after eight people were killed when an Israeli special forces operation in Gaza was uncovered on 11 November, leading to a vicious firefight.
Hamas fired hundreds of rockets at Israel in response, with the Jewish state striking dozens of targets in Gaza before a 13 November ceasefire agreement.
The six sentenced to death were not directly related to the flare up, officials said.
Iyad al-Bozum, the spokesman of the interior ministry in Gaza, told AFP they were linked "to a communications and eavesdropping device planted by the (Israeli) occupation".
Six Hamas members were killed when the device apparently exploded after detection near Deir al-Balah in central Gaza in May.
The six condemned to death today ranged in age from 29 to 55 and had each allegedly been working with Israeli intelligence for several years.
Among those sentenced to hang was a woman living inside Israel, named as Amal Mahmoud (55).
She was sentenced in absentia and is alleged to have encouraged her nephew in Gaza to collaborate with Israeli intelligence, according to the interior ministry.
Bozum hailed the rulings as a "clear message" to those who would cooperate with Israel.
"Collaborators must realise the (Israeli) occupation will not be able to protect them," he told a news conference.
The verdicts drew condemnation from Human Rights Watch.
"Rushing to sentence people to death smacks of militia rule, not the rule of law," said Omar Shakir, the watchdog's director for Israel and the Palestinian territories.
"The death penalty is a barbaric practice and always wrong, no matter the circumstance," he told AFP.
It was not clear when the executions of those in custody would take place.
According to the Palestinian Centre for Human Rights, 28 executions have been carried out in Gaza since Hamas seized control of the coastal enclave in 2007 from rival faction Fatah.
In May 2017, Hamas security forces invited journalists to attend the hanging in Gaza City of three men convicted over the assassination of a senior military commander of the Islamist movement.
During the 2014 war with Israel, a firing squad from Hamas's armed wing killed six men accused of collaborating with the Jewish state.
Hamas and its allies have fought three wars with Israel since 2008 and the Gaza Strip has been under an Israeli blockade for a decade.
Israel says the measure is necessary to isolate Hamas and prevent it from obtaining weapons, though critics say it amounts to collective punishment of the territory's two million residents.