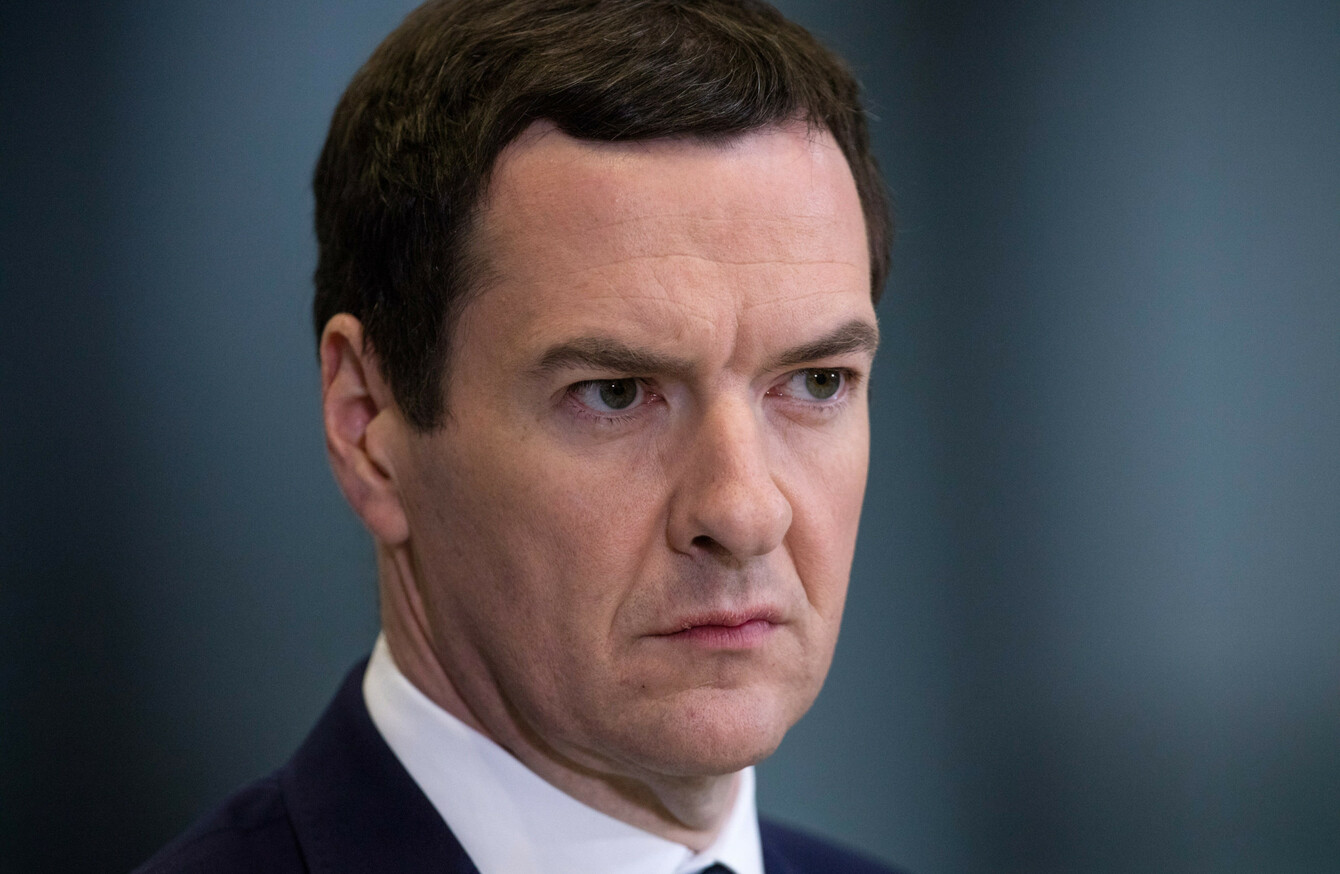 George Osborne said that a public referendum on Brexit should never have taken place.
Image: PA Images
George Osborne said that a public referendum on Brexit should never have taken place.
Image: PA Images
FORMER CHANCELLOR OF the Exchequer George Osborne believes a second Brexit referendum is "clearly" being considered by British Prime Minster Theresa May.
The former chancellor, who was sacked by May in 2016, also suggested that there is a strong possibility of a general election in the United Kingdom in 2019.
Speaking to BBC Radio 4′s Today programme today, Osborne – who campaigned for Britain to remain in the EU – claimed that a referendum on the country's withdrawal from the bloc should never have happened in the first place.
"I'm sceptical of referendums, he said.
"We live in a parliamentary democracy and I think it's difficult to put simple single issues to the public and expect simple answers.
"Frankly, these are very complex issues and that's why we have a parliament."
Osborne, who was former prime minister David Cameron's closest ally in government between 2010 and 2016, also hit out at demands for a no-deal Brexit as "reckless".
And he claimed that a second Brexit referendum or a general election was likely in 2019.
"A general election is at the moment an under-reported likelihood for 2019 because in the British system the simplest way to resolve political impasses is to return to the public at a general election," he said.
"There is a way of course for the government to avoid that and they are terrified of an election: they can themselves embrace a referendum.
"And that is clearly under discussion in Downing Street even though it's denied."
May has repeatedly ruled out the option, saying to do so would cause more division and may not resolve the question.
He added that if a second referendum on Britain's withdrawal from the EU, he would urge the public to reverse Brexit.
"In the two years since we've learnt a lot more about what's involved in leaving the European Union, we've learnt a great deal more about what's on offer outside the European Union," he said.
Earlier this month, May postponed a vote in the House of Commons on the withdrawal deal she struck with the EU in November, fearing a huge defeat as many of her own MPs oppose it.
She is seeking further clarifications from Brussels on arrangements relating to the Irish border, and has said the vote would take place the week of 14 January.
Britain is due to leave the European Union on 29 March.
With additional reporting from AFP.