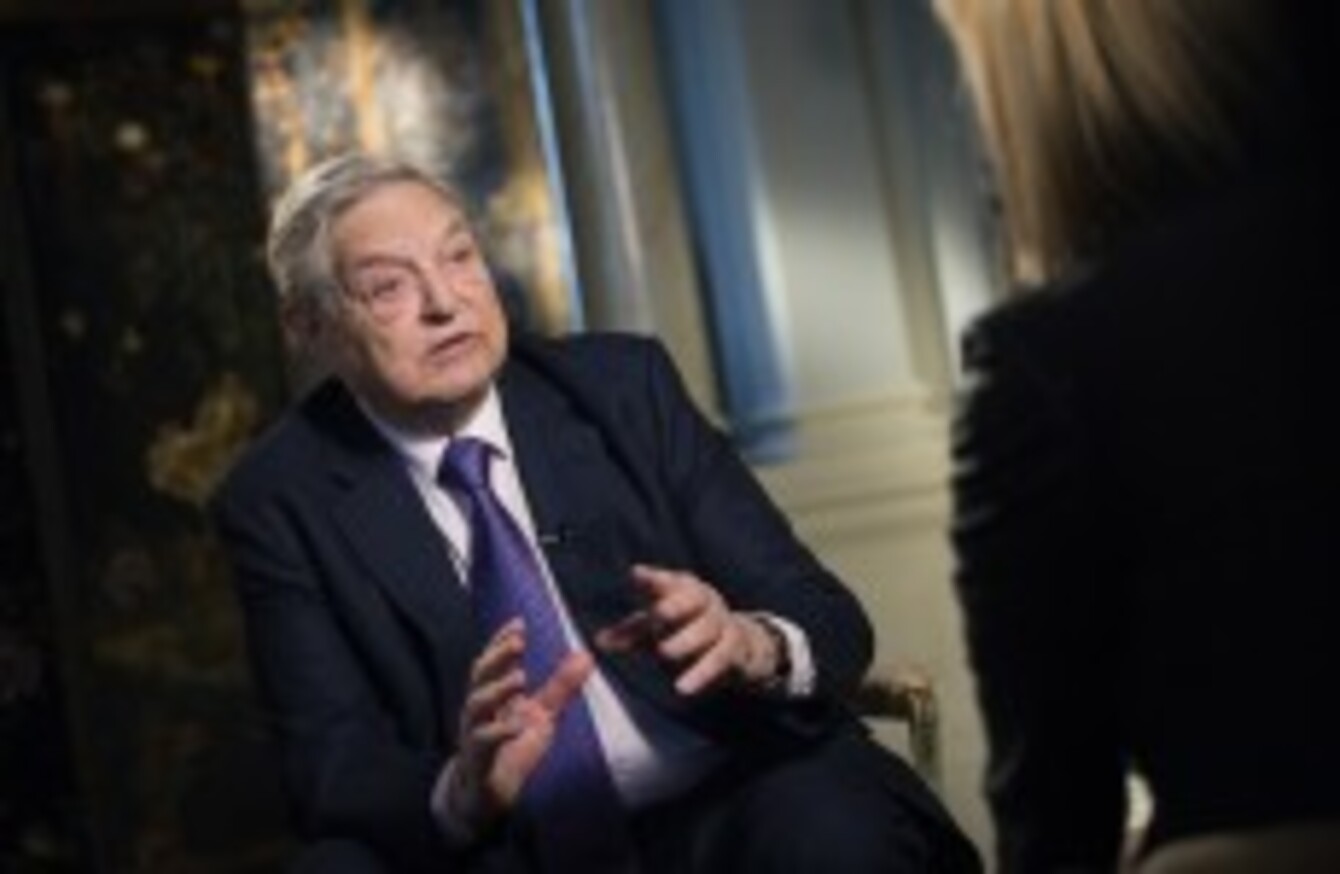 Image: Simon Dawson/Bloomberg
Image: Simon Dawson/Bloomberg
BILLIONAIRE INVESTOR GEORGE Soros said Europe faces 25 years of Japanese-style stagnation unless politicians pursue further integration of the currency bloc and change policies that have discouraged banks from lending.
While the immediate financial crisis that has plagued Europe since 2010 "is over," it still faces a political crisis that has divided the region between creditor and debtor nations, Soros, 83, said in a Bloomberg Television interview in London today. At the same time, banks have been encouraged to pass stress tests, rather than boost the economy by providing capital to businesses, he said.
Europe "may not survive 25 years of stagnation," Soros said in the interview with Francine Lacqua. "You have to go further with the integration. You have to solve the banking problem, because Europe is lagging behind the rest of the world in sorting out its banks."
Soros, whose hedge-fund firm gained about 20 percent a year on average from 1969 to 2011, has been a constant critic of how the European currency bloc was designed and of budget cuts imposed on indebted nations such as Greece and Spain at the height of the crisis. He said more "radical" policies are required to avoid a "long period" of stagnation.
Yields Falling
Investors have concluded that Europe's debt crisis has waned, with the average yield-to-maturity on bonds from Greece, Ireland, Italy, Portugal and Spain falling to 2.4 percent yesterday, the lowest in the history of the euro area, according to Bank of America Merrill Lynch indexes. That's down from more than 9.5 percent in 2011, when the region was rocked by concern that nations would struggle to service their debt, risking a breakup of the currency bloc.
European bank shares are "very depressed," making it an "attractive time" to invest, Soros said. Still, he said it is going to be a "very tough year" for lenders as they try to shrink balance sheets and boost their capital to pass the European Central Bank's stress tests, he said.
The 43-member Bloomberg Europe Banks and Financial Services Index trades at a 0.2 percent discount to book value, while the KBW Bank Index, which tracks 24 U.S. lenders, trades at a 14 percent premium, data compiled by Bloomberg show.
The ECB will analyze lenders this year to determine whether they could survive an economic crisis. ECB Chairman Mario Draghi has said he's determined to convince investors that the health check is thorough and credible.
Ukraine Crisis
Soros Fund Management LLC, the hedge-fund firm that Soros turned into a New York-based family office three years ago to manage only his personal wealth, made $5.5 billion of investment gains in 2013, according to LCH Investments NV. The profits were more than any hedge-fund manager, according to LCH, a firm overseen by the Edmond de Rothschild Group that invests in hedge funds.
Soros also said Ukraine should serve as a "wake-up call" for Europe, because the political turmoil the country now faces stems in part from the same problems that triggered the region's financial crisis.
The European Union required "too much" of Ukraine and offered "too little" as the country attempted to join the political bloc, he said. That enabled Russian President Vladimir Putin to fill the void and gain power in Ukraine, he said.
"Europe needs to rediscover its own European identity — instead of each country just pursuing its own national interests and getting further into conflict with the others," Soros said. "I hope Europe passes this test" in Ukraine, he said.
Soros, who made $1 billion betting against the U.K. pound in 1992, added that a British referendum on leaving the EU would be "disastrous," because it would cost the country jobs.
U.K. growth has been fueled by multinational companies selling goods and services to Europe, so it would be "suicidal" if the country left, he said.