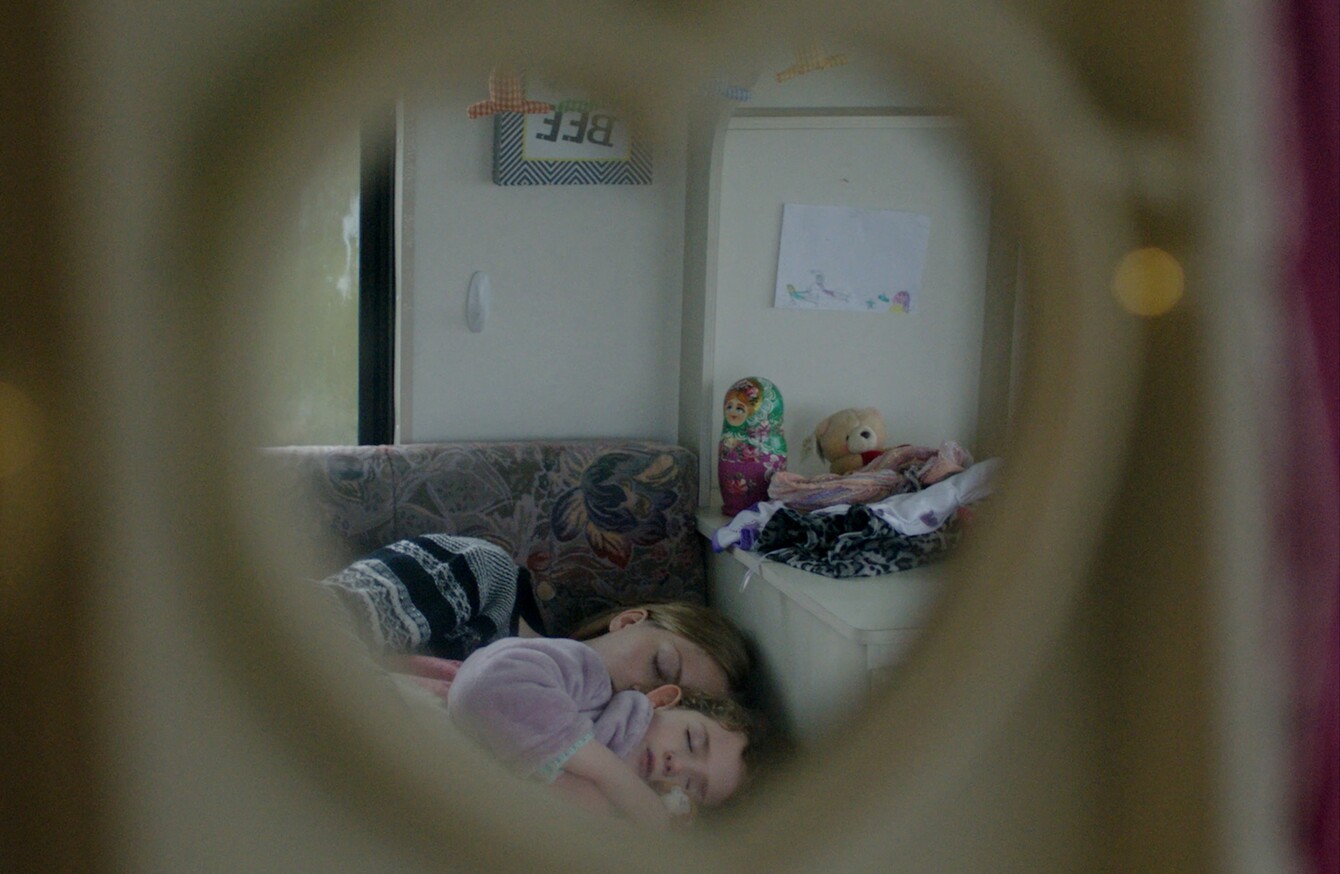 Limbo tells the story of a homeless family over 24 hours.
Image: Blank Page
Limbo tells the story of a homeless family over 24 hours.
Image: Blank Page
"TOO OFTEN, PEOPLE just see statistics. We're so numb to statistics at this stage. I wanted to humanise this crisis, and show the people who are suffering every day."
Irish filmmaker Gerard Barrett's fourth film looks at the problem of homelessness in this country through the lens of a mother and daughter in emergency accommodation over a 24-hour period.
Limbo is due to premiere next Saturday 15 July at Galway's Film Fleadh and, ahead of its first screening, TheJournal.ie spoke to Barrett about homelessness, the state of Irish film and why home is not necessarily where the heart is anymore for Irish people.
"I really wanted to ask that question"
Barrett's breakthrough film, Pilgrim Hill, focused on isolation. His next film, Glassland, looked at addiction and his TV series Smalltown, starring Pat Shortt, had immigration as a central theme.
"All my films set in Ireland are about social issues," he said. "This one came about when I came back home at Christmas and watched the public outcry really take over on this crisis.
I felt I wanted to do something. I wanted to bring it to life in a way that could humanise the situation for a lot of people.
Limbo tells the story of a mother and daughter living in emergency accommodation and starts from the moment they wake up in the morning and follows them as they live out a typical day while being homeless in Ireland.
The film uses unknown actors from around the country, and Barrett says that he wanted the crisis to be emphasised in a "very honest way".
"I really wanted to understand what this life was like and put that on screen," Barrett said. "These people may be in a dire situation a lot of the time, but they strive to make the best life possible for their kids."
Barrett said that people are sometimes numb to the statistics which, with each passing month, persistently make for grim reading.
The latest figures for May, for example, show that there are close to 2,800 children homeless in Ireland.
The government's plan to tackle the crisis has been criticised in some quarters, and new Housing Minister Eoghan Murphy has admitted that its own targets would not be met.
Barrett wants Limbo to continue the conversation around homelessness and show people what life can be like for people in these situations. He said:
I've actually invited Leo Varadkar and Minister Murphy to the premiere in Galway. I think they should come and watch it with their fellow Irish citizens. Maybe they need to be humanised to the whole thing too. If I don't hear back during the week, I'll be making a few more calls.
Making progress
While Barrett has been working to put the finishing touches on Limbo before its premiere, he is also working on a new big budget drama for FX in the US.
This new project, Honey, is currently in development. The story is being kept largely under wraps for now, but is set against the backdrop of corporate espionage.
"It may be big budget, but it's not about chasing a budget for me," he said. "I just want to tell these stories.
With Limbo, I'll always go back to the well and tell stories that are on a small scale, dealing with a people in a situation. I felt there was no more important story to tell right now than this one.
Barrett's production company Blank Page worked on this latest project, and he feels as if both he and the crew he works with have come on leaps and bounds since Pilgrim Hill in 2013.
"We've reached a really mature age in Irish cinema," he said. "We're in a very good place.
I think sometimes we get a little bit too excited about the people behind the camera – directors – and the actors in front, but we forget about the crew. Those are the heroes and the production and post-production teams here in Ireland are the best there is.
The director described how he and his crew have developed and improved with each project and threw themselves "heart and soul" into Limbo.
"We went out there, we met people, we talked to people from all different aspects of this crisis," he said. "These people may have money in their accounts, they may go to work, but they can't afford to rent or buy a home.
We as a country need to come up with answers to solve this, and I hope Limbo leads to more people asking these questions.
A sense of home
The central theme that Barrett says is explored in Limbo is the idea of home, and what it means for different people.
"People in Ireland have always had a fascination with buying a home, and buying property. It's drilled into us," he said. "More than anything else with this film, what we wanted to ask the audience was what really is home?"
He said that from meeting people in the situation, and the work involved in making the film, he'd found that for many home is "a collection of items" that people find precious.
People can try make a home out of a hotel room. For some in emergency accommodation for a long time, they have no other choice. We all know that line – home is where the heart is. What this film really says is that it's where the family is.
Its premiere is next week, and Barrett hopes to bring Limbo to a national audience soon after.
"This crisis isn't going away. It's only getting worse. I just hope this film continues that conversation," he added.
Limbo is premiering at the Galway Film Fleadh at 6pm on Saturday 15 July. You can find out more here.