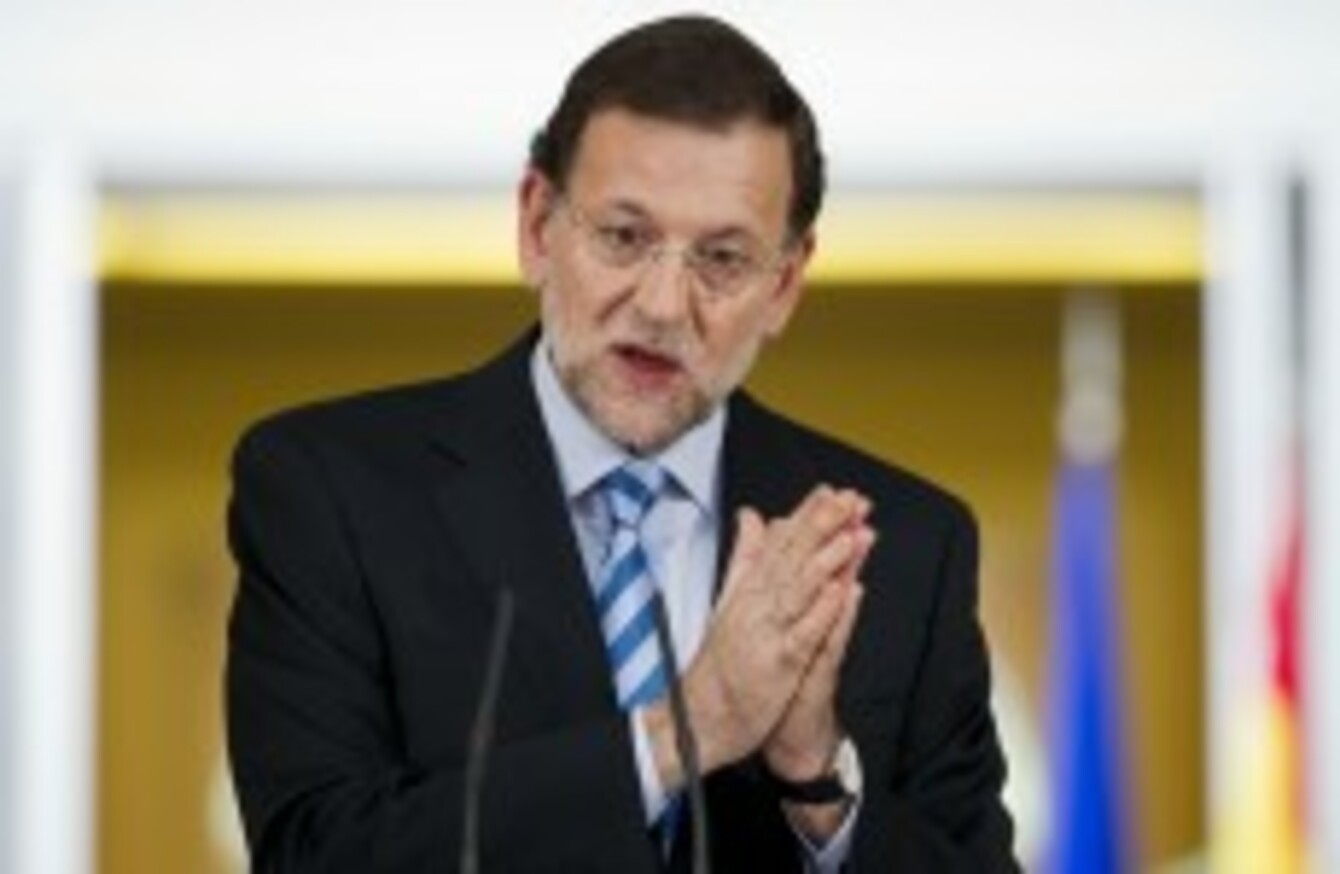 Spanish premier Mariano Rajoy: Spain had wanted its €100bn banking bailout to be given directly to banks, rather than through the government.
Image: Daniel Ochoa de Olza/AP
Spanish premier Mariano Rajoy: Spain had wanted its €100bn banking bailout to be given directly to banks, rather than through the government.
Image: Daniel Ochoa de Olza/AP
THE PROSPECTS of Ireland seeking an improved arrangement on its banking debts have been dealt by a blow, after it emerged that Germany had blocked Spanish attempts to have bailout funds injected directly to banks and not distributed via the government.
It is reported this morning that Spain had sought to have its €100 billion in new loans – agreed upon by Eurozone finance ministers in a conference call on Saturday afternoon – lent directly to the banks, meaning the loans would not be considered part of the country's national debt.
This was rebuffed by Germany, which ensured that the cash was distributed directly to the government – a precedent which will damage Ireland's hopes to secure a similar arrangement separating its banking liabilities from its sovereign debt problems.
Despite the cash being distributed as a loan directly to the Spanish government, however, the loans do not come with the same severe terms and conditions that have marked previous EU bailouts for Greece, Ireland and Portugal.
This morning, though, Dow Jones newswires quoted EU competition commissioner Joaquin Almunia – a Spaniard who previously held Olli Rehn's current job of economics commissioner – as saying the bailout would come with some terms and conditions.
He said the interest rate applied to Spain's loans, and the exact schedule of when the loans would be released to Spain, had not yet been decided.
It is thought that the latter conditions will not be finalised until an audit of the banking sector, outlining the exact extent of any potential capital shortfall, is published later this morning.
'Game-changer'
Speaking on Newstalk's Breakfast show, junior finance minister Brian Hayes said Ireland again insisted it could eventually secure an improved arrangement on its promissory notes, which would ultimately be the "game-changer" allowing Ireland to return to the markets more quickly.
He added that it was "not true" to suggest Spain had escaped without financial conditions, saying the funding wuold come with "very substantial conditions attached to their financial sector" won't be known until the end of the month.
Taking fire at Sinn Féin's claim that Spain had been given a better deal than Ireland, Hayes said the only reason Spain was set to be given a lower interest rate was because it was receiving the cash only from the EU, and not from the IMF which charges higher interest rates.
Discussing the possibility of funding being given directly to banks, Hayes commented that there had been "some discussion in connection with the idea that a bigger European-wide bank resolution plan would be put in place".
Those discussions based on premise that European authorities might fund banks directly… That's not the majority view of the eurozone at the moment.

Will that change over the next couple of months? I can't answer that question.
Market response
The world's markets have welcomed the Spanish deal, with futures on all the major European markets in positive territory after the largest Asian markets recorded strong gains.
The euro has reached a two-week high against the dollar, trading at $1.2603, while the cost of borrowing for the Spanish government has fallen significantly to around 6 per cent for 10-year loans – having stood at 6.2 per cent when markets closed on Friday.
The cost of borrowing for Germany, meanwhile, had risen by 0.05 per cent to 1.377 per cent as of 8:30am Irish time.