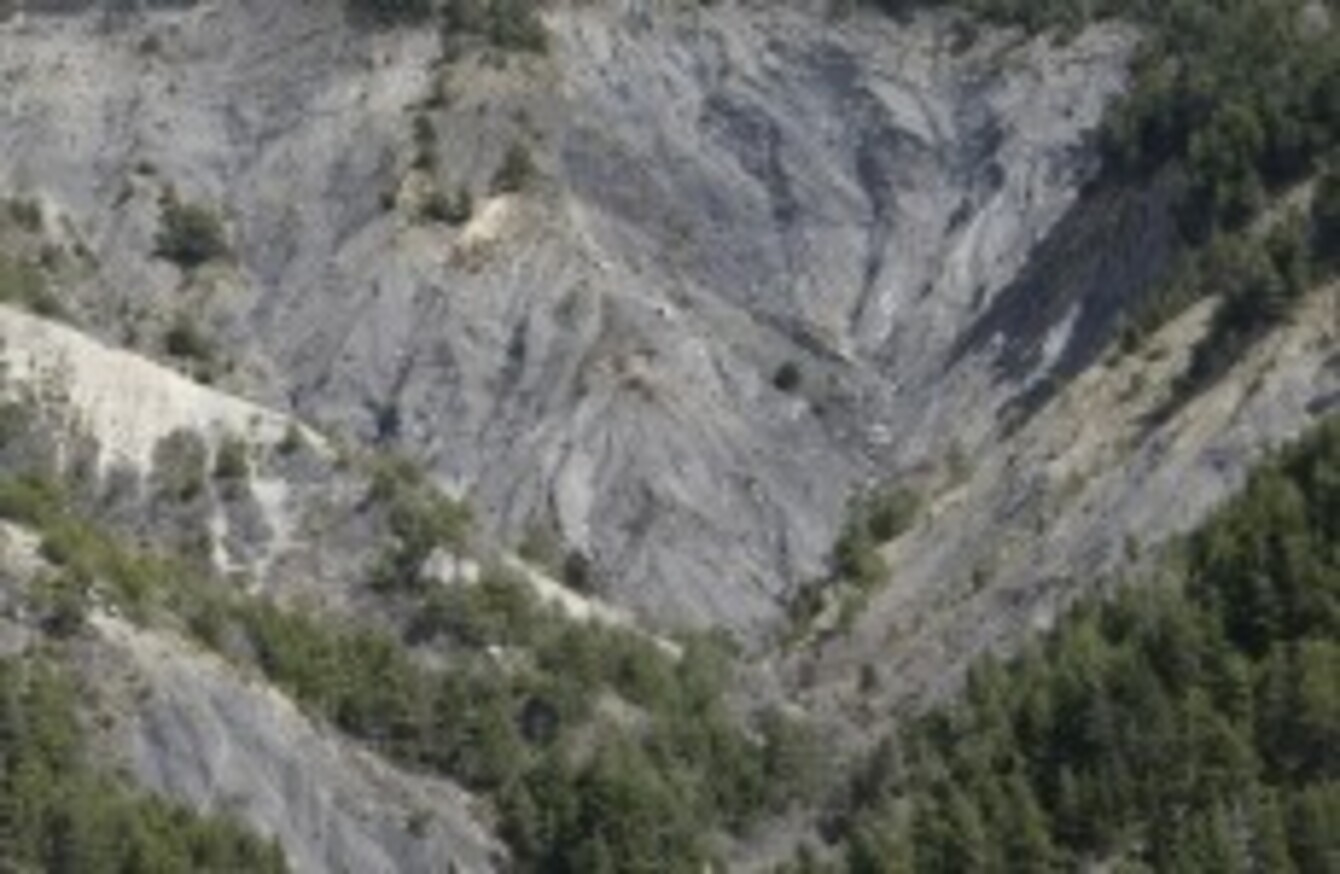 view of the crash site near Seyne-les-Alpes.
Image: AP/Press Association Images
view of the crash site near Seyne-les-Alpes.
Image: AP/Press Association Images
Updated 12.01pm
INVESTIGATORS IN THE French Alps have insisted that the video purportedly showing the final seconds inside the cabin of the ill-fated Germanwings airliner is fake. 
French police have already denied claims that the clip shows the scenes inside the plane minutes before it crashed. 
Two media outlets – German newspaper Bild and French magazine Paris Match – reported on the video, which they said came from a memory card found at the scene. 
Bild said the authenticity of the video filmed on a mobile phone was "unquestionable" and that it had been retrieved from the wreckage.
One sequence reportedly shows a chaotic scene with passengers screaming "My God".
However, French police official Lieutenant-Colonel Jean-Marc Menichini denied that investigators had found mobile phone footage at the crash site, telling CNN that the reports were "completely wrong" and "unwarranted".
Today, prosecutor Brice Robin said no memory cards had been analysed as part of the probe.
"All (phones) are for now being kept at Seynes-Les-Alpes. If people at the site have picked up mobile phones, I am not aware of it. If there is someone out there who has such a video, he or she has a duty to hand it to the investigation without delay."
According to The Independent, police sources believe the two publications were subject to a hoax. Another possibility is that the memory card was picked up by a rescue worker and sold to the media without being declared.
Reports about the recording – supposedly lasting just a few seconds – suggested that passengers knew what was happening to them before the plane crashed into the French Alps, instantly killing all 150 people on board.
"The scene was so chaotic that it was hard to identify people, but the sounds of the screaming passengers made it perfectly clear that they were aware of what was about to happen to them," said Paris Match, adding that people were heard crying "My God" in several languages.
It added that "metallic banging" could be heard more than three times — possibly the attempts of the pilot to open the cockpit door with a heavy object.
Investigators evaluating voice recorder data say co-pilot Andreas Lubitz allegedly locked his captain out of the cockpit and crashed the plane.