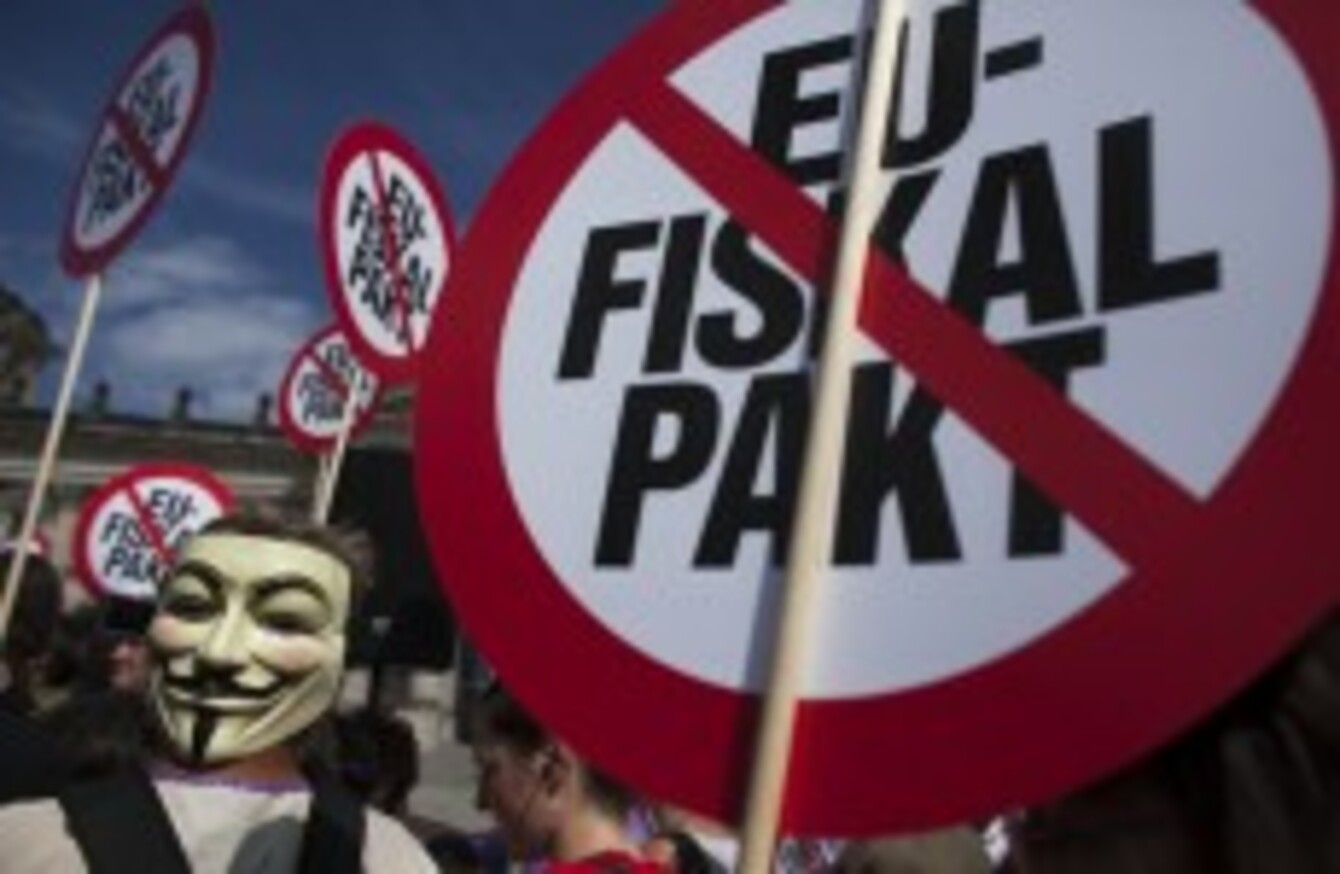 German protesters at a demonstration against the fiscal pact in front of the Rechistag in June
Image: AP Photo/Markus Schreiber
German protesters at a demonstration against the fiscal pact in front of the Rechistag in June
Image: AP Photo/Markus Schreiber
GERMANY'S CONSTITUTIONAL COURT has said that a last-minute legal challenge by a leading eurosceptic politician would not delay its hotly awaited verdict on key euro crisis tools.
"The date fixed for the ruling" on the ESM rescue fund and EU fiscal pact on Wednesday "will go ahead as planned," the court said in a statement.
That means that at 9am Irish time on Wednesday, the eight scarlet-robed judges of the Verfassungsgericht will decide whether German President Joachim Gauck can sign into law the European Stability Mechanism (ESM) and the European fiscal pact.
The German parliament already voted in favour of both with a two-thirds majority at the end of June.
But Gauck held off from completing the ratification process in the face of legal challenges filed by the far-left Die Linke party, a citizens' initiative group called "More Democracy" and a well-known eurosceptic from Chancellor Angela Merkel's CSU Bavarian sister party, Peter Gauweiler.
In an attempt to delay Wednesday's ruling, Gauweiler filed a new complaint at the weekend, arguing that the European Central Bank's decision to launch a new bond-buying programme had moved the goalposts and that the court must now first decide whether the bond purchase programme is legal before it can rule on the constitutionality of the ESM rescue fund.
The Constitutional Court held an emergency session on Monday to decide whether to delay its planned ruling on Wednesday in face of Gauweiler's latest challenge.
Gauweiler and the other groups argue that the ESM – the EU's permanent €500 billion eurorescue fund – and the fiscal pact are incompatible with Germany's "Grundgesetz" or Basic Law because they are effectively forcing Germany to surrender its budgetary sovereignty without the necessary democratic backing.
By committing Europe's biggest economy – and already its effective paymaster – to the ESM, parliament was essentially exposing Germany's public finances to unlimited risks should one eurozone country after another topple under the debt crisis, they argue, charging that this meant German voters' basic democratic rights were being infringed upon.
When asked yesterday what it would do if the ESM were overturned, a spokesperson for the IMF said: "We'll come to that hurdle when we reach it".