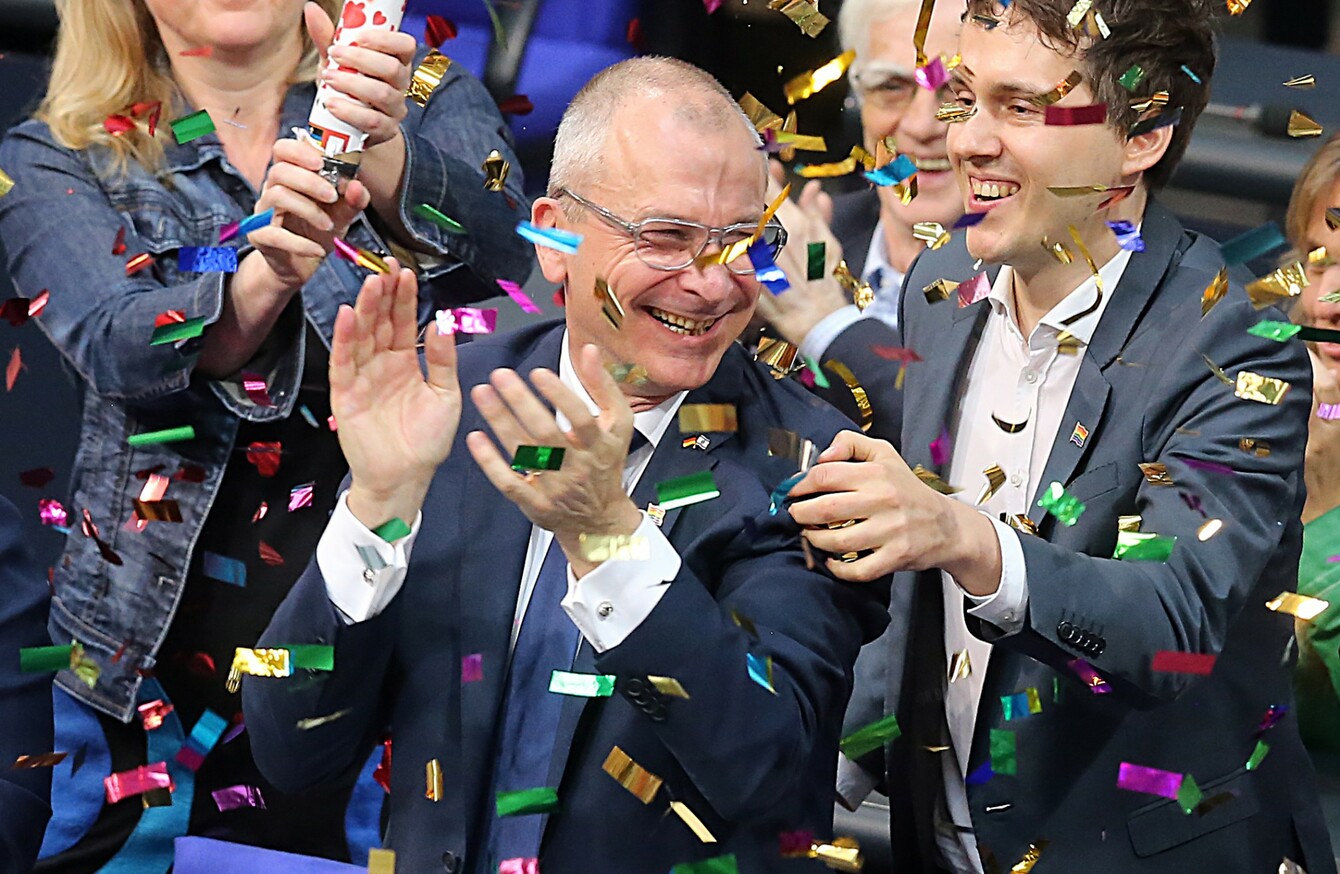 Green Party members of parliament celebrate
Image: DPA/PA Images
Green Party members of parliament celebrate
Image: DPA/PA Images
GERMAN LEGISLATORS HAVE passed a vote on same-sex marriage, as the nation joins many other western democracies in granting same-sex couples full rights including adoption.
The vote comes days after Chancellor Angela Merkel said she would allow her conservative lawmakers to follow their conscience in the vote.
The German legal code was changed to say "marriage is entered into for life by two people of different or the same sex", in the bill that was strongly supported by leftist parties.
Celebrations
Chairman of the German Social Democratic Party (SDP) and former President of the European Parliament Martin Schulz tweeted:
"Marriage for all is approved. Now there is unity and law and freedom for all those in Germany who love each other."
Renate Kuenast of the Greens party, which has pushed for decades for LGBT rights, said: "I would advise all registry offices in the country to boost staff numbers."
"Germany voted for love," said the Lesbian and Gay Federation in Germany, celebrating the "historic day… for a more just and democratic society".
"It's a real recognition, so it warms the heart," said French engineer Christophe Tetu, who lives in Berlin with his partner Timo Strobel.
"We're thinking about having a party, getting married and using our new rights to protect our relationship," he told AFP.
Strobel said he too was "overjoyed" that the couple would be able to show family and friends "that we are committed to each other, that we will stay together and we will spend our lives together".
The reform grants full marital rights, including child adoption, to gay and lesbian couples, who in Germany have been allowed since 2001 to enter into civil unions.
The lower house passed the bill by a margin of 393-226. The upper house has already approved it, and the measure is expected to enter into force before the end of the year.
The reform reflects German public opinion, with polls showing three-quarters support granting full marriage rights to same-sex couples, who have since 2001 been allowed to live in so-called civil unions.
Merkel votes against
Merkel voted against the legalisation.
"To me, marriage as defined in the German constitution means the marriage between husband and wife, and that is why I voted against the law today," she said.
She did however say that her thinking had changed on the question of child adoption by same-sex couples, which she long opposed.
"I have thought a lot about the matter of child welfare and have now… have come to the conviction that same-sex couples should be able to jointly adopt children," she said.
With reporting by AFP.