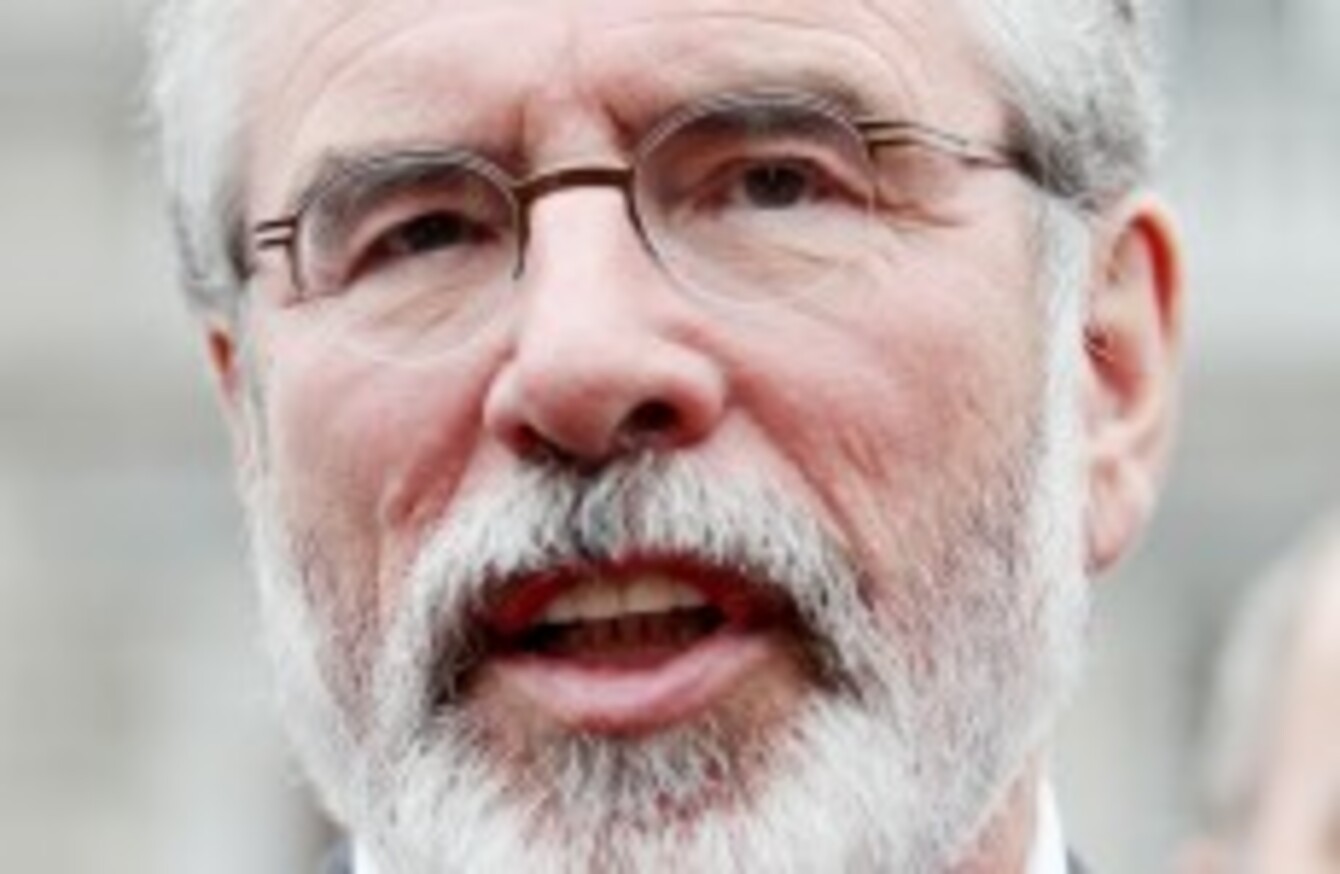 Image: sam boal
Image: sam boal
Updated 7.13am
GERRY ADAMS HAS written a blog post on 'how republicans dealt with allegations of child abuse'.
The 1738-word blog post comes after Maíria Cahill alleged that the republican movement held a "kangaroo court" to deal with her allegations of sexual abuse by an IRA member.
In the blog post, Sinn Féin leader Adams rejects allegations that Cahill made against him and Sinn Féin, but said that the situation "does raise the significant issue of how allegations of abuse had been handled in the past by republicans".
Maíria Cahill tweeted this evening:
Adams writes about the impact the conflict in the North had on nationalist and republican communities.
He says that the IRA filled a 'policing vacuum' in some areas and that: "The bulk of this activity involved mediation between those in dispute, and went unreported."
He continues:
However, the IRA often punished petty criminals, car thieves, burglars and drug dealers. The IRA inevitably also made mistakes.
Adams says that IRA personnel were "singularly ill-equipped to deal with these matters" and this included "very sensitive areas such as responding to demands to take action against rapists and child abusers".
"The IRA on occasion shot alleged sex offenders or expelled them," writes Adams.
He says that "while this may have been expedient at the time it was not appropriate" and that it left victims without the necessary social services support and abusers without supervision.
It ultimately failed victims and the community alike. That is a matter of profound regret for me, and many other republicans. But these actions were of their time and reflected not only a community at war but also an attitude within Ireland which did not then understand or know as we now do, how deeply embedded abuse is in our society.
Adams writes that this facet of IRA activity was gradually discontinued over a long period, and that "as society became better informed as to the issue and handling of abuse, republicans began to develop victim centred approaches".
He says that Sinn Féin also developed its own policies in relation to abuse, and that he himself advocated that they direct victims to the social services if they did not want to go to the RUC, "in the knowledge that the social services could go to the RUC".
Following the IRA cessation in 1994 and the developing peace process legacy cases of abuse emerged. Many of these are in the public domain. Some involved republicans. My father was an abuser. Some also may have involved IRA volunteers. Those who wish to have these cases dealt with have that right.
Adams again denies in the blog post that either or he or Sinn Féin engaged in a cover-up.
"Anyone who has any information whatsoever about any child abuse should come forward to the authorities North or South and they will have the full support of Sinn Féin in so doing," says Adams.
In the blog post, he also encourages Maíria Cahill to come forward with any information she has about alleged perpetrators at large.
Originally published 8.21pm on Sunday