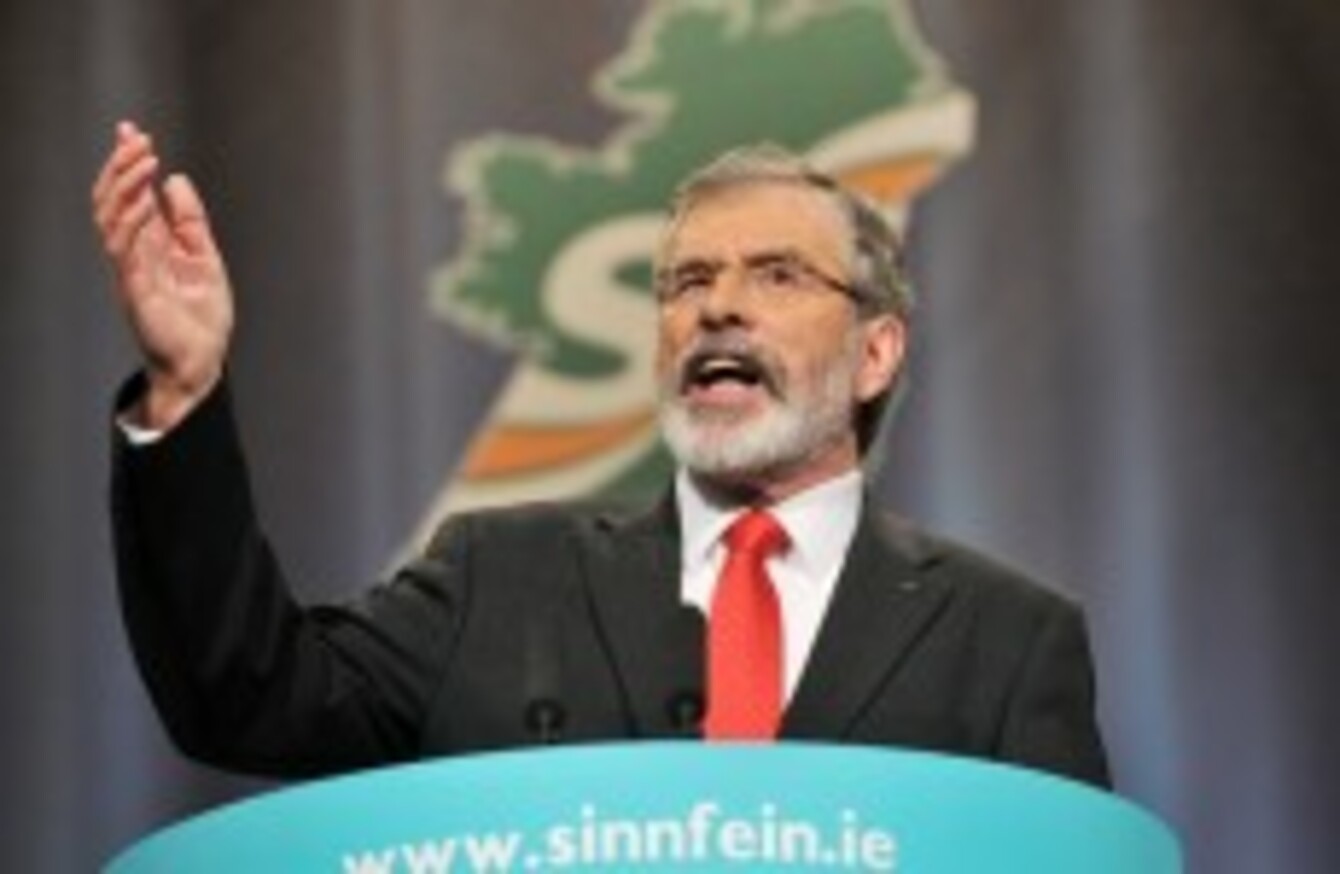 Image: Laura Hutton/Photocall Ireland
Image: Laura Hutton/Photocall Ireland
GERRY ADAMS HAS hit out at the institutions of the current Irish State accusing them of having "their backs to border" and has called for debate on a united Ireland, saying the status quo will only be changed when this happens.
"The prevailing sense among the policy makers is to perpetuate the status quo,"the Sinn Féin President has told the MacGill Summer School in the Glenties this evening .
"This will only be changed when a genuine national spirit is recreated to replace the nonsense, popular in some circles, that this State is the nation and that Ireland stops at Dundalk or Lifford."
In his speech Adams said that the current Irish State is the product of the aftermath of the Easter Rising of 1916 and the Civil War four years later.
He claimed that the outcome of the Civil War and partition led to the "native conservative elite" replacing "the old English elite with little real change in the organisation of Irish society".
He said of the post-Civil War, early Irish State: "Religion was hijacked by mean men who used the gospel not to empower but to control, and narrow moral codes were enforced to subvert the instinctive generosity of our people.
"Women were discriminated against; gay and lesbian citizens were denied equality under the law and all the while scandals like the abuse in the industrial schools, the Magdalene laundries, Bethany Home and the barbaric practice of symphysiotomy were tolerated and encouraged.

"Those who suffered were mostly poor. The arts were censored. Our language undermined. Our culture corroded. Millions fled to England, the USA and Australia. A lesser people would not have survived.

"The system of economic and political apartheid in the north and the scandals of backhanders and brown envelopes, and of the banking and financial institutions and developers in this part of the island, exemplify how the elites held sway."
He accused the media, academia and "political elites" of being "partitionist".  "They have their backs to the border," he said.
"While they are generally benign, policy makers know little about the north and care even less. Their concern is to protect the interests of the establishment as they understand it," he added.
Adams also accused the government of shying away from the debate over a united Ireland and implementing the measures contained in the Good Friday Agreement.
He hit out at the government over its failure to more radically reform the Dáil but he did say his party would support the abolition of the Seanad in the forthcoming referendum.
Explaining the rationale for this, Adams said: "Only one per cent of citizens have a vote in Seanad elections while others have multiple votes. That is why Sinn Féin will not support a proposal to retain the present Seanad. We will campaign for its abolition."
The Louth TD also called for equal rights for people in same sex relationships and for ethnic minorities like Travellers and "those of all creeds and none".