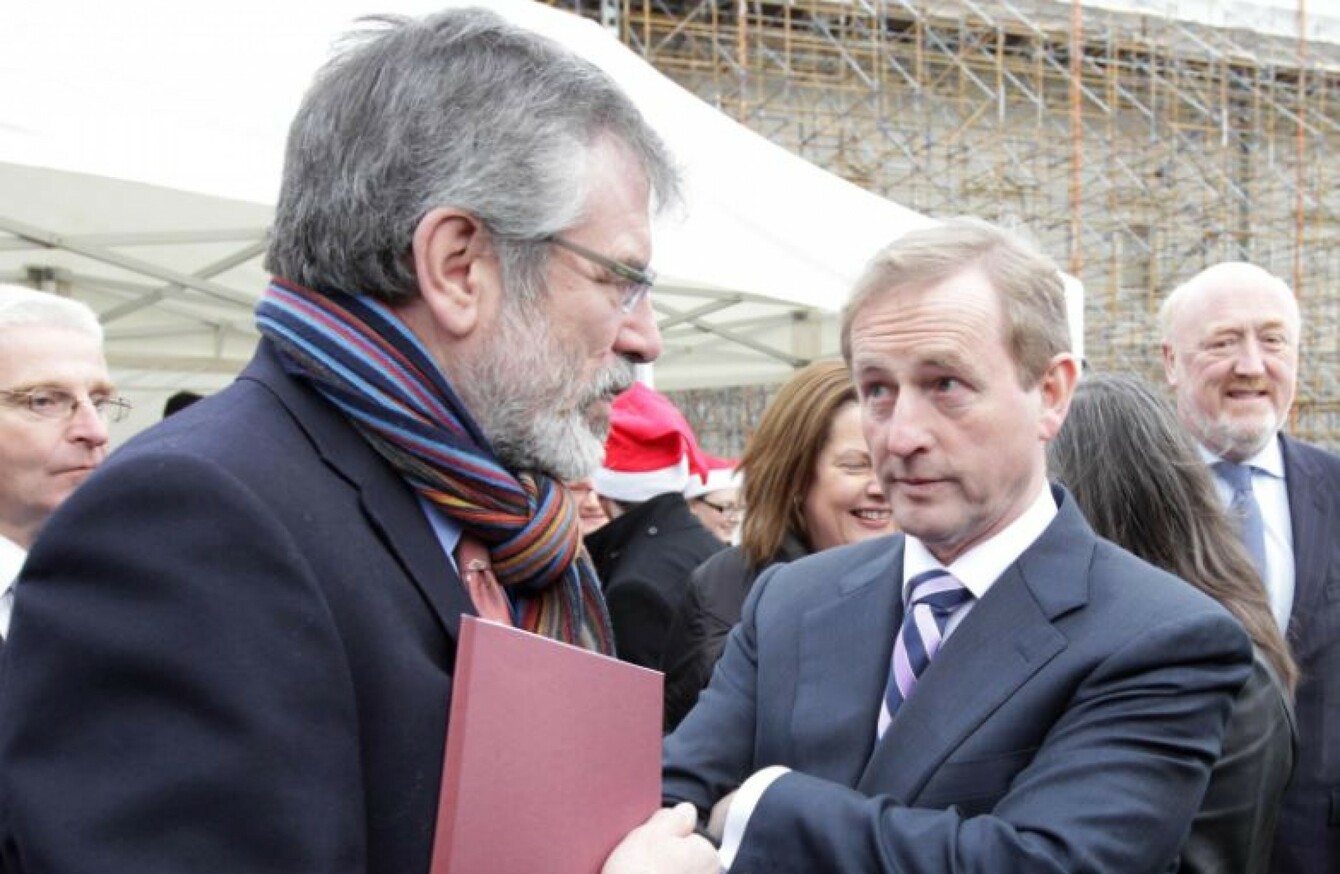 File photo of Adams and Kenny
Image: Niall Carson PA Archive/PA Images
File photo of Adams and Kenny
Image: Niall Carson PA Archive/PA Images
TAOISEACH ENDA KENNY met with Sinn Féin's Gerry Adams and Mary Lou McDonald today to discuss the political impasse in Northern Ireland.
Kenny later spoke to the North's First Minister and DUP leader Arlene Foster and Martin McGuinness, who stepped down as Deputy First Minister on Monday, over the phone.
McGuinness resigned after Foster ignored repeated calls for her to step aside while an investigation is carried out into issues with the North's Renewable Heat Incentive (RHI), or 'cash for ash' scandal, which could cost taxpayers there in the region of £400 million (about €460 million).
An election now seems inevitable.
Speaking following his meeting with Adams and McDonald, Kenny said: "The situation we now face in Northern Ireland is very serious. The best future for Northern Ireland remains in the full implementation of all aspects of the Good Friday Agreement, respecting its principles and operating its institutions effectively.
A limited window for dialogue remains and I am encouraging the parties to engage together to find a way forward that delivers on the promise of the Good Friday Agreement and its institutions.
Kenny added that he will maintain close contact with British Prime Minister Theresa May, and that they had agreed the two governments would support the parties in efforts to resolve the current difficulties.
Foreign Affairs Minister Charlie Flanagan and Secretary of State for Northern Ireland James Brokenshire are due to meet in Belfast tomorrow.
'Huge damage' 
After the meeting with the Taoiseach, Adams said: "Sinn Féin has made it very clear that we will not be re-nominating for the position of Deputy First Minister before Monday.
In the last few weeks, huge damage has been done to the integrity of the north's political institutions by the behaviour and actions of the DUP. In our view, it is time for the people to have their say.
"We are prepared to talk to the DUP. However, following a series of meetings today with the Irish and British governments, we don't yet see any basis for credible negotiations this side of an election.
"As co-equal guarantors of the Good Friday Agreement, the Irish and British governments have a responsibility to defend and implement the Agreement.
"Under the terms of that Agreement, they both have responsibility for implementing equality within their respective jurisdictions. They have singularly failed to do that and they have also refused to implement measures already agreed."
Speaking yesterday, Foster said she was open to discussions with other parties, including Sinn Féin, in the coming days.
Foster said she has been "disgracefully maligned in the most vicious manner" since the start of the current controversy and that it was of the "utmost importance" that the truth comes out.