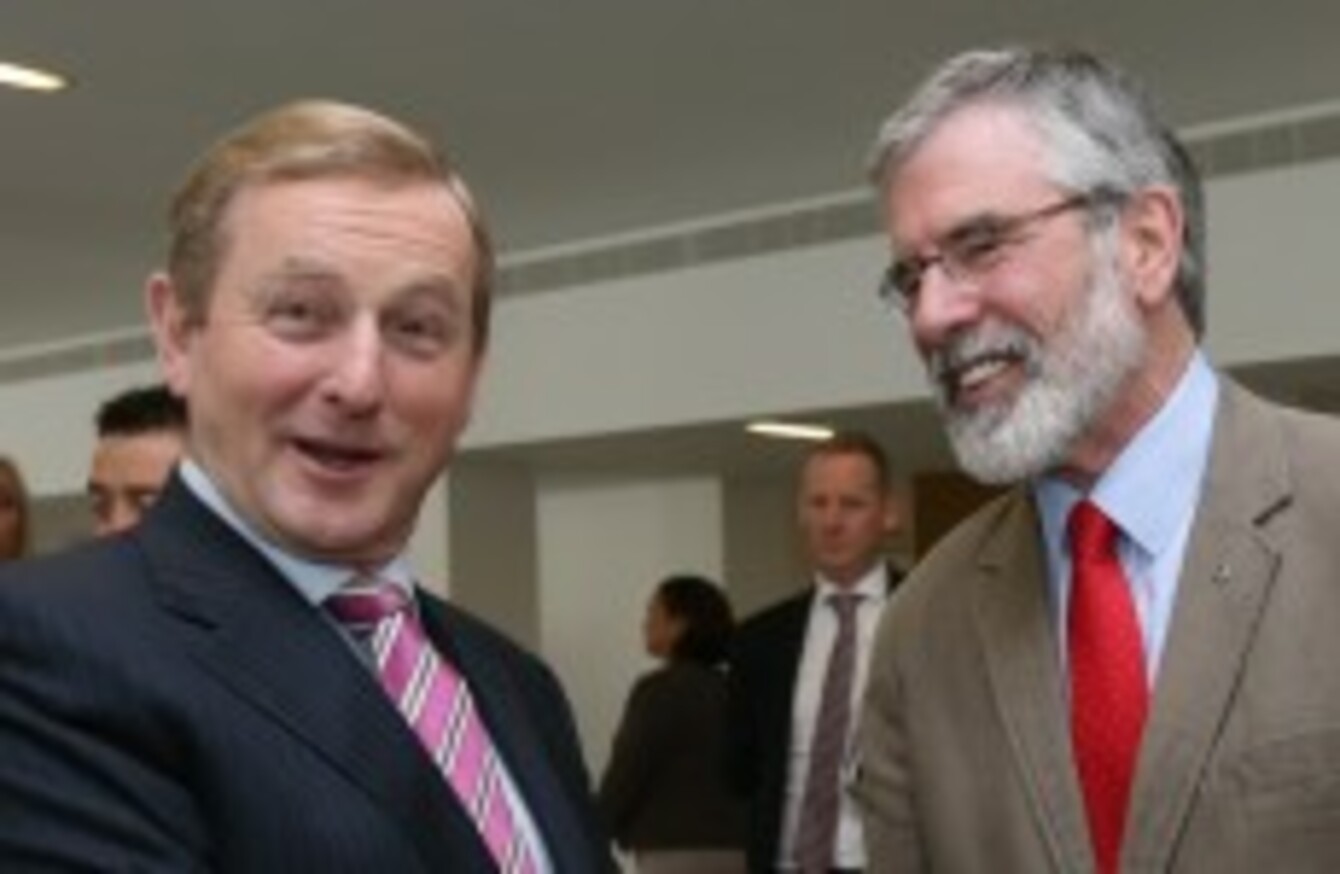 Enda Kenny and Gerry Adams in happier times
Image: Sam Boal/RollingNews.ie
Enda Kenny and Gerry Adams in happier times
Image: Sam Boal/RollingNews.ie
GERRY ADAMS HAS criticised the Taoiseach over his claims that the Central Bank governor warned the army may have been needed to guard ATMs during the eurozone crisis.
The Sinn Féin leader is the latest to criticise Enda Kenny in the wake of controversy over comments he made in Madrid last week and at a number of public events in recent weeks.
Kenny had claimed that the Central Bank governor Patrick Honohan warned him that the army might be needed to guard banks and ATMs in the event of capital controls being introduced in Irish financial institutions.
But yesterday he admitted he never got a specific briefing from Honohan.
Kenny said there had been a taskforce established to consider contingency plans, including security issues, in the event of a eurozone break-up.
Speaking at Leinster House today, Adams said:
All of this tomfoolery, getting carried away with himself, making an eejit of himself, shows the need for practical-based, people-centred politics.
Kenny was asked about the remarks again this morning, but said that "all of the issues surrounding security and banks was raised as part of that general discussion."
Government sources close to Kenny have attempted to insist that the Taoiseach had never originally said he got a one-on-one briefing from Honohan about the possible need for the army to be deployed.
'Let's get real'
Adams said Kenny's remarks were "the type that the Taoiseach is prone to say" citing an example of when he asked him about the wheels falling off an ambulance transporting a patient from Donegal to Galway.
I asked had that particular model a design fault and so on and I provided him with the actual report of the independent assessment and he responded by telling me about he time that the wheel came off his car.
"Now, let's get real. Famously he talks about the man who had two pints in one hand and that would have paid for the water charges.
"That was his response to the deep-rooted concerns and widespread protest around water charges and Uisce Eireann and all the rest of it.
So, he's a spoof, that's the problem and if these matters are untrue then he needs to clarify that more than he has done so.
Adams said if that if Kenny's claim was true it should be reported to the banking inquiry and asked why it hadn't when the Taoiseach appeared in July.
He also insisted that Sinn Féin have answered all questions in relation to its links to paramilitarism and the 2004 Northern Bank robbery.
The Louth TD said there was "no comparison" between what the Taoiseach has been saying and Adams' own disputed denials that he was ever a member of the IRA.
Also speaking today, Health Minister Leo Varadkar said he was never party to briefings about security during the crisis but said he was aware there were discussions about contingencies if Ireland exited the euro.
"Whether there was a formal briefing about it or not, I think it's besides the point," he said, adding it wasn't necessary for Kenny to clarify his comments to the banking inquiry.