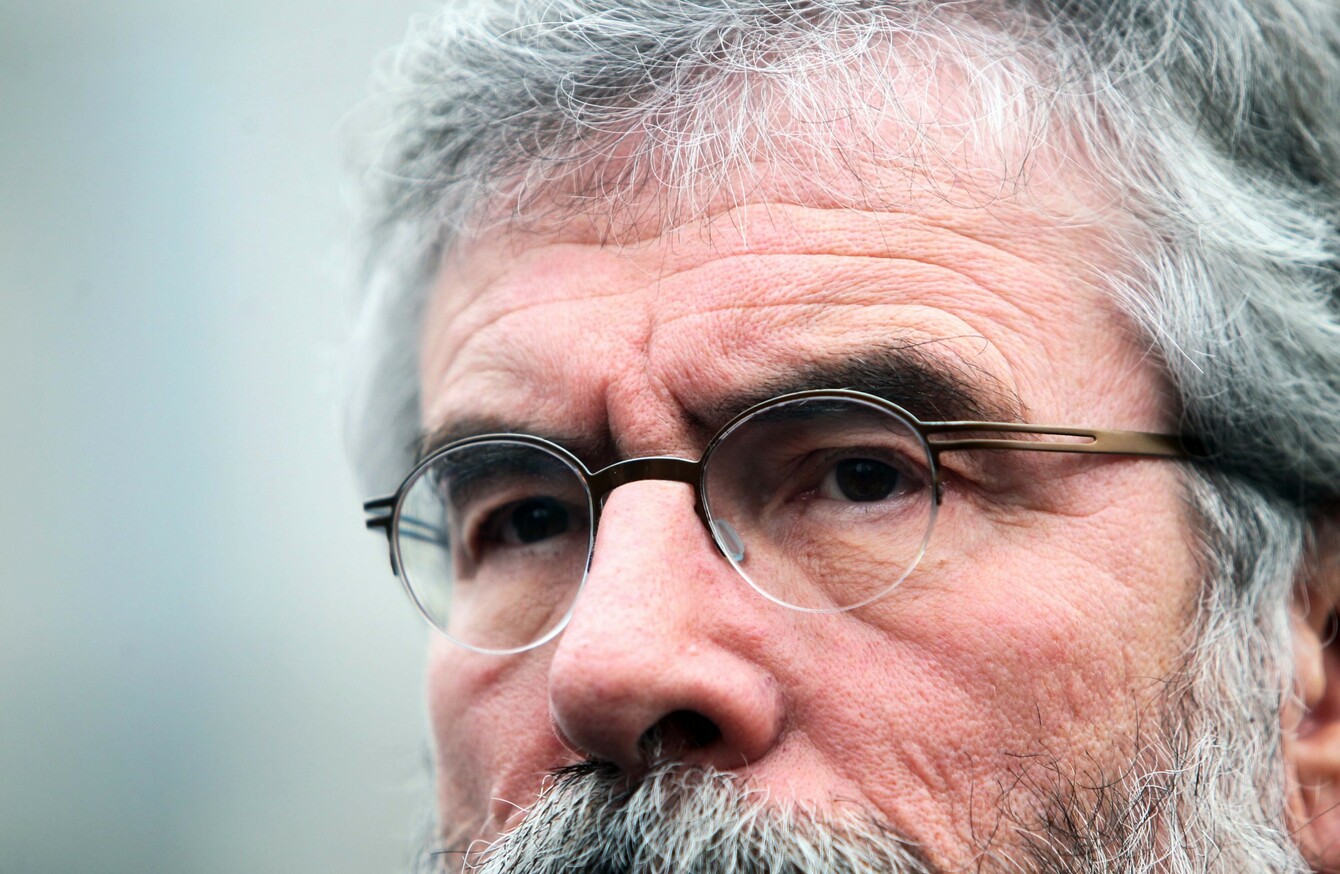 Image: Sam Boal
Image: Sam Boal
POLITICALLY, IT HAS BEEN a rough couple of weeks for Gerry Adams.
Sticking to a confidentiality agreement made over a meeting he arranged for Austin Stack, the Sinn Féin leader has faced increasing pressure from the government, the Taoiseach and Fianna Fáil to reveal what he knows about the tragic 1983 murder of prison officer Brian Stack.
Adams made a speech in the Dáil on the issue, then Fine Gael's Alan Farrell caused mayhem in the House when he used his privilege to call for Sinn Féin TDs Martin Ferris and Dessie Ellis to make a statement about the murder, and then Austin Stack interrupted a Sinn Féin press event.
In Leinster House, there were mutterings that Adams might have met his threshold of controversies, with talk that his journey in a blacked-out car might be one issue that won't go away for the leader.
Over a week has passed since his speech in the Dáil and the seas have calmed.
Taoiseach Enda Kenny was even forced to correct the record over a statement he made about Gerry Adams' involvement in the meeting between the Stack brothers and a former IRA leader.
And much of the media coverage since these events has been favourable towards Adams, with many noting the bigger issues at play here.
Former Taoiseach Bertie Ahern told Today FM that he "understands" why Adams won't name the IRA commander.
"There are implications from breaching some of the things in the past," he said.
I warned about this years ago when I argued we should have a peace and truth commission. I floated that one but that kite fell flat.
This was followed by Vincent Browne's column in the Irish Times last week, which stated that Adams is being hounded by the main political parties for providing a public service.
The veteran broadcaster called the controversy a "virulent cynical opportunism" by political parties and members of the Irish media.
Sinn Féin's Louise O'Reilly, a fresh face and rising star in the party, told TheJournal.ie that she is happy with how Adams dealt with the dispute, defending her leader and hitting out against Fianna Fáil.
"I'm somewhat disappointed that when we managed to beat them on policy, when we manage to outdoor them in terms of performance at committee and in the Dáil and when we are out in front of them in terms of the innovative policies that we're putting forward they dig around and they just say 'well what can we attack them with today," she told TheJournal.ie in a recent interview.
I think it's disrespectful to people who've lost loved ones – and there were thousands – to see people used in that way and I don't think it works for Fianna Fáil, but it was a very clearly orchestrated attack on Sinn Féin that had precise little to do with seeking justice and I do think Fine Gael joined in very enthusiastically.
The Dublin Fingal TD said the events of the last few weeks can be put down to Fianna Fáil feeling threatened by Sinn Féin.
"Fianna Fáil see us as a political threat, if they didn't they wouldn't engage in stunts like they are doing at the moment. And that's fine, the party can withstand those attacks and the opportunity was afforded for Gerry to make a personal statement and to set the record straight and I'm happy that he did that and I'm happy that the matter has been clarified."
O'Reilly did not have kind words for her fellow constituent colleague Alan Farrell and his actions in the Dáil.
'Alan who?' as we call him in Fingal. Well, I'll tell you what I told the Fingal Independent which is it was a pathetic tantrum thrown by a backbencher….
It shocked me that someone who is a constituency colleague of mine would be so ignorant of history, not simply of our own history, but of the function of a parliament and the ramifications and the impact of what is said in parliament on the outside world.
But does all this controversy impact on Gerry Adams' leadership? Earlier in the week, columnist Gerard Howlin wrote in The Irish Examiner that this could be Adams' last Christmas as leader of the party.
However, it will only be his last because he chooses it to be, writes Howlin.
O'Reilly is new blood in Sinn Féin ranks, so does she think it's time for Gerry to move on and allow a new wave of TDs step up?
There has to be new people coming through. I mean we're a growing party, there isn't another person in the Dáil chamber who can point to the level of consistent success that Gerry can…
There isn't another leader who can say we have been systematically and slowly, but systematically building, and Gerry has done that.
If you ask me do I think that Gerry is immortal? I don't think he is immortal, but I think he is the right leader for now, like there are a lot lads, there's no vacancy, all that kind of stuff, we haven't had that debate and when the time comes we will have that debate.
If and when Gerry steps aside – whether it be by his own hand or he is pushed – who should lead the party into its next phase then?
I think Mary Lou would make a fine leader but there isn't a contest. I don't know who else is on offer. Mary Lou is our deputy leader. She is a person with whom I've worked closely with when I was a union organiser. Now within the Dáil, she is a fantastic leader and she is a great voice for women parliamentarians and she's universally respected.
O'Reilly said there is a difference between Sinn Féin and other parties, stating that while Fianna Fáil and Fine Gael have political in-fighting, Sinn Féin has its eyes on bigger prizes.
"We don't get hung up on all that ego-driven, excuse my language now, but ego-driven bullshit that seems to drive the other parties. There's very much a lot of self promotion that goes on.
"We tend to promote the party and the message and the vision of a United Ireland, whereas you're talking to the others, when someone is very personally ambitious," she said.
"I think there is a lot more people in Fine Gael and Fianna Fáil who are personally ambitious than who are ambitious for their party or any vision."