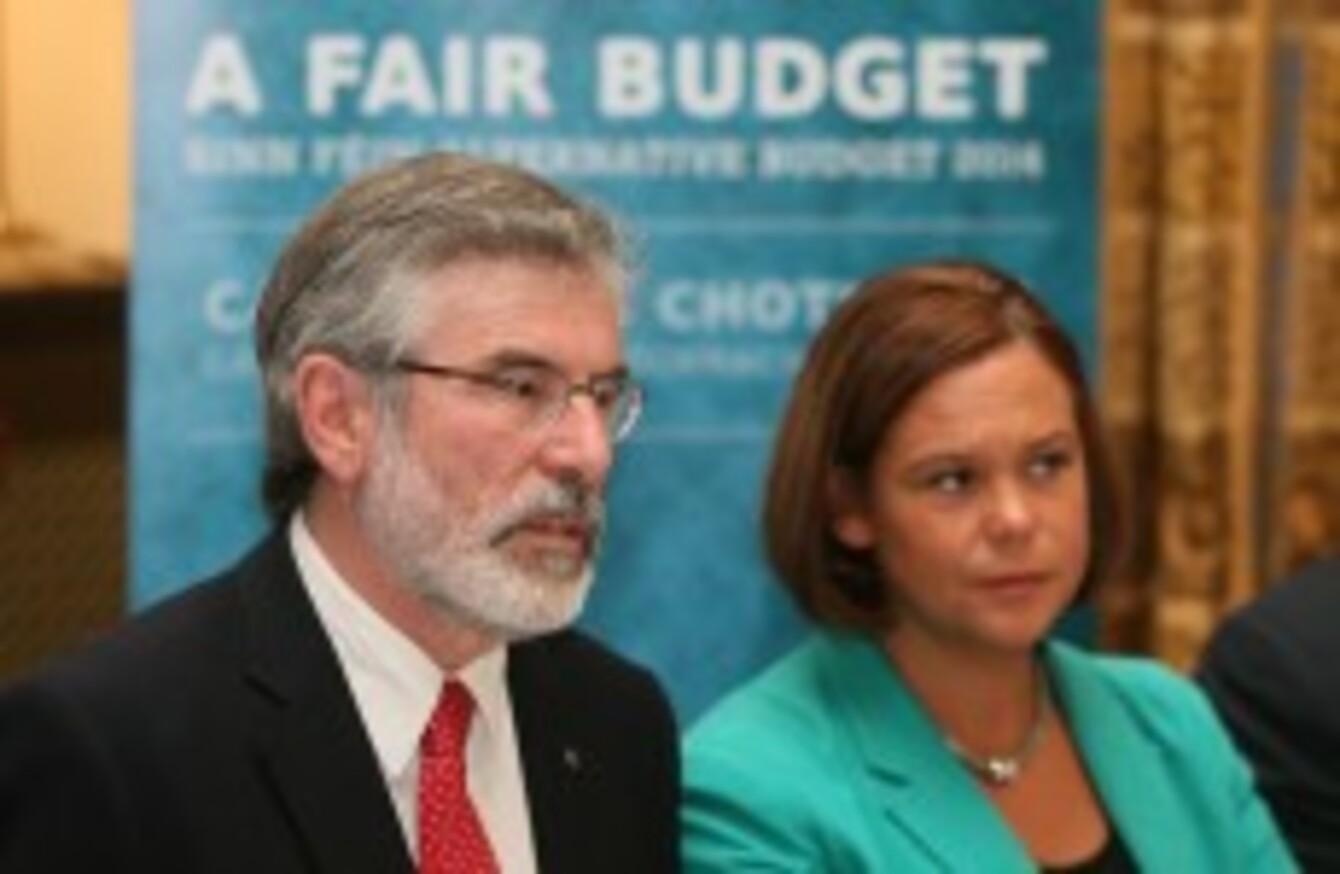 Gerry Adams at the launch of Sinn Féin's pre-Budget submission today.
Image: Niall Carson/PA Wire/Press Association Images
Gerry Adams at the launch of Sinn Féin's pre-Budget submission today.
Image: Niall Carson/PA Wire/Press Association Images
SINN FÉIN PRESIDENT Gerry Adams has said that he knows he has committed no offence following the referral to the Northern Ireland Attorney General of a decision not to prosecute him over allegations he withheld information about his brother's abuse.
Adams was responding to a decision announced by the Public Prosecution Service in the North yesterday to ask the Attorney General to "independently review the matter".
The Sinn Féin leader's brother Liam Adams was found guilty of raping and sexually abusing his eldest daughter, Áine Adams, more than 30 years ago at Belfast Crown Court last week. Questions have arisen about how much Gerry Adams knew about his brother's abuse.
On Friday, the PSNI said it is to review transcripts from the trial. Today Adams hit out at "the quite despicable lobby" who he said are coming at the matter "in a very political way".
He said today: "I do take exception to the quite despicable lobby that's going on. I learn that the DUP, some in the DUP and indeed some in Fianna Fáil are coming to this in a very political way so I totally and absolutely reject that."
He insisted that he was not going to answer "hypothetical questions" about what might happen if the Attorney General decides that the prosecution file against him should be reopened.
Adams said: "I know that I committed no offence and I know that I did what I considered to be the right thing and that I cooperated fully with the PSNI, with the PPS, with the court, that I gave evidence in the court. So I don't have any concerns about that."
Adams also confirmed that the Director of Public Prosecutions in Northern Ireland, Barra McGrory – who asked for the AG to look at the decision not to prosecute – was formerly his solicitor and accompanied him to one of the interviews he gave to the PSNI about the abuse suffered by his niece.
Asked if he was surprised that McGrory had referred the case to the AG given what he knew, Adams said: "He [McGrory] said that he did so because of the public interest in the case.
"So if we find that the DUP are lobbying the chief constable, could the DUP be lobbying the DPP as well? I don't know the answer to that question. But as I said earlier on it's a matter for the Attorney General, let him get on with his business."
Meanwhile, BBC News reports today that the Northern Executive Health Minister Edwin Poots, a DUP MLA, has met the PSNI chief constable Matt Baggott to discuss the police's handling of the case.