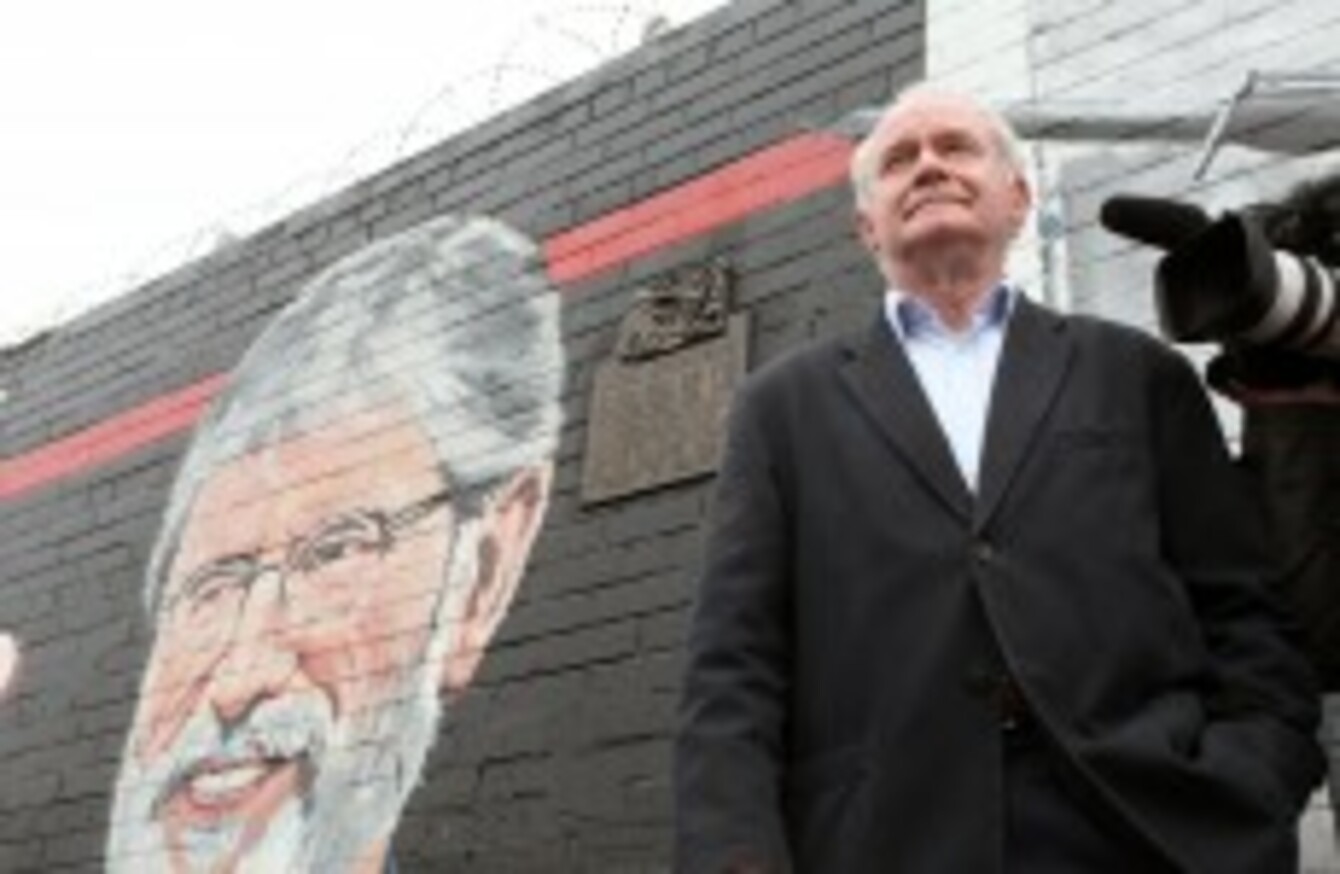 Image: Stephen Kilkenny/Photocall Ireland
Image: Stephen Kilkenny/Photocall Ireland
NORTHERN IRELAND'S DEPUTY First Minister Martin McGuinness has said that he 'absolutely believes' that Gerry Adams was not involved in the abduction, murder and disappearance of Jean McConville in 1972.
Speaking to This Week on RTÉ Radio One, the Sinn Féin politician said his party's president had told him that he does not know who is guilty of the unsolved crime.
McGuinness also said that he believes Adams when he says he was not a member of the IRA.
"I've heard some of the McConville say that they have known for many years – they should give those names to the police," he added.
Sinn Féin continues to make claims that the arrest and prolonged detention of its leader is politically timed and motivated.
McGuinness repeated suggestions that there is a dark force, an 'old guard of the RUC' working within the PSNI to undermine the party and its involvement in the peace process.
He told RTÉ that the police questioning over the past four days has been a "trawling exercise" which includes showing Adams books he has written or articles that have been written about him.
McGuinness noted there would be "huge unease" amongst all those who negotiated the Good Friday Agreement if any charges are brought.
He described it as "absolutely ridiculous" that his party leader – "who has been the foremost figure in the peaces process over 20 years" – finds himself in an Antrim police station.
McGuinness warned against "falling into the trap of undermining the massive contribution" Adams made in bringing peace to this island.
He "stands head and shoulders above everybody else", he concluded.
On the same radio programme, Northern Ireland Justice Minister David Ford subsequently called for political figures to 'take a step back' and allow police to carry out their work.
#Open journalism No news is bad news Support The Journal

Your contributions will help us continue to deliver the stories that are important to you

Support us now
He referred also to Peter Robinson's comments that Sinn Féin were attempting 'bullyboy tactics'.
He claimed the party had indicated it would reassess its attitude to policing in Northern Ireland if charges were brought against Adams.
McGuinness denied such suggestions, stating he would remain on the policing board but added that there is a small cabal within the force which wants to undermine Sinn Féin.
Ford said he had seen no sign of "an old guard trying to drag people back".
He said that the McConville children and other victims had been "retraumatised" in recent days and that politicians should stop "kicking the issue around like a political football".
The PSNI has three options when the 8pm deadline comes around tonight. Detectives can release him without charge; release him and send a file forward to the prosecutors' office which will decide on future charges; or bring charges against him.