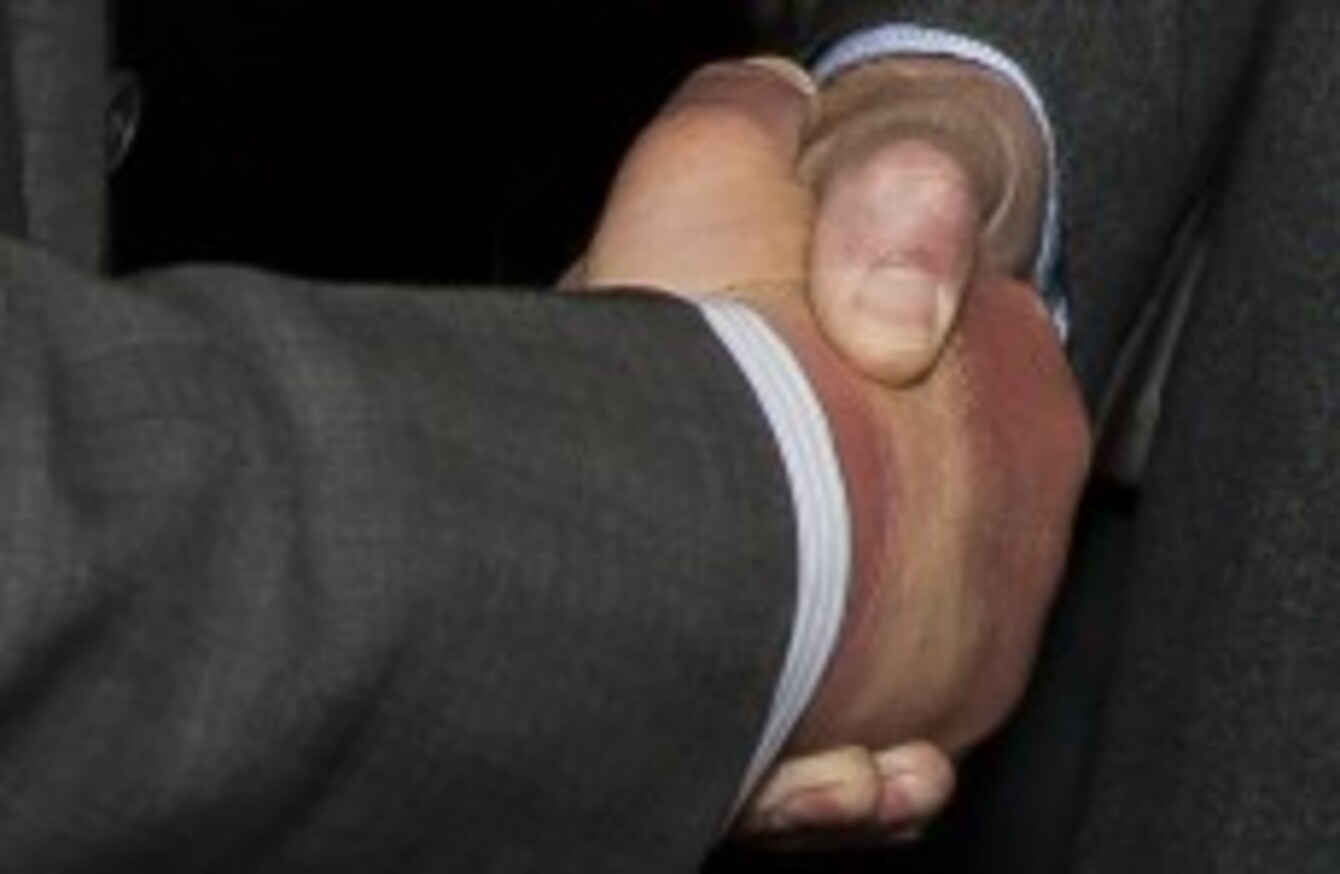 The Prince of Wales shakes hands with Gerry Adams earlier today.
Image: Adam Gerrard
The Prince of Wales shakes hands with Gerry Adams earlier today.
Image: Adam Gerrard
THE THREE MAIN political parties have denied a report that they objected to Sinn Féin's Gerry Adams and Martin McGuinness meeting privately with Prince Charles in Galway earlier today.
The Prince of Wales held a 15 to 20-minute meeting with the Sinn Féin leader and the North's Deputy First Minister behind-closed-doors after an earlier photo-op, which saw Adams and Charles shake hands in a historic first.
The Belfast Telegraph reported earlier that the main political parties in the Republic – Fine Gael, Labour and Fianna Fáil – had raised objections to the meeting over concerns that it could portray Adams as a peacemaker in the south with an election less than a year away.
The paper quoted a 'senior London source' who said the resistance was broken by the enthusiastic support of the Queen and Prince Charles himself.
However, all three parties denied this was the case when contacted today.
A Labour spokesperson described the story as "nonsense". When asked if Fianna Fáil had raised any objections to the meeting, a spokesperson said: "No, of course not."
Fine Gael referred the matter to a spokesperson for the Taoiseach who said there was "no foundation to the story".
Gerry Adams and Micheál Martin are leaders of the opposition parties. It's in that context that they were there. There is no foundation to the story.
Today's meeting was regarded as hugely significant. Earl Mountbatten, a great-uncle of Prince Charles, was killed in an IRA bomb in County Sligo in 1979.
Charles and his wife Camilla are due to visit the village of Mullaghmore, where the attack took place, during the course of their four-day trip to Ireland.
After this afternoon's private meeting, Adams told the media that he and Charles spoke of their mutual sense of loss and relief that "the war is over" and described it as a "great meeting and a great engagement".
"It was obviously a big thing for him to do and a big thing for us to do," he added.
Charles and Camilla are due to visit Mullaghmore tomorrow.