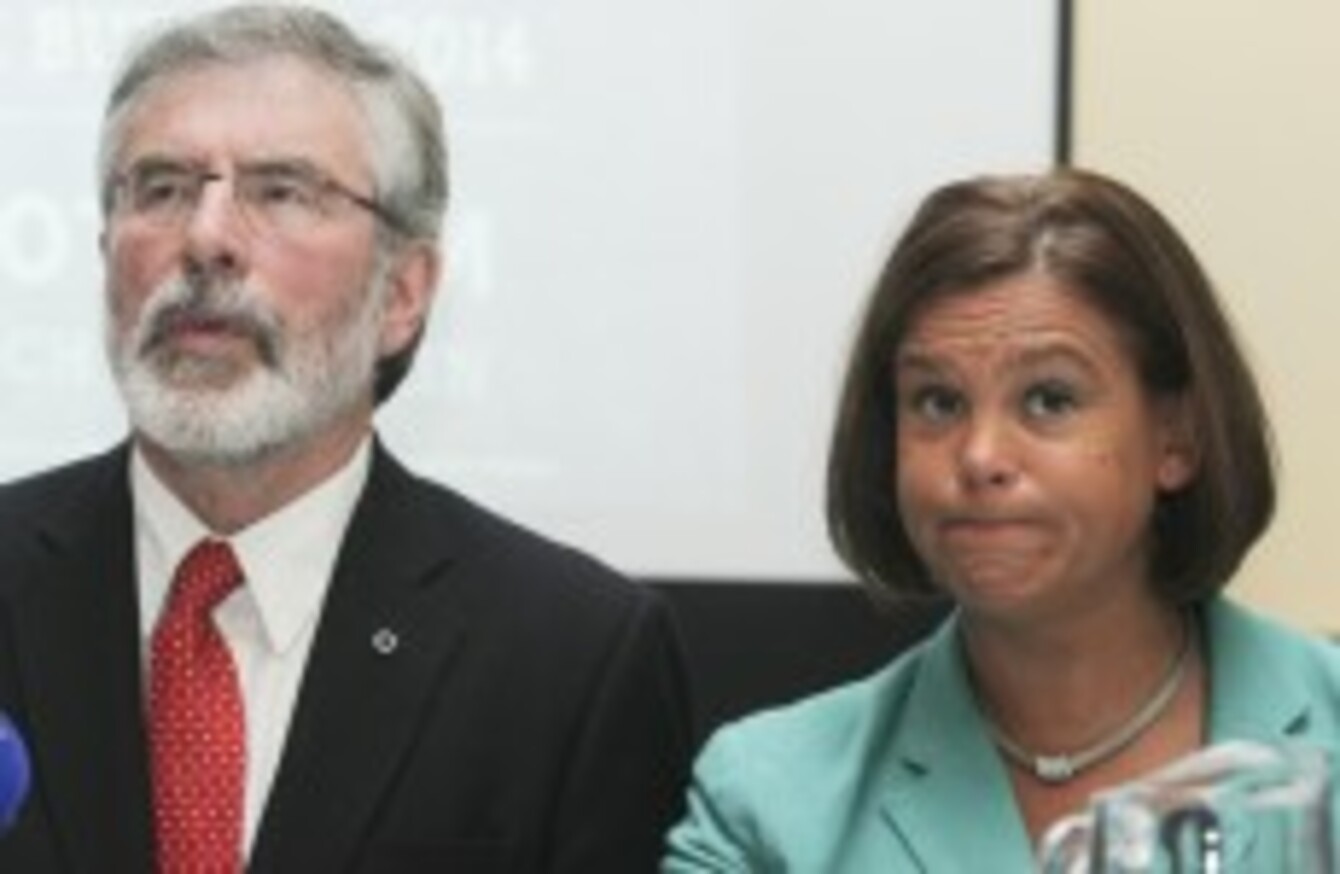 Gerry Adams and Mary Lou McDonald (File photo)
Image: Sam Boal/Photocall Ireland
Gerry Adams and Mary Lou McDonald (File photo)
Image: Sam Boal/Photocall Ireland
IT WAS A Saturday night in Wexford earlier this year and Gerry Adams was getting ready to deliver his keynote speech, the conclusion of another successful Sinn Féin Ard Fheis.
In the bowels of the town's gorgeous opera house, political correspondents were being briefed on the content of the party president's speech. One line caught the eye of TheJournal.ie where Adams called for the government to "give families a break".
"The next budget must give something back.  It must ease the tax burden on working people," Adams would say.
Was this the party that wants another tax band and a wealth tax actually calling for a tax cut? The spinners wouldn't be specific, saying they wanted to focus on the broad themes of the speech.
But there's the problem. And it will increasingly become an issue in the months and years ahead for Sinn Féin. Big picture stuff will no longer be enough to satisfy those who will subject its policies to significant scrutiny now that it is one of the largest parties in the State, one that is being talked about as being part of a government after the next election.
If Sinn Féin is to be ready to go into government – as Adams has been discussing over the weekend and this morning – then its TDs, Senators, councillors and members will need to be talking about specifics. About the red line issues and about what its priorities will be in office.
This morning Adams was engaged in a typically robust interview with Morning Ireland's Cathal MacCoille who tried several times to drag some specifics out of Adams but to little avail. Primarily the host wanted to know what Sinn Féin's red line issues are.
Eventually the Louth TD relented on the property tax which Pearse Doherty had said at the weekend was a red line issue for the party in that it is a pre-condition of going into government with another party that the tax be abolished.
Intriguing and attractive as that may seem, how realistic is it that that will happen if Sinn Féin goes into coalition with one of other three main parties?
After all Fine Gael and Labour introduced the tax while Fianna Fáil although opposing it did so only on the belief it was introduced at the wrong time when hard-pressed families could ill-afford another bill. It's doubtful whether Micheál Martin's party would seek to abolish it altogether if it returns to government.
Is the abolition of the property tax deliverable? It's hard to see unless Sinn Féin commands an overall majority after the next general election – which is highly unlikely – or has enough seats that an alliance with like-minded independents would get them the necessary numbers to form a government – again highly unlikely this stage.
Adams struggled in the interview this morning. He may argue he was being consistently interrupted by MacCoille, but then if he had been answering the questions this might not have happened.
#Open journalism No news is bad news Support The Journal

Your contributions will help us continue to deliver the stories that are important to you

Support us now
Details are important and details are what Sinn Féin will consistently be asked for in the months ahead.
It was reported at the weekend that both Fine Gael and Labour are preparing documentation to discredit Sinn Féin's economic policies which coalition TDs and ministers regularly describe as "fantasy".
Just this morning the Fine Gael TD Simon Harris has been out criticising Adams for being "completely incapable of outlining how Sinn Féin would make its fantasy figures add up if it was in government".
Sinn Féin needs to be ready for this – and everything else – or as Adams put it at the weekend:
For our part Sinn Féin needs to be ready for government in this state on our terms, agree our policy priorities and political platform and our commitments need to be deliverable.
The policy priorities and commitments must be deliverable but they must also be explainable – they must have detail.
Otherwise Sinn Féin will be easy pickings for the other parties.