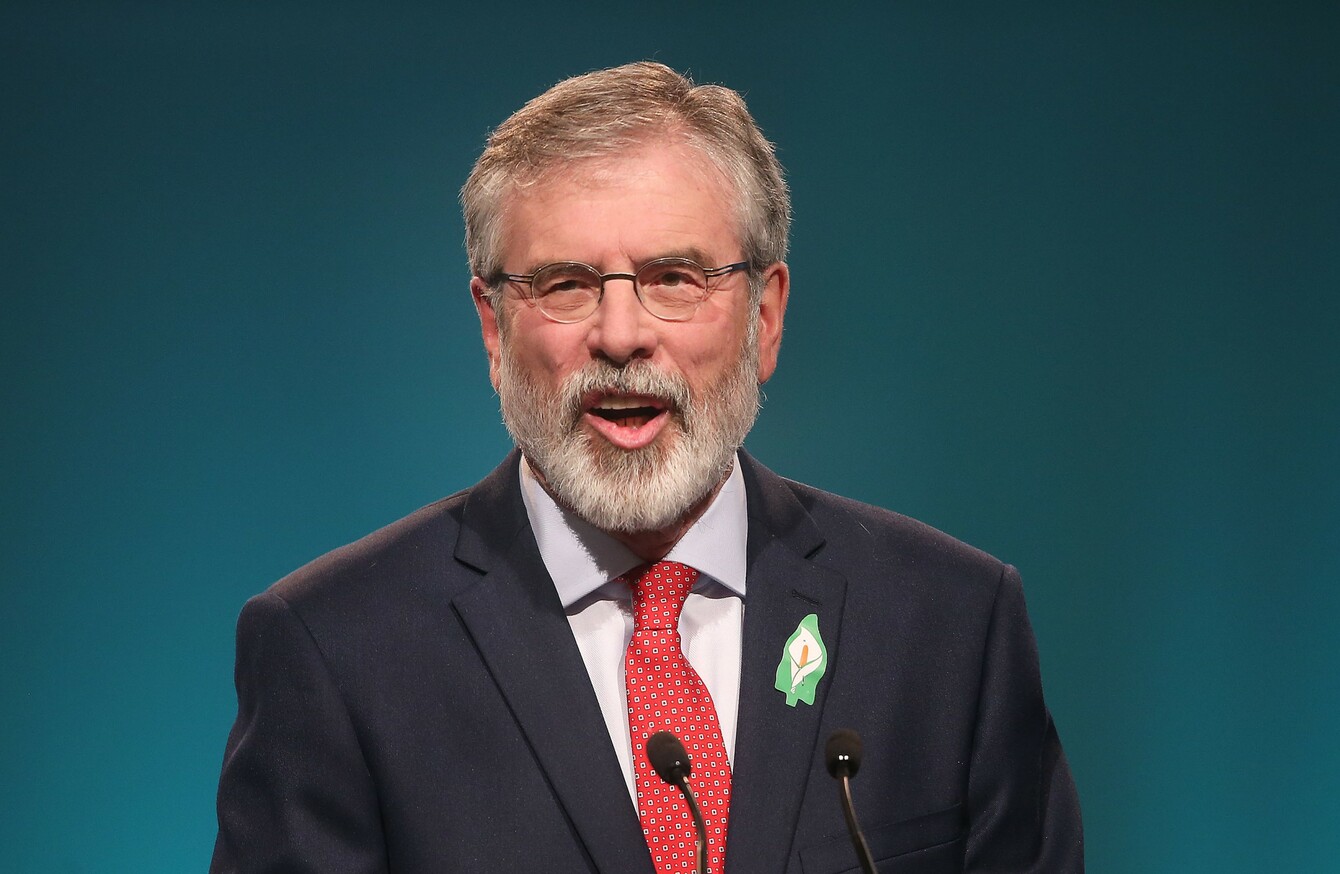 Image: PA Wire/Press Association Images
Image: PA Wire/Press Association Images
GERRY ADAMS HAS said he's "never seen myself as white", as the fallout from his controversial late-night tweet continues.
The Sinn Féin leader spoke to the Michael Reade show on LMFM after he apologised for using the n-word after watching the movie Django Unchained.
Adams used the term in comparing the movie's main character to the people of Ballymurphy, where Adams is from.
Adams deleted the tweet soon after he'd sent it, and apologised the next day after a social media backlash.
During the course of the 17-minute interview today, Adams apologised again but defended his comparison.
"I didn't use it in a racist way. If you watch the movie Django, the main character, uses the term. Now that's not an excuse, I shouldn't have used it," he said.

"I'm sorry that I used it, because it offended people and because I accept that it was not an appropriate word to use. It's a word that is used against people of colour in a derogatory way."
Despite apologising, Adams insisted that his comparison of the treatment of African-American slaves with nationalists in Northern Ireland was valid.
"I saw a parallel, as I have for a long time, between the plight and the struggle for African-Americans and people back here at home. And I tweeted about that," he said.
Unfortunately, I used in an ironic way, the n-word, realised that was a mistake and apologised. But I stand over my main point, my substantive point, which was to look at the broad parallels between what was happening in America with African-American folks and what was happening in our own place.
Adams went on to say that the movie showed people standing up against injustice, a battle that he claims has resonance in the Irish context, even in the case of water charges.
"When the civil rights movement was founded, we didn't have the right to vote. We were discriminated against, we were denied jobs and so on, based on our ability. The Special Powers Act, one of most coercive pieces of legislation ever produced by any human being was in full flow. We only changed all of that because we stood up for ourselves, in the same way, and this is why I come back to the movie, that this extraordinary character in the movie did."
People of my own home district, Ballymurphy, have stood up for themselves. And people in Louth whether it's water protesters, not trying to compare like with like, or demanding health services, or fighting for the hospital to be returned to Dundalk or better services in Drogheda, this is all people standing up for themselves and for their neighbours.
"And while they may not be like with like, because if you're being horsewhipped or being hanged that's a different matter. But in terms of the dignity of human beings."
"I've never seen myself as white. That's only skin deep. I'm a human being. We're all human beings, whatever our skin colour, whatever our gender, whatever our ability or disability. The fact is we're all human beings."