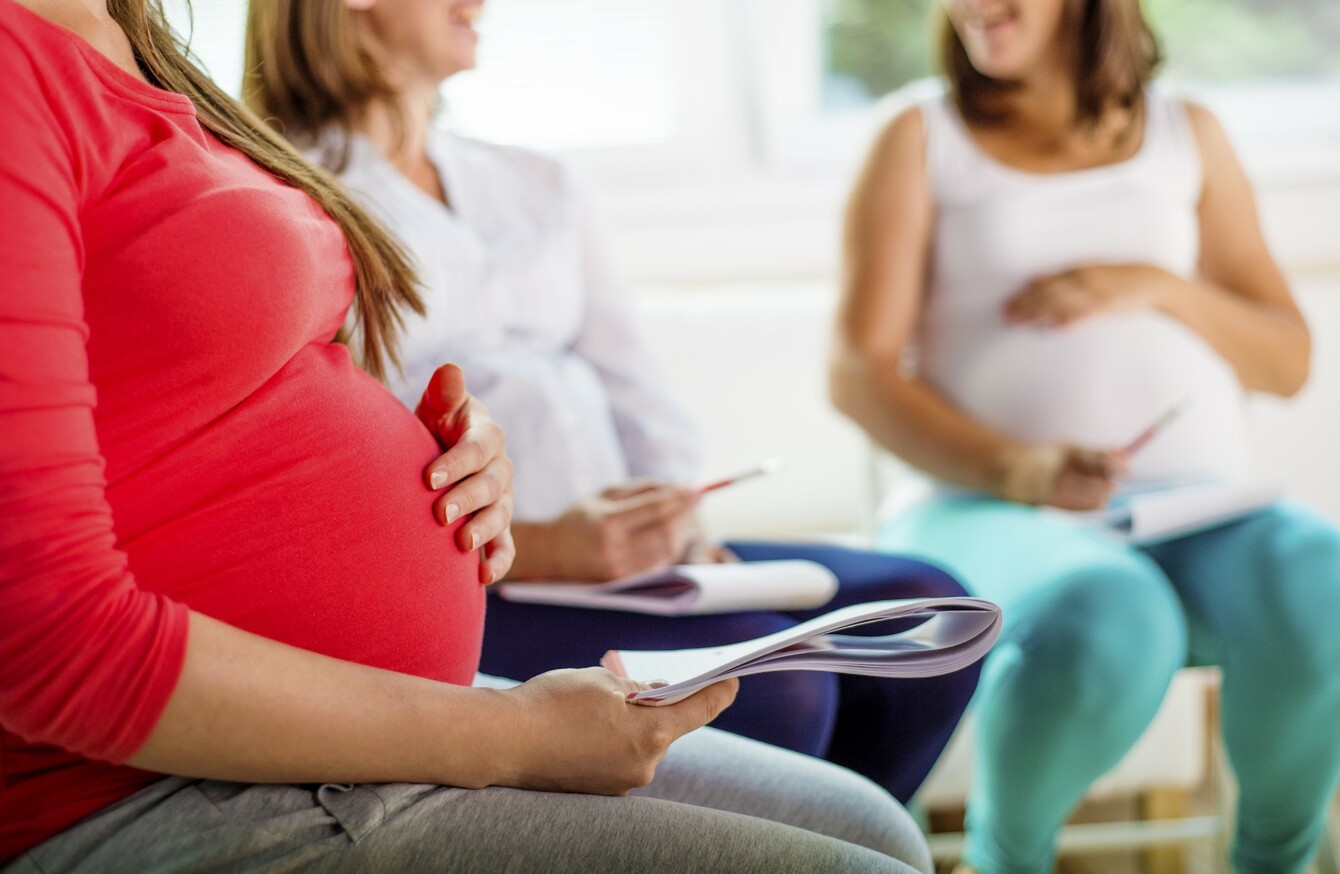 Image: Shutterstock/Halfpoint
Image: Shutterstock/Halfpoint
GESTATIONAL DIABETES IS becoming more common in Ireland, but many women who are affected cannot afford testing strips to monitor their condition.
The illness was previously covered under the long-term illness scheme, but since 2013 women without medical cards have had to pay €144 a month for the strips – the maximum amount under the drugs payment scheme.
Cliodhna Grady, a midwife at the Coombe Women & Infants University Hospital in Dublin, told TheJournal.ie the number of women presenting with the condition is increasing year on year, particularly among women who are overwight or older.
In 2014, 672 of the 9,000 women who gave birth at the Coombe had gestational diabetes. Some 12% of pregnant women in Ireland get the condition – about 8,000 individuals per year.
Diabetes Ireland notes that the hormones produced during pregnancy work against the action of insulin in the body. The condition can occur if the mother's body can't produce enough extra insulin to counteract this blocking effect.
Women are more at risk if they have a family history of type-2 diabetes; are over the age of 35; are obese; have previously given birth to a large baby or a baby born with an abnormality; or have previously had a stillbirth late in pregnancy.
The symptoms include tiredness and excessive urination but, as these are experienced by many pregnant women anyway, gestational diabetes may go unnoticed.
Grady told us women with the illness "may not have any symptoms at all", noting: "Often times they don't feel any different."
She said that on their first visit to the Coombe, pregnant women complete a questionnaire about their health and wellbeing which might flag an increased risk of gestational diabetes.
Women who are more likely to have the condition are offered a glucose test 26-28 weeks into their pregnancy. Grady said pregnancy hormones rise weekly and carrying out the test at an earlier stage could inaccurately give a negative result.
If the test is positive the woman is invited to a gestational diabetes lifestyle class within a week of diagnosis so she can get dietary and exercise-related advice.
Testing strips 
Grady said the woman is given a glucometer to monitor blood sugar at home and two days' worth of testing strips.
Beyond that, women have to pay €144 every month if they don't have a medical card.
"Some women can't afford it … It is a sizeable amount of money to pay on top of other expenses like mortgage or rent and other bills," Grady said.
Women who are pregnant will go to any length to try and keep their pregnancy well and keep their baby well, and will make sacrifices elsewhere in order to afford the strips and needles [for insulin].
Grady explained that women who are on a diet or tablets to monitor their diabetes use the strips to check their blood sugar five times a day, while women on insulin need to do this seven times a day. There are usually 50 strips in each box.
She said that if women can't afford to buy the strips, midwives at the hospital try to arrange for consultants to test their bloods every few weeks. However, she said this is not ideal as the strips show the blood sugar pattern and so enable medical staff to give women better advice.
For example, the strips might highlight that a woman's blood sugar is high every morning or evening. This means that treatment can be targeted and/or diet refined.
'Caught in the middle'
Susan had gestational diabetes during both her pregnancies. At certain stages she "really struggled" with the cost, telling us: "Some months I just didn't have [the money]."
Her mother has type-2 diabetes and Susan would sometimes borrow her medication and testing strips as she couldn't afford her own.
She said it's "a disgrace" the government is not giving more financial support to women with the condition, adding it doesn't make sense that some politicians have been "so held up on abortion and protecting unborn children but … are depriving them of the medication they need".
Susan said many women are "caught in the middle" – earning slightly more than the threshold for getting a medical card, while trying to work and pay a mortgage and other bills.
She underwent Caesarean sections with both her children as doctors did not want her to go beyond 38 weeks for fear of having a stillbirth.
Her children are free from diabetes, as is she. However, due to a family history of the condition she fears her or her children may develop the condition at a later stage.
Gestational diabetes usually goes away after pregnancy. However, women who have had the condition are more likely to have it in later pregnancies, and they have an increased risk of developing type-2 diabetes.
Risks of gestational diabetes include:
Macrosomia – having a larger baby than normal;
Possible difficulties at time of delivery;
Hypoglycemia – low sugar in the baby when born;
Breathing problems for the baby;
Stillbirth;
Miscarriage.
#Open journalism No news is bad news Support The Journal

Your contributions will help us continue to deliver the stories that are important to you

Support us now
"If women aren't being afforded the best opportunity to treat blood sugar those risks do, naturally, increase," Grady told us, adding that she would like the government to introduce a scheme that would cover the cost of the strips.
Lifelong effects on child
Dr Anna Clarke of Diabetes Ireland (DI) said the organisation has "advocated at the highest level" to get increased support for women with gestational diabetes.
Clarke said DI believes the condition should be covered under the long-term illness scheme as it carries a lifelong health risk.
She said the health of unborn children is being put at risk as not all women can afford the testing strips.
The failure of government to acknowledge the future health risks of the child are atrocious.
Clarke said DI met with Leo Varadkar during his tenure as health minister, and will request a meeting with the new minister once they are appointed.
She said that children of mothers who had gestational diabetes may also be at increased risk of developing type-2 diabetes, and more research is needed in this area.
"People think gestational diabetes is just for the duration of the pregnancy, but poor control has lifelong effects on the child."
HSE
When asked about financial support for women with gestational diabetes, a spokesperson from the HSE told us: "The [health] department has previously clarified that gestational diabetes could not satisfy the requirements of the long-term illness scheme as it could not be understood to be either long-term or permanent.
"Any changes to the regulations to the long-term illness scheme will be a matter for the department of health in due course."