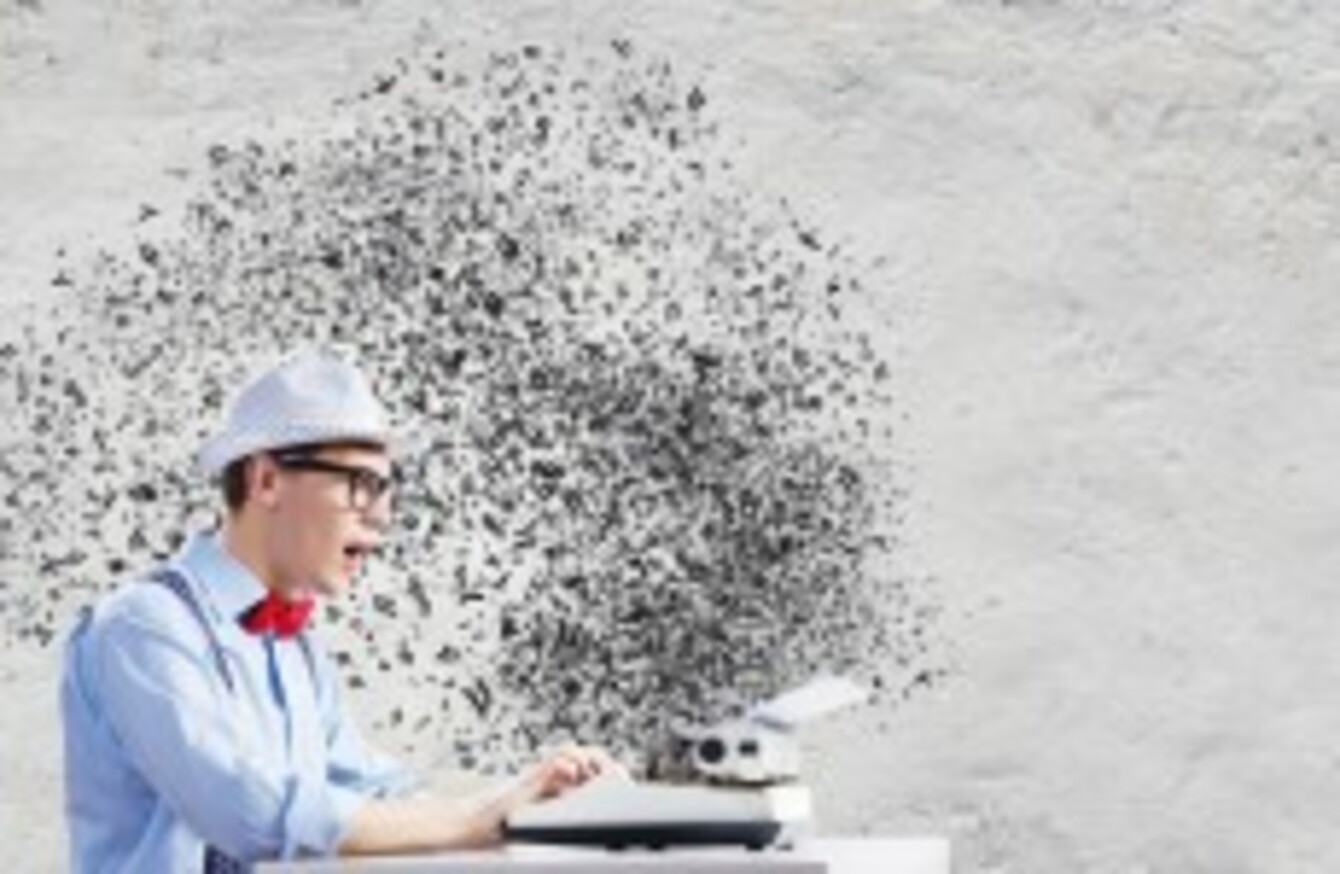 Image: Shutterstock/Sergey Nivens
Image: Shutterstock/Sergey Nivens
DID YOU PROMISE yourself that 2015 would be the year that you put pen to paper (or, most likely, fingers to keys) and begin writing that novel or short story?
The first step to becoming a writer, that of doing the actual physical work of writing, rather than thinking about writing, is the most difficult.
And yet, when that step is taken, the other steps follow rapidly. You've done it. You are writing.
To help with those 2015 resolutions, we asked Colm Keegan, poet and writer-in-residence at Dun Laoghaire's Lexicon library, for his tips. He got started after joining a creative writing group at a library, after years of thinking about writing.
So he's been where you are right now. Here are his comprehensive but realistic tips – and if you're not an absolute beginner, you'll still find a huge amount for you in his advice.
How to begin writing
Make the time and take the time
A lot of writers starting off have a problem with taking themselves seriously, which means they tend to give in to any external pressures on their writing time. Someone needs a lift, or someone calls on the phone and before you know it, you've given the time to something you think is more important.
So make the time, and then take the time, no matter what. Even if you find yourself stuck, sit there for your allotted time and be stuck.
Don't feel guilty, you're not being selfish, you're not the type of person who would shut their door on everything else and do nothing with all that precious time, right? Speaking of which…
The internet is your enemy
The internet is full of what other people think. You don't need it. You need silence. That part of your brain you need for writing is never less engaged than when you're trawling social media to catch those tiny little ten second dopamine highs.
Don't kid yourself, the reason you opened up that other tab isn't for research. You don't need to look up a word. You have enough words already.
Everything you need to know, you should know before you sit down to write. And even if you've hit a true dead end, the way out isn't on the internet, it's inside you and the longer you frazzle your brain online, the less likely you are to find it.
Play with a ball, do some push-ups, lie down on a chaise longue like screenwriters always do in old movies. Stay in touch with your brain! And if you still need to 'take your mind off the problem,' relax you've got the rest of your day to do that.
Forget about trying to be as good as anyone else
Turn off your inner critic, use something like Write or Die to keep the words coming. Write with fire, get it out red hot, let yourself write so fast you don't know what you're saying, you'll end up scaring yourself with the stuff you find yourself typing.
The reason you need to do this is because you need to learn to negotiate the gap between how good you think you ought to be and how good you actually are.
And remember to play. Riff. Mess around. Set the beast of your subconscious free, a writer's best and most terrifying friend. Oh, and read this about finding your voice
That doesn't mean aim low
Get it down, and then rewrite, print it out, scribble changes all over it. Edit, edit and edit. You should be the equivalent of that priest in Father Ted who goes around kicking everything until it breaks, stress test your sentences, take em by the scruff of the neck into a dark room and beat them until they are beautiful.
I can't remember who said it (and I'm not going to Google it now) but the best work isn't written, it's RE-written. You can make it better.
That's not saying it can't be great in once go, but you don't want to set the bar so low you're the literary equivalent of this guy:
Source: Stupidity Impulse Network/YouTube
If you haven't found a peer group, get one. But don't get sucked in
Have a look around for a writer's group in your area or try a course like these here or here. Writing groups are great.
You'll find kindred spirits, all the support you need. It's a great way to find your way as a writer, but one thing is inevitable:
There will be people you don't like, people who love your work and people who don't and if you're not careful turning up to a writing group can become about trashing some fellah's epilogue to hi sci-fi novella because he poo-poohed your best haiku, and nobody wants that.