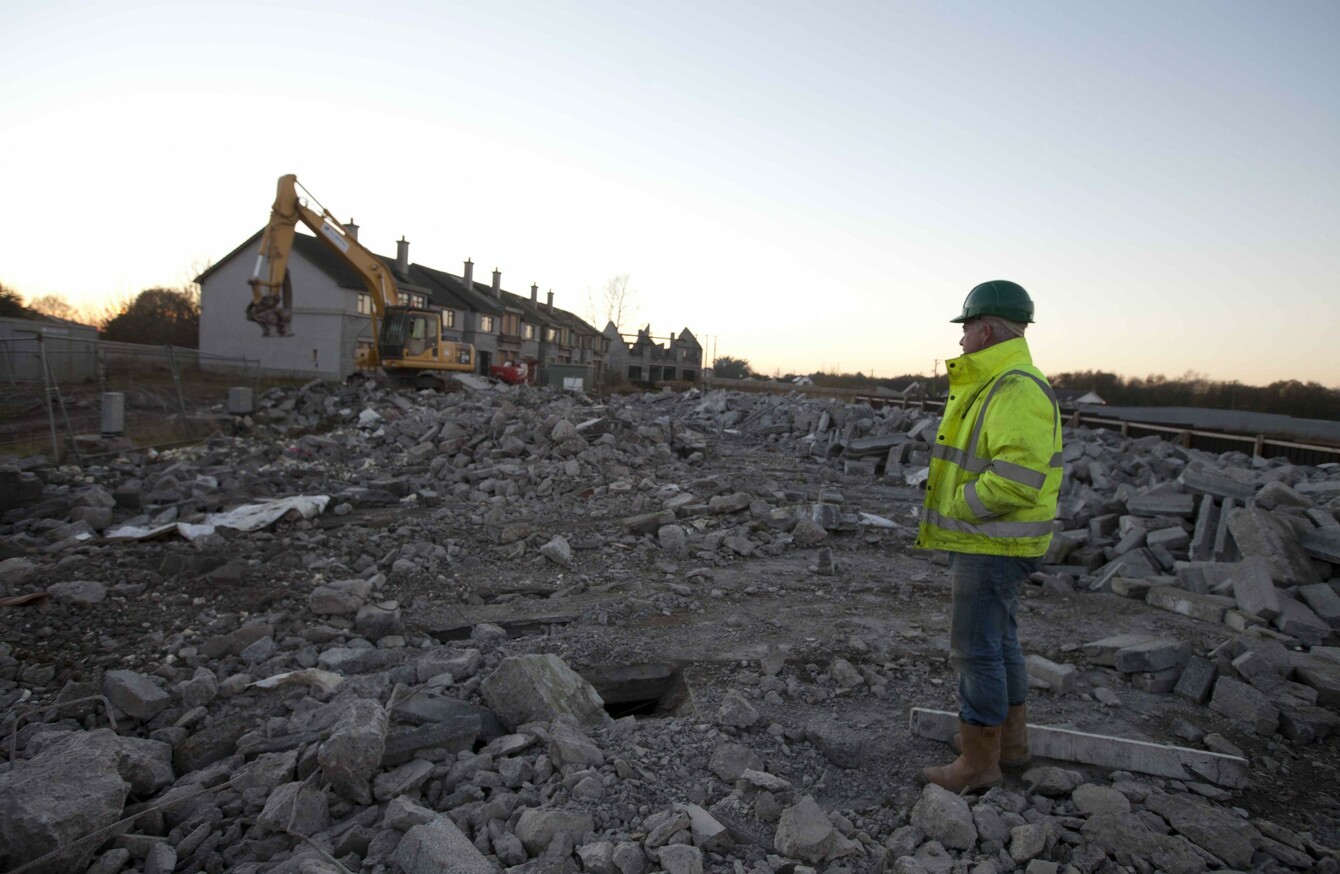 Image: Eamonn Farrell/RollingNews.ie
Image: Eamonn Farrell/RollingNews.ie
GHOST ESTATES WERE once a symbol of everything that had gone wrong with Ireland.
A collapsing property market, tens of thousands of construction workers unemployed even though there was work to be done and an economy rapidly declining.
These unfinished estates in almost every county of the country were an almost eerie reminder of how bad our recession was.
However, the last seven years have seen those issues almost eradicated.
The Department of Housing's latest progress report on unfinished developments showed that from a high of 3,000, the number now stands at 420.
2016 alone saw the resolution of 248 developments.
The survey also found that 2,000 units are currently being utilised for social housing purposes.
So, what happened?
Broadly, the Department says that these developments have been "resolved", one way or another. But what this means varies from case to case.
In their own definitions, they say that "completed" sites may not be fully finished.
A development will be regarded as finished if an inspector considers, on the basis of a normal visual on-site inspection, that the following have been substantially completed: dwellings, roads and footpaths, lighting, water supply, waste water infrastructure, open spaces, as defined for the purposes of this survey.
It says that things like individual house electricity connections, entrance gates, decoration etc are not significant in this context.

But what actually happened in 2016?
Entering 2016, there were 668 unfinished developments across Ireland. These represented a total of 47,974 homes.
At the start of 2016:
41.4% were listed as occupied – showing signs of habitation
4.1% were vacant – habitable but not lived in
6.8% were near complete
3.3% had walls and a roof
2.8% had their damp proofing laid
3.5% had foundations
3.3% had not started
34.9% had their planning permission expire
In total, over 23,000 homes in 248 developments have been resolved through a variety of methods.
These included:
Bonds and securities
The Department and local authorities were able to claim around €6 million from bonds paid by developers as construction bonds. This money had been paid over as a security for the provision of infrastructure. Since 2010, €63 million has been recovered from developers.
A total of 25 local authorities also have outstanding bond claims with IBRC, valued at €28 million. A decision on those claims will be made this year. This provided the funding for remediation works on a number of developments.
Taking in charge
#Open journalism No news is bad news Support The Journal

Your contributions will help us continue to deliver the stories that are important to you

Support us now
Of the developments resolved, 60 were taken in charge by the local authorities – the process by which councils take over responsibility for the lighting, roads and other infrastructure in a development.
Because of the number of outstanding developments that needed to be taken in charge, the Department of Housing last year commenced an aggressive scheme to have authorities do just that.
"To accelerate the process, the Department funded local authority action to a total spend of €7.7 million but it is important to stress that NTICI was not intended as a rolling annual budgetary allocation but a special initiative
to examine systems and procedures within local authorities on the taking in charge process and to present key findings and recommendations for further prioritisation and streamlining measures to drive the process forward."
Clearance and Nama
A very small number of houses have been demolished, having been left in either an unsalvageable state or in too weak a market to justify completion.
In total, 69 units (or partial units) were demolished with 53 of these units being confined to two developments, namely Ard Micheal, Ballinalee Road, Longford and Aishling, Ennis, Clare.
A further 15 developments are in the hands of Nama.

Fixing the rest
As part of the government's housing plan, the Department of Housing says that it wants to quickly resolve the remaining 420 unfinished developments.
It envisages doing this through work with developers and receivers and through an integrated local authority response.
It says that developers and receivers will resolve many sites through sales and work through the councils.
Within the last year there has been evidence of a significant number of 'unfinished' developments for sale and being sold with new planning applications being lodged to local authorities. It is expected that further movement will be forthcoming in 2017.
"It is anticipated that a number of unfinished developments will progress in the year ahead. A number of the remaining developments and sites have been recently sold or are currently for sale and are located within urban areas where there is demand, finished developments have been taken in charge and new planning applications lodged with the local authority to finish out projects."