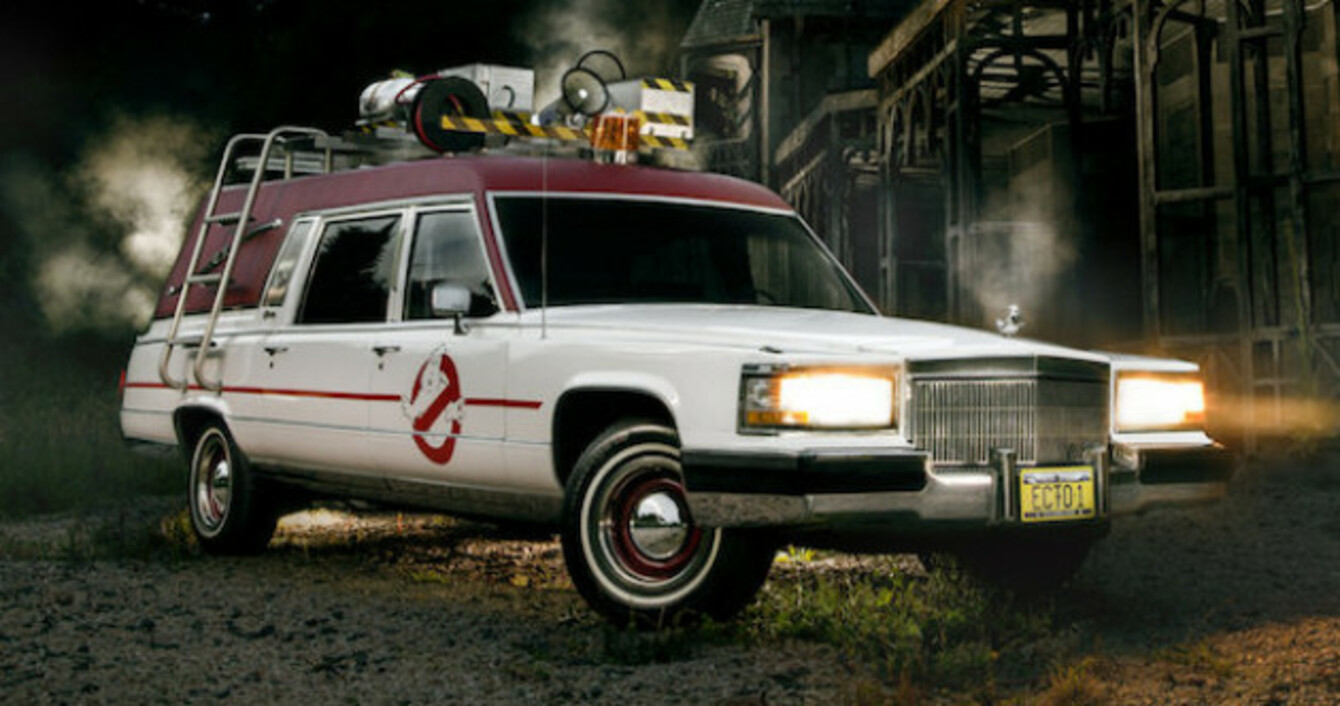 IF I HAD the money I'd buy…
A car that looks the same a the one driven by Dr Raymond Stantz in the original Ghostbusters. But everybody can relax as unlike the original this car doesn't need suspension work and shocks and brakes, brake pads, linings, steering box or a transmission, which should keep Venkman happy.
I'd buy a replica Ecto-1 (as in "ectoplasm")… aka the Ghostbusters' car.
Why a Ecto-1?
If you've had a dose of a freaky ghost baby, the Ecto-1 from Ghostbusters is the only car for you. It is one of the most iconic and coolest cars in cinema history.
If there's something strange in your neighbourhood this is the car you want to be cruising around in as behind the wheel you'll feel very secure and protected and afraid of no ghost.
What's special about this particular one?
This particular Ecto-1 is a replica based on a 1991 Cadillac Fleetwood Brougham Hearse built by Superior Coachbuilders in the States and is a replica of the car from the recent 2016 movie starring Melissa McCarthy and Kristen Wiig (the original from the 1984 movie was based on a 1959 Cadillac Miller-Meteor).
It was previously used as a hearse in West Plains, Missouri according to the vendor – so it is the most perfect Halloween car.
Under that awesome hood is a 5.0-litre petrol engine which is mated to an automatic gearbox, perfect for keeping one hand free to grab your proton gun when ghouls appear. There is less than 96,560km (60,000 miles) on the clock and the suspension is as soft as the Stay Puft Marshmallow Man.
The car has been professionally wrapped in white vinyl with full Ghostbusters decals and comes with white-wall tyres and the original red steel Cadillac wheels with modified chrome hubcaps to match the original movie car. The hand-built roof rack features all of the props, ladders, flashing lights and sirens of the Ecto-1. The car also comes with an MP3 player and a PA System that can play music (the Ghostbusters theme, natch) through an external speaker.
To top it all off the car has an official ghost emblem/bonnet mascot at the front obtained directly from the film company.
This car really is a showstopper and you'd certainly be mammy or daddy cool doing the school run in this.
What does it look like in action?
It looks like the stuff of childhood dreams, from the 80s.
Source: Sony Pictures Entertainment/YouTube
Who else drives one?
Dr Ray Stantz, Winston Zeddemore, Dr Peter Venkman, Dr Egon Spengler, Janine Melnitz, and even Slimer have been seen behind the wheel of this epic motor. As have Dr Abigail 'Abby' Yates, Dr Erin Gilbert, Dr Jillian "Holtz" Holtzmann and Patricia "Patty" Tolan.
It costs £24,995 (€28,155). What else could you get for the money?
There is nothing else that you could possibly want to spend your money on. Nothing. Don't even bother looking. Honestly.