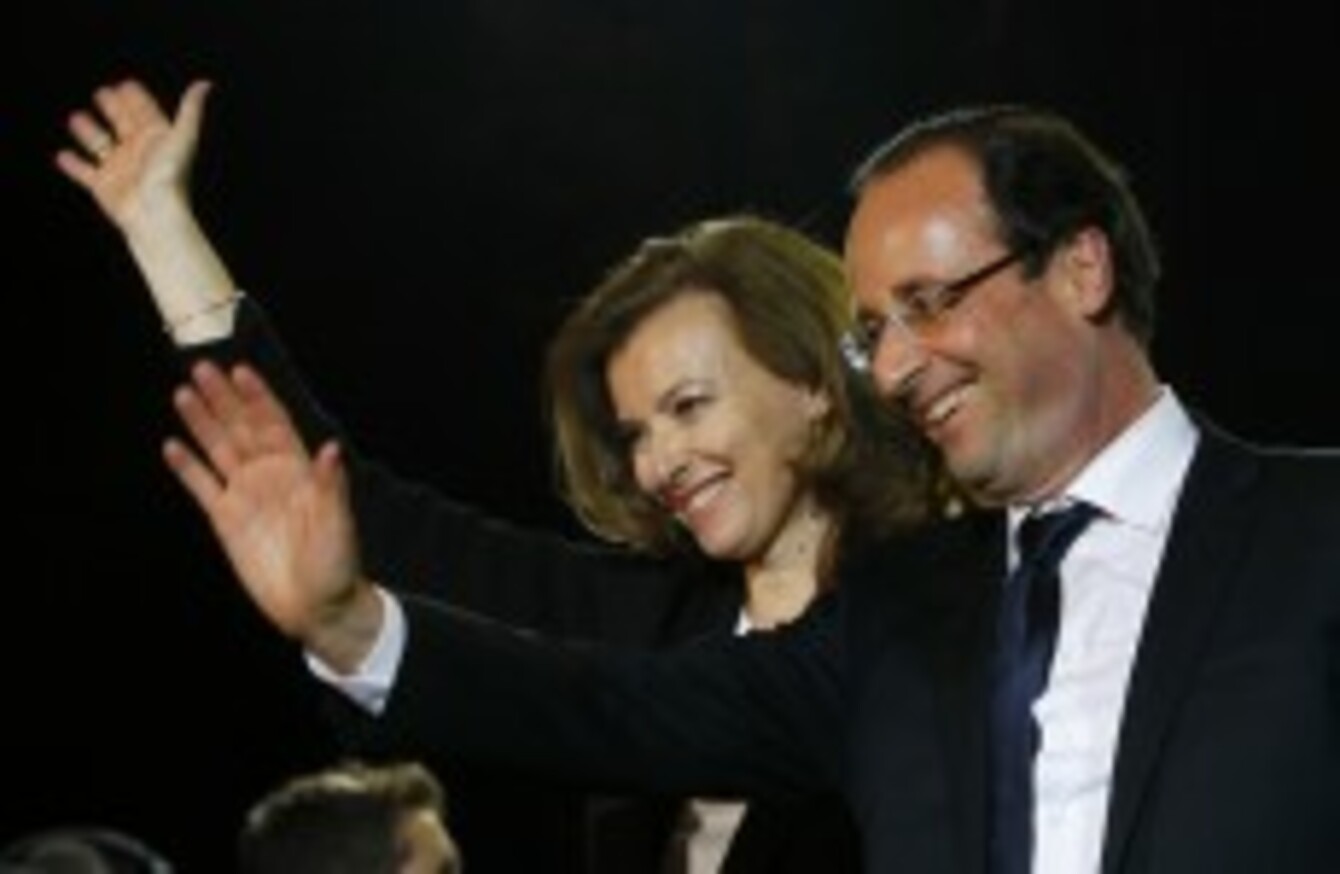 French president-elect Francois Hollande and his companion Valerie Trierweiler wave to supporters after greeting crowds gathered to celebrate his election victory in Bastille Square in Paris, France
Image: AP
French president-elect Francois Hollande and his companion Valerie Trierweiler wave to supporters after greeting crowds gathered to celebrate his election victory in Bastille Square in Paris, France
Image: AP
THE TÁNAISTE EAMON Gilmore says Ireland will hold the Fiscal Compact referendum as planned – despite the victory of French Socialist Francois Hollande in the country's parliamentary elections yesterday.
Gilmore extended his congratulations to Hollande following his election, saying that Hollande had campaigned strongly on the need for a growth agenda in the eurozone and put  forward "a number of ideas that could shape that agenda".
"This reflects the consistent position taken by the Labour Party and the Irish Government, that a plan for economic growth is as necessary as a plan for fiscal stability, if Europe is to chart a sustainable path out of this crisis," Gilmore said. " Put simply, you can't have economic growth unless you also have stability, but neither can you have stability without growth."
However, Gilmore said that Hollande's election would not alter plans to hold a referendum in Ireland on the Fiscal Compact later this month, the Irish Examiner reports. During his election campaign, the now-president-elect vowed to renegotiate the treaty – which sets limits on budget deficits for EU states – to include a growth pact.
Gilmore insisted that Hollande had not proposed to "reopen" the treaty, but instead to add a growth agenda – meaning his election would not impact upon Ireland's referendum.
Hollande pledges to 'finish with austerity'
Meanwhile, after an appearance before thronging crowds on Paris' Place de la Bastille in the early morning hours Monday at which he pledged "to finish with austerity," Hollande was back at work, arriving at his campaign headquarters around 10.30 am local time.
Hollande has his work cut out to fulfill the hopes his victory has stirred on France's Left, overjoyed to have one of their own in power for the first time since Socialist Francois Mitterrand was president from 1981 to 1995.
Sarkozy is now the latest victim of a wave of voter anger over spending cuts in Europe that has ousted governments and leaders in the past couple of years.
Final results from France's presidential election show Hollande narrowly defeated Sarkozy with 51.62 per cent of the vote, or 1.13 million of the 37 million votes cast in Sunday's election.
Sarkozy, who finished the first round about half-a-million votes behind Hollande, failed in his bid to attract sufficient votes from supporters of far-right leader Marine Le Pen.
Additional reporting by the AP