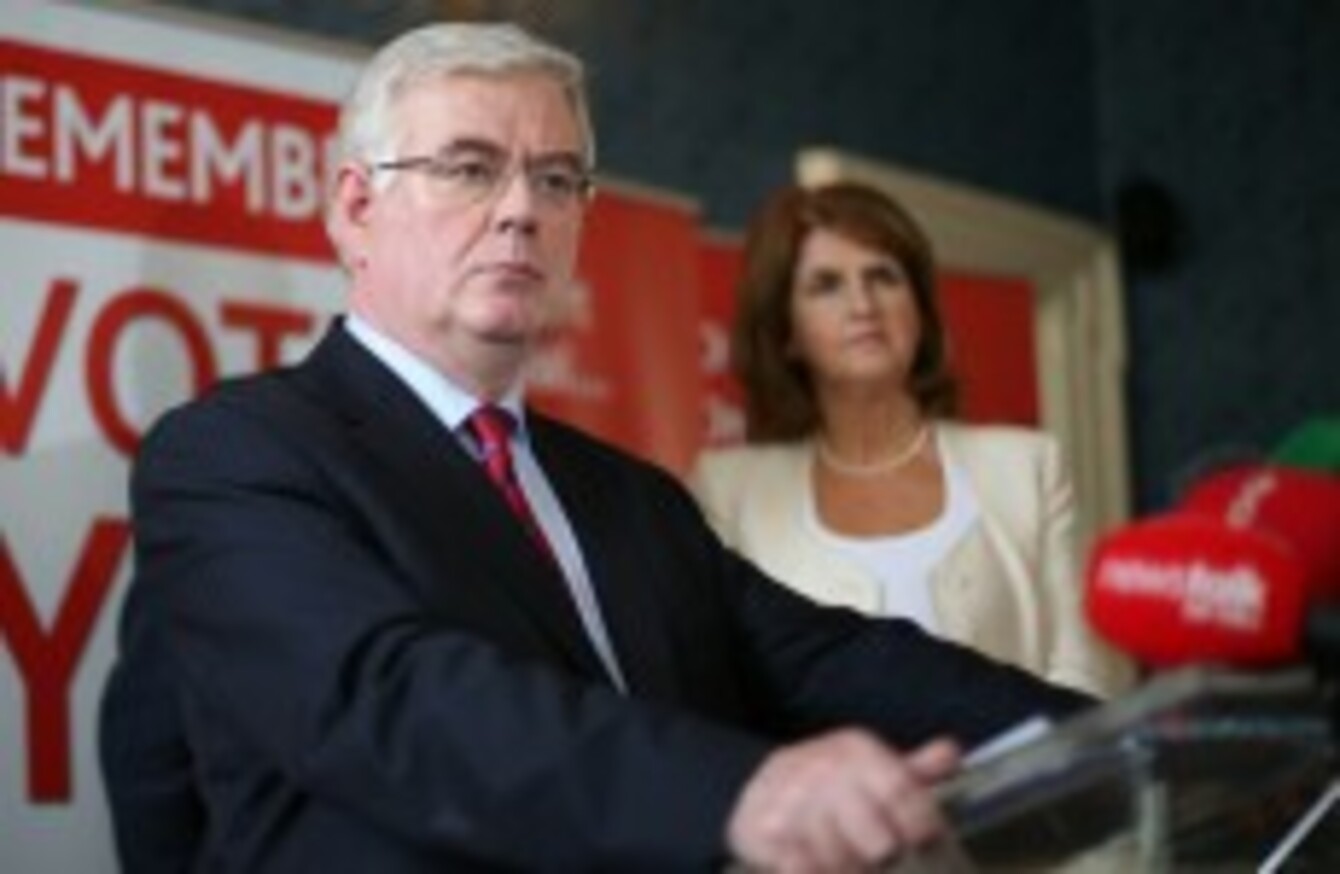 Eamon Gilmore and Social Protection Minister Joan Burton.
Image: Niall Carson/PA Wire
Eamon Gilmore and Social Protection Minister Joan Burton.
Image: Niall Carson/PA Wire
A LABOUR MINISTER has described MEP Phil Prendergast's call for change in the party leadership as "a distraction that shouldn't have happened".
Party figures are staging a media containment bid this morning, after Prendergast said Gilmore should quit for the good of the party.
Her call followed a poll in the Irish Independent which put support for her candidacy in Ireland South at just 4 per cent.
"There are other issues to deal with during this election and Eamon Gilmore's leadership is not one of them," junior minister Kathleen Lynch said.
Dublin TD Kevin Humphries said there had been "no discussion whatsoever" on the issue at a meeting of the party's governing council at the weekend.
While another Labour MEP candidate, Senator Lorraine Higgins, said people should "hold their nerve" until the results of next month's elections were clear.
"It's the party membership of the Labour party that will decide the leader of the party, and as far as I'm concerned I'm not hearing anything negative about Eamon Gilmore in that regard in recent times," the Ireland Midlands North West candidate said.
Minister of State Lynch told RTÉ's Today with Seán O'Rourke she thought it was "unfortunate that this morning instead of talking about the issues that confront the country that we're now talking about the leadership of the party".
Asked whether Gilmore's leadership could come under question in the wake of the European elections, should Labour suffer a bad result, Lynch said the party had "never shied away from issues like this".
However, she said it was not an issue that was being discussed "at any great length" amongst party members.
I think the poll has panicked some people, and really its all about holding your nerve.
Must go
Prendergast initially made her call for Gilmore to quit in this morning's Irish Independent — later giving interviews detailing her views to RTÉ, Newstalk and TheJournal.ie.
She has endorsed Social Protection Minister Joan Burton as the most viable candidate to take over.
"This is a crisis that's gone on for a year and half," she said, referring to a string of poor opinion poll results for the party.
We need to take urgent action and the time to do that is now.
The fightback
Lynch, asked to comment more broadly about the future of the Labour leadership, said the party was "not a dictatorship".
It is not just one person whether that's male or female at the head of it.

The Labour party is a very democratic organisation and it is about the entire party not just one person.

I think it's wrong to focus in on one person and blame that person for the polls.
Today's Millward Brown/Irish Independent opinion poll put nationwide support for Labour at just 6 per cent.
Fine Gael, at 25 per cent, remain the largest party in the country. Fianna Fáil are at 23 per cent, with Sinn Féin at 21 per cent.
Independents and others are at 23 per cent, while the Greens are at 2 per cent.