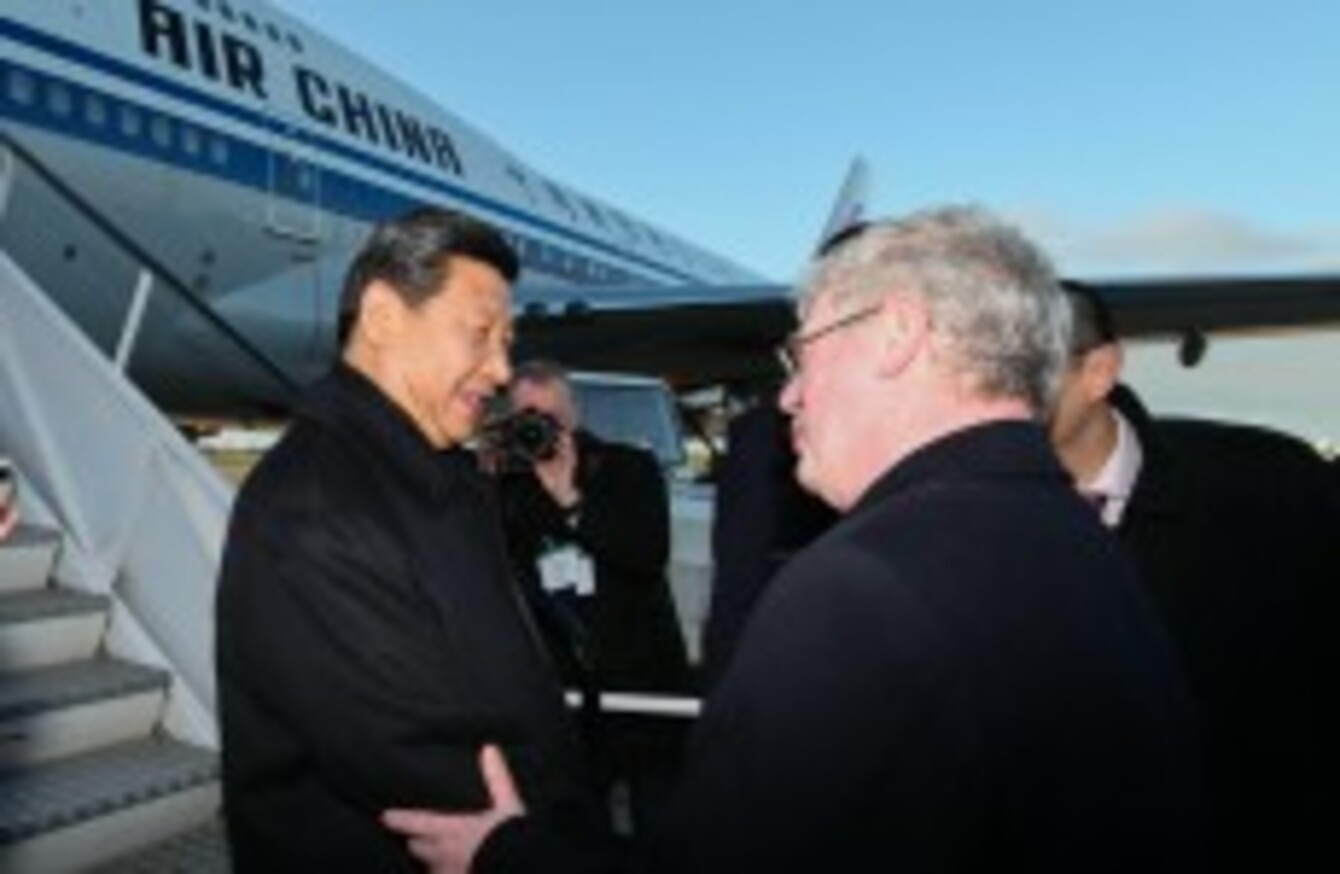 Eamon Gilmore with Chinese vice president Xi Jinping at the start of the visit on Saturday
Image: Photocall Ireland
Eamon Gilmore with Chinese vice president Xi Jinping at the start of the visit on Saturday
Image: Photocall Ireland
TÁNAISTE EAMON GILMORE has said that Irish leaders raised the issue of human rights abuses in China during the visit by vice president Xi Jinping.
However he said that specific cases involving individuals were not discussed. "We didn't raise specific cases any more than we raised specific trade investments," said the Tánaiste this morning.
"What we did do was we discussed the human rights issue as an issue that we have to have discussions bilaterally with China in the period ahead".
The Tánaiste said that Xi had talked about the progress that China had made over the past 30 years in human rights but acknowledged that there is a long way to go.
China is believed to have at least 190,000 in 'administrative detention', with many  in forced labour camps, according to Amnesty International.
"I think the important thing about the meeting and the outcome of the meeting is the agreement that human rights has formed part of the discussions between Ireland and China going forward," the Tánaiste said on RTE's Morning Ireland this morning.
Gilmore had said before the visit began that Ireland would raise the issue of the human rights with the Chinese vice president.
Amnesty International had called on the government to be "clear and forceful" in raising the issue of human rights.
"China's human rights record is appalling," said Noeleen Hartigan, programmes director of Amnesty International. "It is the world's number one executioner".
Xi Jinping is on the final day of his visit to Ireland today. He is due to meet President Michael D Higgins at Áras an Uachtaráin this morning before attending a forum on trade and investment between Ireland and China.
Last night Taoiseach Enda Kenny praised the "special relationship" between the two countries. Ireland is the only EU country the Chinese vice president is visiting on his world tour.