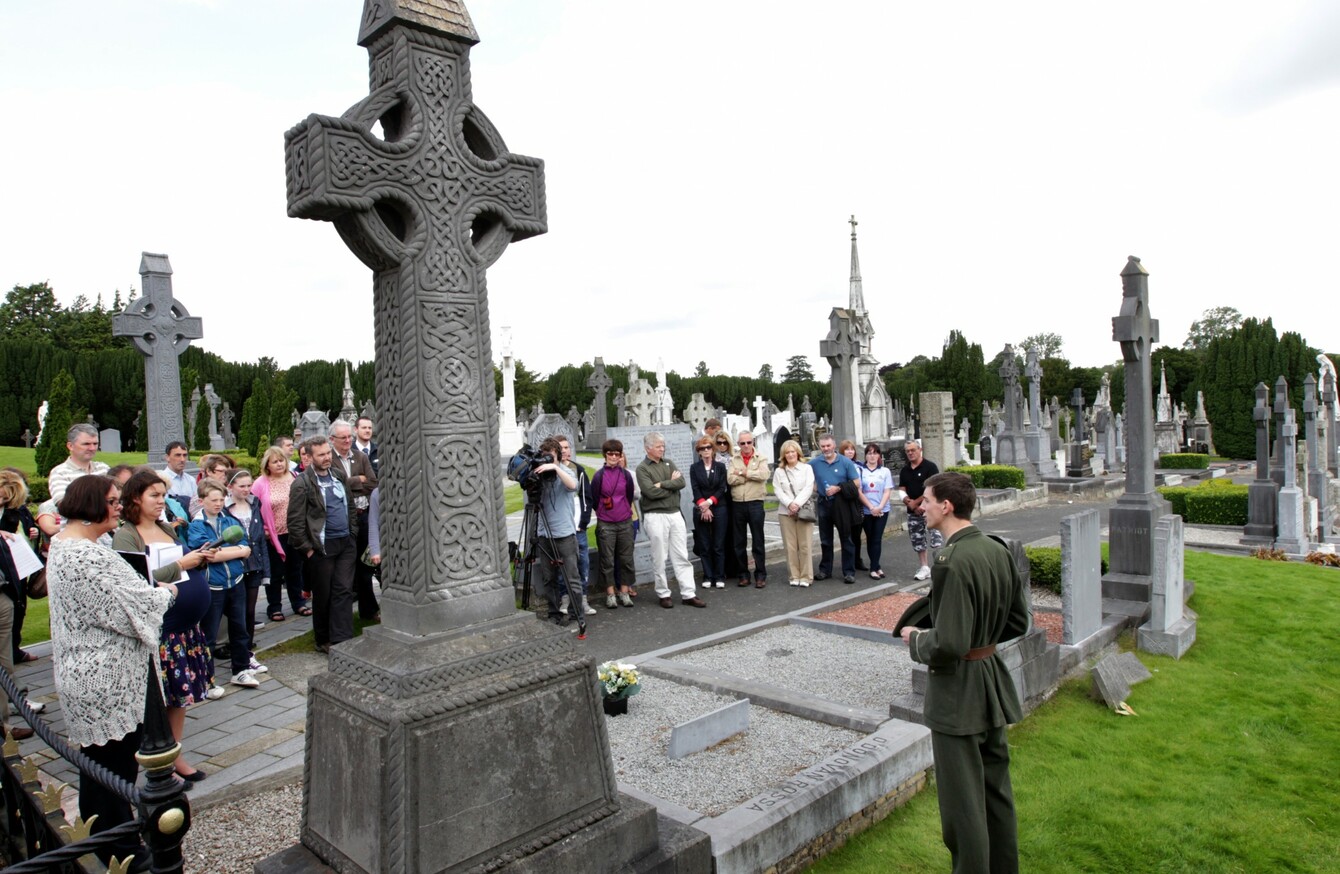 Image: Mark Stedman/Photocall Ireland
Image: Mark Stedman/Photocall Ireland
Updated 11am
GLASNEVIN CEMETERY SAYS it will "review the suggestion" that the Irish language portion of an iconic speech by Pádraig Pearse be included in a daily reenactment.
Pearse's graveside oration at O'Donovan Rossa's funeral from 1 August 1915 is one of the most famous speeches in Irish fenian history.
It's concluding line, 'Ireland unfree shall never be at peace', has been regularly cited throughout the current period of remembrance, but it's the opening lines that are provoking controversy at present.
The accepted version of Pearse's words report that the first three paragraphs of the seven paragraph text were in the Irish language.
RTÉ's Century Ireland project have the opening lines of the oration as,
A Ghaedheala, Do hiarradh orma-sa labhairt indiu ar son a bhfuil cruinnighthe ar an láthair so agus ar son a bhfuil beo de Chlannaibh Gaedheal[Gaels, I was asked to speak today on behalf of everyone gathered in this place and on behalf of all living Gaels,]
Despite this, a reenactment of the oration that the Glasnevin Trust put on for visitors begins at the English-language third paragraph.
Source: Gary Chiaramonte/YouTube
The Journal.ie contacted Glasnevin Cemetery for comment on the matter. Its response seems to be that the issue regarding the missing paragraphs of Pearse's speech will be taken under advisement.
The full statement from the cemetery is as follows:
"Glasnevin Cemetery Museum has a wide range of activities for Irish speakers that includes special tours of the Cemetery through Irish upon request and regular tours for Gaelscoil students."
Glasnevin Cemetery Museum also run tours and activities in Irish every year in celebration and recognition of Seachtain na Gaeilge.
Glasnevin Cemetery review all suggestions that aim to further educate people on the history of Ireland and will do so in this instance.
Omission
Local teacher Jack Ó Drisceoil says that he first noticed the omission when he visited the cemetery in January with some English friends. He says he had told them that the start of the oration was in Irish but was therefore surprised when the actor began speaking in English.
He says he was surprised most about the fact that the Irish language part was not only not translated, but left out competely without an explanation to those present.
#Open journalism No news is bad news Support The Journal

Your contributions will help us continue to deliver the stories that are important to you

Support us now
"If they are going to re-enact Pearse's speech, let it be the speech because nobody I feel is entitled to take a piece of our history and alter it and not tell anyone about it," he says.
Ó Drisceoil says that he has made several efforts to contact the Glasnevin Trust to explain their position but that he's been ignored.
They have some weird agenda of their own which I don't know. But there are a few instances which if you put them together they genuinely seem to be trying re-tell history in a different way, in a way that pleases them. Whatever that is they've refused to explain.
"They're waiting for it all to blow over I feel. They've had various complaints about other things, until they explain themselves we can't know."
Additional reporting Cianan Brennan
Originally published 6.02am